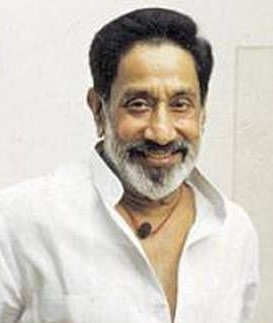 'Chevalier' 'Sivaji' Ganesan was one of a kind. He got the title of 'Sivaji' after he essayed the role of Chathrapati Shivaji Maharaj, the great Maratha Indian ruler during a stage performance. For a person, who left his home to become a theatre artist, the cinematic journey was really long and illustrious. He was a man, who overcame many obstacles in his way. He would go on to achieve stupendous success in Tamil cinema. He would go on to influence Tamil politics, too. He was greatly attached to Mr.Kamaraj, the great Tamil politician-leader, who gave free education, when he was the Chief Minister of Tamilnadu. In terms of political leanings, he was attached to the Congress. He stayed away from joining either the Dravida Munnetra Kazhagam or the All India Anna Dravida Munnetra Kazhagam in Tamilnadu.

Sivaji Ganesan was born as V. Chinniah Mandrayar Ganeshamurthy in Soorakottai in Orathanadu in Thanjavur in Tamilnadu. Although he began his career as a theatre artist, it was Tamil Cinema, which made him a household name. While he essayed many roles in TAMIL CINEMA, it was his strong theatre background, which made his cinema performances, very special. His landmark movies were 'Parasakthi' in 1952, 'Andha Naal' in 1954, 'Uthama Puthiran' in 1958, 'Veerapandiya Kattabomman' in 1959, 'Thiruvilayadal' in 1965, 'Thillana Mohanambal' in 1968, 'Deiva Magan' in 1969 etcetera.

He often donned female roles in his theatre years. Strangely that very experience made his walking style, very special. Generations of audiences were to be enthralled by his walking style. He was a versatile actor, who essayed a variety of roles. He made his acting debut in the movie, PARASAKTHI, in 1952. The story is really awe inspiring in the manner that it portrays the interaction between the history of India during the world war period and its impact on the lives of common people. The movie is loaded with social and psychological messages. The dialogues have been written by M.Karunanidhi, who later became the Chief Minister of Tamilnadu. A particularly long and mesmerising dialogue delivered by Sivaji Ganesan in 'Parasakthi' made both M.Karunanidhi and Sivaji Ganesan, a household name in Tamilnadu. It goes down in history as one of the best dialogues of Tamil cinema.

Thiru. Sivaji Ganesan acted in meaningful cinema. His movies extolled the virtues of honesty and bravery. Veerapandiya Kattaboman, Manohara and Raja Raja Cholan were epitomes in this regard. He essayed brave characters like Kattabomman, Karnan and Raja Raja Cholan with effortless ease. He made a great combination with the Tamil actor, Nagesh. He was the Hero and Nagesh was the comedian in several Tamil movies. As an actor, he has played several memorable roles like the father of Kunthavi in Raja Raja Cholan. In many ways, Sivaji Ganesan was also a social reformer, who spread good messages for the society through his movies. In the movie, PARASAKTHI, we can see how the socio-political set up affects the ordinary man. The impact of war on the lives of ordinary people is seen. The dialogues of PARASAKTHI, MANOHARA, VEERA PANDIYA KATTABOMAN , PASAMALARand RAJA RAJA CHOLAN are all relevant, even today.

Sivaji Ganesan's dexterity in speaking his dialogues, his elephantine memory to be able to speak such long dialogues, his baritone voice, his majestic look and his inspiring personality are all legendary. There was a great relationship between Sivaji Ganesan and Karunanidhi. Sivaji Ganesan, the actor gave life to the dialogues written by the talented script writer, M.Karunanidhi. Sivaji Ganesan was the king among all the actors. His famous non-stop dialogue and acting prowess in 'Veerapandiya Kattaboman' helped him get the name as 'Nadigar Chakravarthy' or' Emperor of Actors'. One can almost see the transformation of Sivaji Ganesan into Raja Raja Cholan in the movie, 'Raja Raja Cholan'.

The memorable dialogues between the sculptor character and the character of Raja Raja Chola portrayed by Sivaji Ganesan is an excellent portrayal of the greatness of the King Raja Raja Chola, the king who worked for the welfare of his people, the great warrior that he was and the respect that he had for artists in his kingdom. The movie immortalises the great cultural and historical significance of the Chola reign. The songs in his movie are superlative. There are some awe-inspiring dialogues in 'Veerapandiya Kattaboman '. It is one of the most patriotic movies ever made in India. The film exposes the 'divide and rule' policy of the British rulers as well as well as the greed of the traitors of India. The perfect dialogue delivery and beautiful costumes suitable to the movies, concerned are all really wonderful.

SIVAJI GANESAN WAS BORN TO DON THE ROLE OF KINGS. Sivaji Ganesan's complete true to life portrayal of larger than life characters like in 'Karnan' and Veerapandiya Kattaboman' are very memorable. Thus, Sivaji was able to play both mythological characters like Lord Shiva and Karna as well as historical characters like Veerapandiya Kottabomman, very well. He made his characters come alive. Ganesan had the ability to make people smile, cry, feel anger and was thus able to create, a variety of many other types of emotions, as well.

In Thiruvilayadal, Ganesan acts with great power and strength. The character of Lord Shiva has been portrayed with great elegance by Ganesan. He has also acted in other landmark flms like 'Kandhan Karunai'. His character as 'Veera Bahu' in the movie is quite amazing. In the Movie, PASAMALAR, his acting prowess reached unprecedented heights. The BROTHER character remains etched in our minds. The extraordinary actress, Savithri plays commendably the role of sister in the movie. Both their performances as brother and sister remain yardsticks for future generations of actors., who wish to essay the role of brother and sister. PASAMALAR depicts the ideal brother sister relationship .

He was addressed as 'Nadigar Thilagam', which means 'The Highest in Acting'. He won the great French Honour, Chevalier Award in 1995. He won the highest honour in Indian Cinema, when he was decorated with the Dada Saheb Phalke award in 1996. What a versatile actor, Sivaji was. He could get into the skin of any character – right from Lord Shiva in Thiruvilayadal to a factory worker and rich man in PASAMALAR. The most important aspect of the performance of Sivaji Ganesan, the actor is his consistency in acting performance! Whether it was 'Parasakthi' or ' Veerapandiya Kattabomman' or 'Raja Raja Cholan' or 'Thiruvilayadal' or 'Pasamalar' or 'Deiva Magan', his performances were always consistent. He always amazed his audience with his repertoire. Sivaji Ganesan remains an UNPARALLELLED ACTOR in INDIAN and WORLD CINEMA.