Why are We Here? by Bhupinder Singh
Sanbun Publishers, New Delhi 11028, Price Rs. 100 (US $ 7.95), 2009
ISBN 978-81-908259-5-5
Why are We Here? has been the question of the religious thinkers from the time immemorial. I am glad that he took this question and stimulated our mind in an organized way to introspect, on the various aspects related to the question. He starts to answer the question with a very practical example of his own son's remark; "It is my life" (which almost all of us have heard from our teenagers), and moves on to another vital question; "Have I created it?" He continues to weave a series of questions from the answer to the earlier question to complete the story of human life.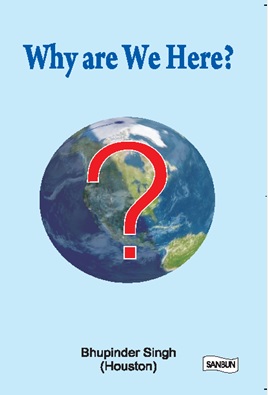 The book is an eye opener, in creating awareness about so many questions regarding the various aspects of life. We all have these lingering questions in the back of our mind, but do not know how to frame them in context and then finding suitable answer becomes the next challenge. The author has very successfully presented both the questions and the answers based on "Gurbani". He has used a logical approach of an engineer and the spirit of a Sikh in organizing the subject matter in a very scientific order making it attractive, interesting as well as understandable.

Throughout the book he has used familiar situations, terms, language and concepts e.g. radar, roadmap, space exploration etc, to make it interesting and relevant. His technique of presenting a thought, explaining it through Gurbani, encouraging introspection and ending the Chapters with suggestions for action are very appealing. He explains controversial topics as evolution, reincarnation using simple familiar situations as "life is a journey; we have to get our vehicle in shape for the journey (Page 46)."

He has very smoothly conveyed the message that Gurbani certainly surpasses all other literature in terms of moral elevation, intellectual uplift and the socio-political justice. We always believed that Gurbani offers complete guidance for entire humanity, yet felt constraint in expressing it in simple words, that void he has beautifully filled through simple personal examples from the daily life. This book is a great service to those seeking to understand Gurbani and how to apply it to practical life challenges.

The author has deployed various methodologies as dialogue with Guru Ji; "But Guru Ji we have jobs, responsibilities and family to take care of. So, are we expected to disconnect from everybody and everything else? …… Guru Ji says this has to be done through constant remembrance while engaged in normal daily activities (Page 81)." to explain his point. At several places he paints such a vivid word picture to covey a point as; "Now the weights that keep the mind anchored down are no longer there, so mind can soar high like a free bird (Page 94)." making the reader feel as if he is actually experiencing it.

In a very subtle manner, he reminds us of many good traditions we have unfortunately forgotten. He quotes Guru Nanak Dev Ji's blessing of "Satkartar" and "Tainoo Kartar Chit aaaway" which we should try to revive again. The book is a great encouragement to be creative, active, and useful member of the society.

The most appreciative beauty of the book is the interconnectivity of the thought process in dealings with various sub-topics and yet not loosing the focus and connection to the central idea. He very aptly uses his style of word pictures, employing familiar terms and situations to convey the idea that life's hurdles and struggles should not make one forget the ultimate goal of life.

The present-day Sikh tragedy, in the words of Dr. Jasbir Singh Ahluwalia is the ignorance amongst the Sikhs of Sikhism. In order to restore that Sikhism anchored mind-set, we need books that can provide the necessary impetus, and this book can prove to be a steppingstone in that direction. This book is certainly capable of generating interest and providing help in that understanding, which can reignite thinking and living a lifestyle according to Guru's teachings.

According to Dr. Mohamed Iqbal, "Religious life can be divided into three stages: Faith, Thought and Discovery." The writer has certainly achieved first two. Let us hope and pray that he achieves the third stage of "Discovery" too. Only a person vast and deep study and understanding of Gurbani could have written this kind of a book. May God bless his writing "Lekhni", so that we can get this type of books to inspire us.