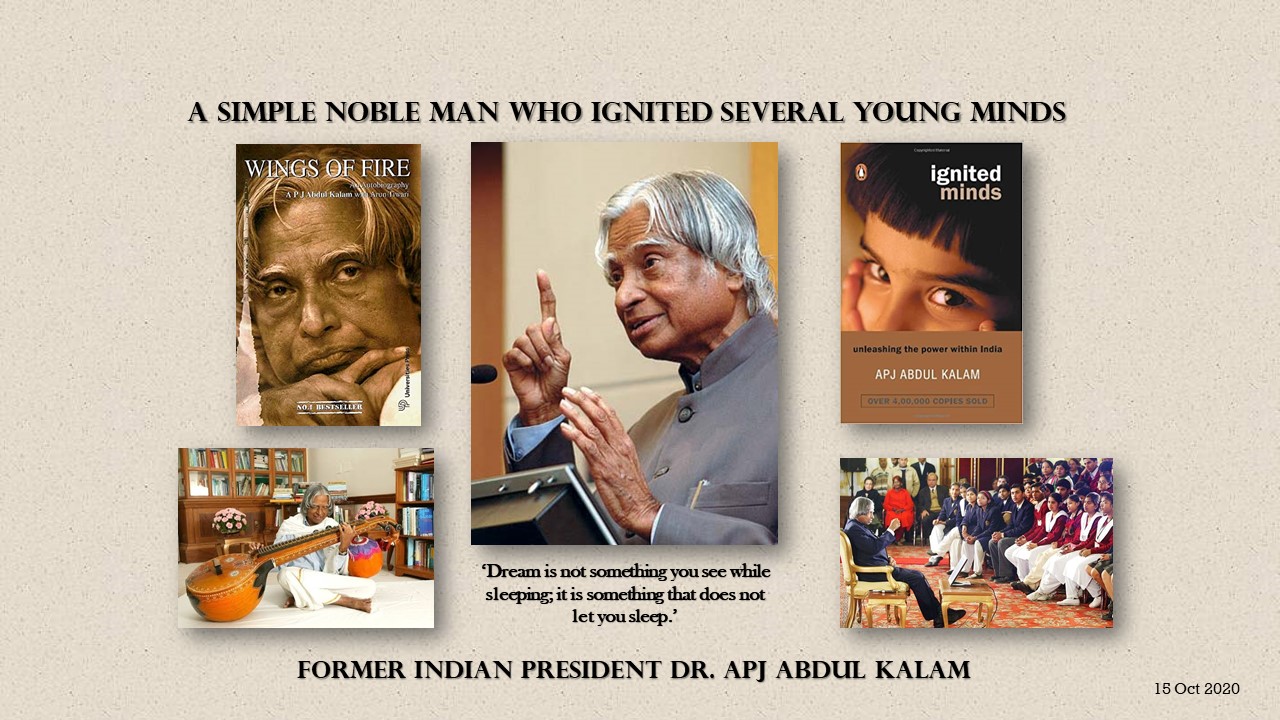 I have mentioned at the outset itself that I don't want to record any political comments on my posts because especially in India, politics is a highly volatile subject and unfortunately, the believers of any particular political party will try to stick to their point, however illogical it is. The faith in such cases is more of obstinacy than observing the truth. Therefore, I prefer to abstain from such controversies.

But, I want to record my views on former President of India Dr. Avul Pakir Jainulabdeen Abdul Kalam here because, I personally feel he is a unique Indian. After his education in St. Josephs, Trichy and MIT in Chennai he joined DRDO and later ISRO. He served as a scientist in space research and later his contribution to the military missile development efforts. He also played a major role in Pokhran II Nuclear tests in 1998.

Some presidents bring honor to the posts they hold; Abdul Kalam is one such personality because most of the times, especially three former presidents of India brought highly embarrassing discredit to the highest office they held.

Dr. Kalam was a man of several interests apart from being a scientist. He wrote, he showed special interest in music, especially Carnatic music and he could play veena. Religion and spirituality were very important to Kalam throughout his life; he was a proud and practicing Muslim. Nevertheless, surprisingly he had left a legacy of syncretism; he embodied in appreciating various elements of the many spiritual and cultural traditions of India.

Though he hailed from a huge lower strata of financial background, he never aspired for using his posts or position to go for saving wealth either for him or his family. His family continued to live in their native. He never brought them to Raisina Hills at any point of time.

His single status without marriage made many curious since he represented a religion where multiple marriages are acceptable. In the same way, I was always curious about his coiffure and tresses.

He tried to be a role model for simplicity and dignity to especially the young generation. His talked and interacted with the youth made them happy and as he asked them to 'dream big about their future'. His books like 'Wings of Fire', 'Indomitable Spirit' and 'Ignited Minds' were noteworthy.

He lived an exemplary, honorable and complete life and also faced death without problem. Very few mortals only will be blessed with such honorable life and death.

Dr. APJ Abdul Kalam was born on 15 October 1931 and passed away on 25 July 2015.