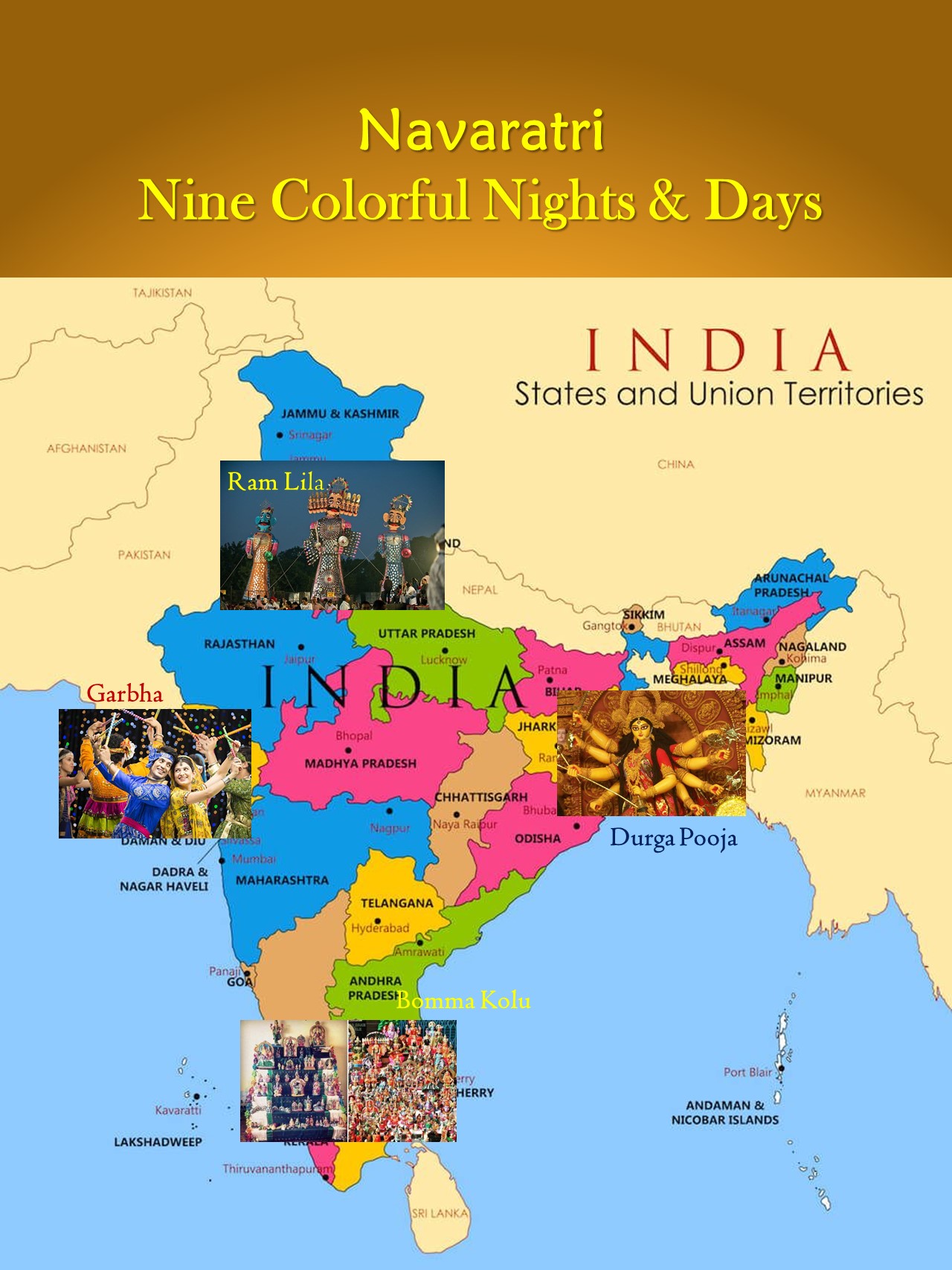 Navaratri is a celebration which reinstates the Unity in Diversity of Indian culture. Though the fashion of celebrations also differs from one region to another region, like the several languages we speak, the celebrations carry their own native charm.

I was under the impression that Navaratri, specially highlights and dedicated to the Goddesses Durga, Lakshmi and Saraswati and mostly a festival related to the women folk. It is, but, on scanning through the pages in net surfing, I came across some interesting and colorful (really and figuratively) information.

During these nine nights and ten days, nine different forms of the goddess are worshipped. It's almost as if we're giving ourselves the time and space to rejuvenate and cleanse from within. A peek into the different ways of celebrating Navratri across India and witness its sheer diversity.

North India: Navratri is celebrated as the victory of Lord Rama over the evil king Ravana. It culminates in the celebrations of the Ramlila which is enacted ceremoniously during Dussehra. The effigies of Ravana, Kumbhakarna, are burnt to celebrate the victory of good (Rama) over evil forces on the 'Vijaya Dashami' day. These nine days are filled with special pujas, yagnas, homas, fasting, meditations, silence, singing and dancing honoring Mother Divine, her entire creation- all forms of life, all forms of art, music and knowledge. She is worshipped as the savior of mankind from ignorance and all forms of evil.

Western India: In Gujarat, Navratri is celebrated with the famous Garba and Dandiya-Raas dance. Garba is a graceful form of dance, wherein women dance gracefully in circles around a pot containing a lamp. The word 'Garba' or 'Garbha' means womb, and in this context the lamp in the pot, symbolically represent life within a womb. Besides the Garba is the Dandiya dance, in which men and women participate in pairs with small, decorated bamboo sticks, called dandiyas in their hands.

East and North East India: The last five days of Sharad Navratri is celebrated as Durga Puja in West Bengal, north-eastern part of India. Devi Durga is shown with various weapons in her hand, riding on a lion. Lion signifies the dharma, the will power, while the weapons denote the focus and severity needed to destroy the negativity in our minds. Eighth day is traditionally Durgashtami. Exquisitely crafted and decorated life-size clay idols of the Goddess Durga depicting her slaying the demon Mahishasura are set up in temples and other places. These idols are then worshipped for five days and immersed in the river on the fifth day.

South India: Navratri here is signified by the arrangement of dolls and figurines in aesthetic arrays of stairs like arrangement called 'Kolu". Friends, relatives and neighbors are invited and enthused to sing songs in praise Shakthi. In Kannada, this exhibition is called Bombe Habba, Bommai Kolu in Tamil, Bomma Gullu in Malayalam, and Bommala Koluvu in Telugu.

Navratri is referred to as Dasara in Karnataka. Yakshagana, a night-long dance in the form of epic dramas from puranas are enacted during the nine nights of Navratri. The 'Mysore Dasara is celebrated with great pomp and show depicting the triumph over evil. It is observed as the state festival steered by the royal family of Mysore and their Jumbo savari. There will be grand processions on the streets carrying Goddess Chamundi.

The Ayudha Puja is conducted in many parts of South India on the Mahanavami (Ninth) day with much fanfare. Agricultural implements, all kinds of tools, books, musical instruments, equipment, machinery and automobiles are decorated and worshipped on this day along with the worship of Goddess Saraswati.

The 10th day is celebrated as 'Vijaya Dashami'. It is the day of "Vidyaarambam", where young children are initiated into learning.

Navratri 2020 will be celebrated from October 17th - October 25th, 2020.

Can there be anything more colorful than this festivity?