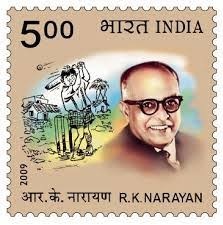 What comes to our mind first when we hear the name of the legendary writer, R.K. Narayan? Yes, it will be an unequivocal answer always and forever: Malgudi. There was a time for the kids of 90's like me who used to wait anxiously and endearingly for the screening of Malgudi Days serial in Doordarshan channel. Each episode would leave an imprint of our Indian culture and ethos and one would badly and madly fall for the simple and subtle life stories revolving in, around and within this fictional town located somewhere in South India. I could not resist myself from waiting for the upcoming episodes of the rustic simplicity and enduring images they carve on my emotional smithy. The very name of Rasipuram Krishnaswami Ayyar Narayanaswami is always a symbol of modest writing style for me. "No one ever accepts criticism so cheerfully. Neither the man who utters it nor the man who invites it really means it." This frank and brutally honest adage of R.K. Narayan allures me to his readable style endowed with his fertility of imagination suffused in the sheer verities of ordinary life.

R.K. Narayan, the first Indian English writer to bag the Sahitya Akademi Award has made the Indian social cultural fabric familiar to the foreigners via his creative outpourings. He made India accessible to the people in alien shores by offering a window of vision to peep into the Indian sensibilities. The trio of Indian English Literature namely, Mulk Raj Anand, R.K. Narayan and Raja Rao played a pivotal role in placing India as well as Indian English Literature to the World map of English Literature. His remarkable contribution to the 'Indianisation of English Literature' is explicit in his creation of his fictional South Indian town of Malgudi. Like William Faulkner's 'Yoknapatawpha', Thomas Hardy's 'Wessex' and Thakazhi Sivasankara Pillai's 'Kuttanad', he is widely known as the creator of India's most loveable town of Malgudi, where majority of his stories were set. He won numerous accolades for his literary oeuvre comprising Padma Bhushan, AC Benson Medal by the British Royal Society of Literature and Padma Vibhushan.

According to Prof. G.J.V. Prasad, "R.K. Narayan is the village gossip, your friendly uncle who always knows something or the other about everybody and, even better, tells a story in such a way that you can visualize every detail, that you recognize every character, that you hear the voices, even as you laugh at the storyteller's comic vision. His humour does not distort reality; his irony does not lessen the truth value of his works." This really exemplifies the grandeur of R.K. Narayan's lucid and clear-cut writing style. I came across R.K. Narayan's short story titled "Out of Business" quite accidentally and incidentally. This story is taken from his Malgudi Collection and his self-effacing narrative made me finish it with no time. Reading a short story like "Out of Business" stirred myriad of queries and thoughts in me. I was able to strike some chords with the contemporary scenario of lockdown and how it has created a terrible impact on the economic lives of multitudes.

"Out of Business", as the name suggests renders the picture of the protagonist, Rama Rao who is no more a part of the business he has been doing for the last five years. He worked as Gramophone Company with its factory somewhere in North India and he was its local agent of Malgudi. Everything turned upside-down owing to the collapse of the company. He fell into a financial crisis and life became a struggle for Rama Rao and his family. He was forced to shift from his bungalow to a very small house. "The money in the bank was fast melting. Rama Rao's wife now tried some measures of economy. She sent away the cook and the servant; withdrew the children from a fashionable nursery school and sent them to a free primary school." He tried hard to make both ends meet. He was in pursuit of job in many places by sending applications but in vain. Ideas popped up in his mind one after the other and he started spending a lot of his time doing crossword puzzles of 'Captain' journal hoping that he would win some money.

"For the next few days his head was free from family cares. He was thinking intensely of his answers: whether it should be TALLOW or FOLLOW. Whether BAD or MAD or SAD would be most apt for a clue which said, 'Men who are this had better be avoided.' He hardly stopped to look at his wife and children standing in the doorway when he returned home in the evenings. Week after week he invested a little money and sent his solutions, and every week he awaited the results with a palpitating heart."

Despite all the disappointments, he continued solving the puzzles. One fine day, the journal announced a special offer of eight thousand rupees and Rama Rao was desperate to try his luck again. He tried as well as failed this time too. A depressed Rama Rao thought of committing suicide. Luck did not favour him at all at the railway track. Due to the derailment of a goods train, all the other trains were delayed by three hours. He received a new lease of life at this juncture and it was time for him to start life afresh. He got to know from his wife that some tenants were willing to purchase their home. He felt it as a better idea to bring stability to the conditions of his home by moving to Madras in search of job. The short story is concluded with a query of his wife.

"Are you going to employ your five hundred to get more money out of crossword puzzles?' she asked quietly. At this Rama Rao felt depressed for a moment and then swore with great emphasis, 'No, no. Never again'."

We can come across the themes of control, struggle, defeat, desperation, depression, identity, hope and unity in this short story. Many people have lost their jobs and they were forced to leave their job, work place and what not because of a deadly pandemic. Many have even committed suicide. This short story glimmers hope to many as our life is not be waited or wasted for anything. Life goes on and we have to move on with the flow. The storms of life will definitely give way to calms and so we have to be patient and try for fresh woods and pastures new. There comes a divine epiphany in the entity of everyone just like what has happened in the life of Rama Rao. R.K. Narayan and the illustriousness of his "Out of Business" will definitely invoke and evoke many hearts.