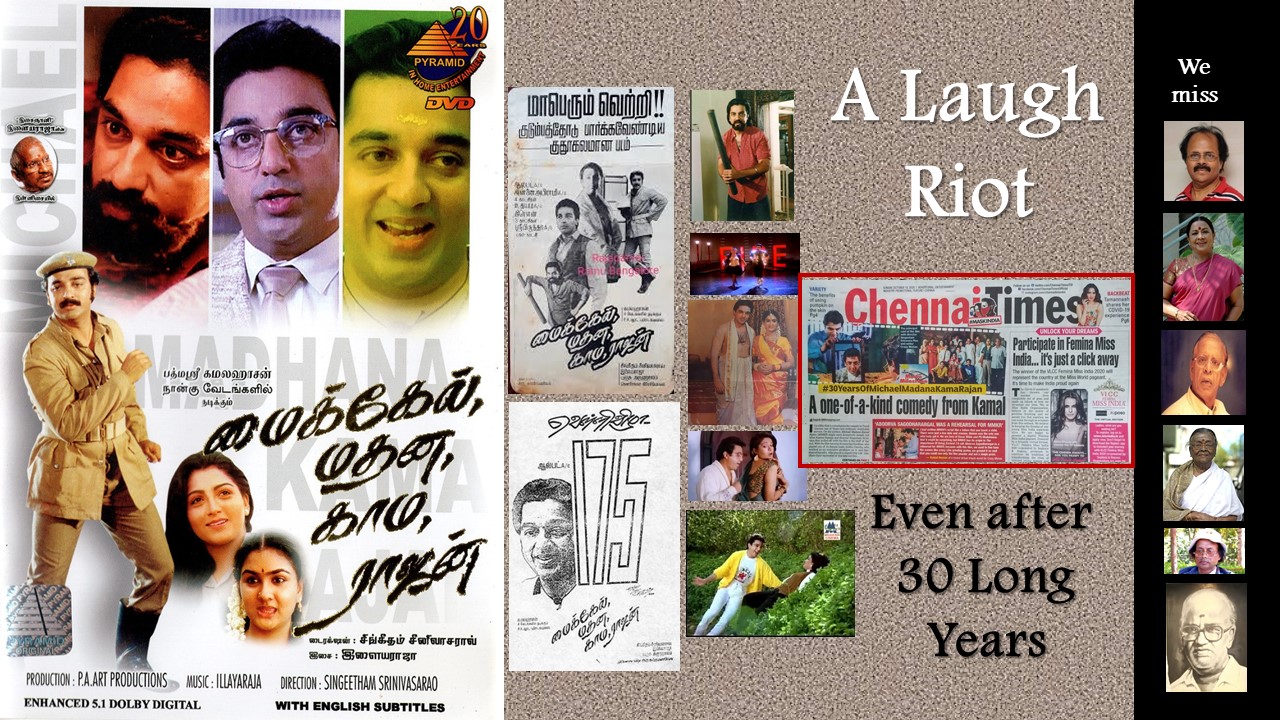 I was accidently watching ' Michael Madana Kama Rajan' a couple of days before just for time pass. I know that film is a laugh riot and I have watched it earlier also at several instances. But, what made me wonder was even now, I was laughing out loud (LOL) on many scenes as if I was watching it for the first time; especially the lead to climax with the song ' Vachchalum vaikkama ponalum ' song the duet which was filmed on Kushboo and Kamal (Raju ). That scene in that sprawling campus with trees and garden we will also have Santhana Bharati, Vennira Aadai Murthy, SN Lakshmi, Urvashi, Nagesh, Kameswaran Kamal and Michael Kamal. What follows this song is a roller coaster ride till the slightly extended climax with the rocking house again with the full assembly of all the stars in the movie. While watching the movie, I checked about the movie with google and to my surprise that movie was released on 17 October 1990. Exactly, 30 years before.

It was amazing that the film is still entertaining and make one laugh and enjoy. Is it not obvious that anything which stands the test of time is an outstanding contribution in art?

To my great surprise today' s 'Time of India' carries a write-up on MMKR titled #30 YearsOfMichaelMadanaKamaRajan ' A One-of-a-Kind Comedy from Kamal' with Khushboo and Subbu Panju recalling some of their experiences during the making of the movie.

Sadly, we don't have 'Crazy ' Mohan, Nagesh, SN Lakshmi, Manorama, BC Gowrishankar (Cinematographer) and Ananthu with us now. We really miss all these talented personalities.

Unfortunately, the main actor who entertained us with this remarkable comedy also had moved over to play in another field which is definitely not his forte.

Time never stops for anyone. It keeps moving. People of my gen live in memories which brings us smile, laughter and happiness now and then.