More Than Meets the Eye
Short stories by Dilip Mohapatra
Authorspress, Pages 212-Price Rs. 495/-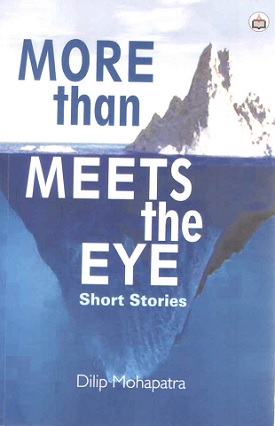 Dilip Mohapatra is a widely published author. Besides poetry, he has authored other genres like professional books and lately delved into short stories with his first collection "More Than Meets The Eye", a collection of 25 short stories. He has dedicated this book to his grandmother having the good fortune of getting regaled by her in his childhood with tales in his mother tongue from Panchathantra, etc.

These stories are of high standards with an effortless narration, fine language and bring forth before the readers Mohapatra's observations, experiences coupled with his imagination. Many of them are laced with historical events which give them a feel of genuineness and make one think that these are real experiences rather than stories. Dealing with all the 25 stories would make this write-up quite lengthy, though I want to. In this review I am taking a few of them for brevity sake, for it is my intention and the purpose of a review to kindle the readers' interest.

The first story "Janha-The Moon" is about a grand old lady from the harijan community, who lived in utter poverty and collected half-burnt firewood from funeral grounds during nights for cooking food. She says she is not afraid of ghosts, but the living ghosts i.e. the human beings. The story is written in first person and the experiences as narrated by the young boy is highly gripping. It also gives the readers the feeling that the story is autobiographical. The boy develops a liking for the old woman and he becomes an everyday visitor to her humble hut who teaches him fishing and other games. But she becomes a prey to the ire of people who hated her and her evil slanted eyes. The rest is for the readers to discover.

"The Return Gift" is another gem of a story that celebrates human relationship. This story is also in first person narrative. Here a father-daughter-like relationship that develops slowly between the head of an interview panel and the job seeker, a young girl, who lost her parents in a road accident a week before the interview, is narrated in such a way that the readers can't put down the book without finishing it.

"Two to Tango", the third story really takes an unexpected twist at the end, which the readers could not have anticipated. This is a cute little tale, that will put a smile on the readers' lips.

Reunion, the fourth story has a suspense that unfolds subtly at the end through a one line dialogue. The speaker of the story as also the readers will be for a big surprise. Eager to know, what it is? Grab a copy of the book now. I can assure you all that the book is worth reading and re-reading.

The Poster Paster is the story of a poor man making a living by pasting posters on public places for political parties, newspapers etc., for trivial sums, who has been lured by a newspaper agency for a hefty sum of Rs. 5000/- (to his standards) which he believed without knowing that it will end up in a dirty communal clash. What happened after that was beyond his imagination.

"Me Too", the next story in the book exposes the contradictions between the public images of people and what are they in real life. This tagline is now quite familiar in contemporary social realms. The story is about Shabnam, a talk show host in a popular TV news channel with quite an enviable influence and image of a successful opinion maker. But how she reacts to a "Me Too" situation in which her husband is involved, is quite surprising.

"The Back Bencher" is a story set at Bhagalpur where a communal riot in 1989 claimed 1000 lives and houses burnt and many villages destroyed. This story is narrated through the experiences of a young boy named Kamal, the youngest in the family. He grew up as a loner, compared to his elder brother who grew into a tough gully boy. Kamal was afraid of his elder brother, who intentionally kept him away even in games. Incidentally Kamal played the role of a girl in a stage play at school and this made students to tease him calling him 'Mini Baby' and some even went to the extent of asking him to be their girlfriend. This made him prefer to be a back bencher and he continued to be humiliated. His elder brother settled in his life, but Kamal was a failure everywhere even in his attempt to suicide. Luck had something else for him to offer and he was recommended for National Award for Bravery. This is a fine story linked to a real incident which gives it much authenticity.

The Migrant labourers' woes after the declaration of lock down in March 2020 were heart-wrenching. "Collateral Damage" is based on a true incident that narrates the ordeals of a family, who decides to go back to Rengareddy district in Hyderabad, their home state from Hadaspur, which is 500 km away, by walk!! Finding no jobs, no money, no food and nothing to survive, Venkatesh, a construction worker set out on his journey along with his wife Lakshmy, small daughter Pallavi and her pet dog Tommy tied on to his rickety bicycle by foot with their petty savings and food to last for a couple of days. 50 km a day was their plan, so that they reach their village in 10 days. On the way they had to shell out a major portion of their savings as bribe to various agencies at check posts, police, other middle men etc., who had no humanitarian approach to the poverty-stricken stranded labourers. Finally they reached their home state, But how? In what state? This is not a story, but a real incident. How mean people are; to know this one has to read this story.

"Midnight Blues" is about the exploration of a junior newspaper reporter Abinash about 'Naturism', a new word which he came across quite accidentally. It was a word just popped up during his google search on Goa due to the autocorrect feature. Naturism is a more respectable term for 'Nudism' and its practitioners believed that the best way to blend oneself with nature is in the buff, by shedding off one's clothes. He could get only scant information on it and he decided to undertake a trip on an explorative journalism to Goa. But there were too many hurdles to get to the special annual celebration of the nudist commune. How he makes it to the event and his experiences reveal a strange world, many of us are not aware of.

The couple Bhanu Pratap Singh and Rajeshwari after a long stint at US decides to return to India and start living in their ancestral house after doing extensive renovation. Their daughter and son decided to continue at US. As Bhanu Pratap feels uncomfortable having nothing to do much, he sets up a fruit orchard in the suburbs of Udaipur and is happily engaged. He rejects the proposals of their daughter and son to go and live with them as they are having health issues. Rajeshwari, however, accedes to the request of her children and goes with the. Bhanu Pratap Singh moves to the farm house in his Orchard and engages a caretaker to take care of household things. It was quite providential that an injured baby squirrel fell on his lap. He named it Chutki. The love between a man and the squirrel is so heart-warmingly depicted in the story "Love Story", but the ending of the story puts a lump in the heart of the readers.

"Harem Hallucinations" is a story weaved around Jaisalmer and Hotel Helsinki Heights. With Jaisalmer Fort among others, this is a place which is a much sought out tourist attraction. As such hotel industry is a flourishing trade there. This story is about two brothers and the lead character is Rayan the younger one, who has a hallucination that he is Ottomam Sultanzada and is the direct descendant of Mehmed the Conquerer and that his father was the Sultan. He believed that he has been sent back to the world by Allah to revive the lost glory. Due to his weakness for women he was involved in illicit relationship with the nomadic dancers of Kalbelia tribe from Rajasthan, who performed dance at the hotel, he faces threat for his life and escaped to Finland. He was deputed on a mission to hand over a few girls' the merchandise' of the company he worked for, to a secret island via Bangkok. What happens to him there is unbelievable, but true.

Let me assure you that the other stories which are not included in this review are equally good and are of high standards. There is no short-cut to satiate one's anxiety except to read the book. This book of stories will be a valuable treasure to one's possessions. It is a pleasure to read such stories of substance. I expect more such stories from the blessed pen of Mohapatra and I wish him all the very best.