So finally it has happened. It took more than a century for one of the oldest civilizations and most populous nations in the world to achieve its first individual gold medal at the Olympic Games. Abhinav Bindra has done India proud like no one else before. And in victory he looked cool, composed and confident, representing more of ancient Bharat than modern India. Achievements of wrestler and boxer Kumars are nothing less, but an Olympic Gold Medal for an individual item is what has eluded India for so long. India has done far better in group games than in individual sports so far.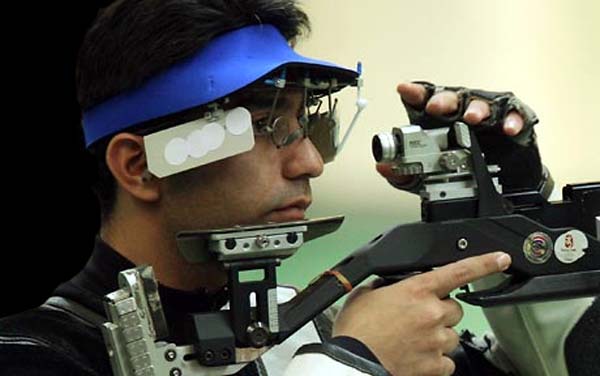 India had taken Olympic Gold Medals in Hockey many times and we could do satisfactorily well in a couple of other games too. From its virtual monopoly in Hockey, Indians have now come down to a stage of failing to even qualify for participation. And India has always been an utter failure in athletics. One Milkha Singh and one P.T. Usha are no great achievements for a colossal human resource of 1.2 billion human beings.

Our brilliant Bindra has broken that jinx and has ushered in a new era for his fellow countrymen by his own efforts. If we can learn from Bindra's story and recognize the several lapses we have in our system, India can target at least a dozen medals in the next Olympics. In individual items India has produced only a handful of world-class sportsmen. Personally I can think of only a few individuals like Prakash Padukone, Geeth Sethi and Viswananthan Anand who can claim to have gone up to the very top of the world. Then we had so many others who were promising and very hopeful at times. Milkha Singh, Usha, Yohannan etc., can only be counted in that category. Their greatness definitely lies in their tremendous fight against all odds in India to reach where they were with a setup like that of ours. But in the case of Abhinav Bindra we can set aside all reservations because he shall remain forever as the first individual Olympic Gold Medalist for India.

Non-Playing Captains

The simple fact that the 60 member Indian contingent to Beijing Olympics had only a half of them actually participating in sports and games speaks chapters about Indian Sports. And the striking truth that Indian nation was represented by a petty politician (and not the President or Prime Minister) speaks volumes about the present pathetic condition of our great nation. In all countries, especially democratic ones, there is politics in sports and games. In a way it is unavoidable because sports and games involve human beings and all are political creatures. But non-playing hardcore politicians taking control of the leadership of almost all sports bodies is something that is seen only in India. Their leadership is good but inevitably they bring in dirty political maneuvers and manipulations into the games. During their tenures, it is very common these days to see very promising players turning into very nasty politicians. Politics seeps into everything and destroys the players and ultimately the game. Indian Hockey is the best example for this degeneration syndrome.

The main attraction for hardcore politicians is the money lying at the disposal of sports bodies. It is often the reluctance and inefficiency of good sports managers to handle such huge amounts of money that paves the way for non-playing entities to come in. And once these non-playing entities have come into the body of any sports organization, it is almost impossible to get them out. There are good things they bring about in the conduct of games but very few in the game itself. It is high time we started insulating core bodies in each games & sports from the negative influences of these non-playing captains. Politicians must be welcome in sports organizing bodies but not in the basic sports bodies meant for promotion of the sport. Indian Hockey Federation, BCCI, Indian Olympic Committee etc,, are all suffering from the bad influence of Indian politicians. All the unprofessionalism and greediness of Indian politicians have started showing in the dirty demeanor of many coaches and players. This was very much evident in Beijing also.

Greedy Claims

Some of Indian coaches have jumped the gun and started claiming all glory for themselves. All the self-generated media publicity by the coach of Abhinav Bindra was preposterous and premature. He should have claimed glory for himself and arranged all celebrations only after Mr. Bindra had publically acknowledged the efforts of his coach. Otherwise he is only a paid coach who has done his job. Coaches are paid professionals who are retained for training all those who are assigned to them. Much before Mr. Bindra even mentioned about his coach, the sunny trainer has attended several celebrations and got a cash reward declared by Kerala Government (for reasons best known to them). Here the stark comparison with Mr. Nambiar who took yeoman efforts in coaching and perfecting a village girl like Ms. P.T. Usha to the topmost level is highly revealing. All those who are following the media these days knows fully well that it is Abhinav's father who needs to be complimented and not his coach who is retained by Government of India for training. At this rate even domestic servants at Bindra's residence can lay their claims for the Olympic Gold Medal just because they have cooked for Abhinav and washed him!!

And as usual a 'special' breed of Indians who made a lot of claims during their journey to Beijing are now sulking. There was our lady long jumper (who has never ever crossed the 7-metre mark in her life) making all tall claims. She even crossed all limits of professional decency when she ridiculed the brilliant efforts of her predecessor Ms. P.T. Usha in the past. After all the hullaballoo and media propaganda by her cronies, she painted a very pitiable picture by failing to even qualify. If she has fouled deliberately (which is very much possible because she knew she cannot make it anyway), the entire money spent on training her must be recovered from her. She should have remembered that these days the Olympic God Medals for long jump goes to those who can cross the 7-metre mark and there are atleast half a dozen contestants who can do it. Also, she should remember that media propaganda by her 'own' supporters and burning candlesticks by a few Kerala Congress politicians will not get her anywhere in athletics. One can leap high and long only if one is on firm grounds and not floating on air.

Abhinav's victory could not have come at a better time. Indian sports' biggest bane is the game of Cricket and Indian Cricket is in utter shambles now. This is the right time to discontinue undue encouragements for cancerous Cricket and start promotion of real sports and games that are useful for human body, mind and spirit. Managers of Indian Sports must pick up from the glory of Abhinav's medal and start preparing for the next major international event. The best in each field who have already proved their mettle must take charge of managing the game. If we again leave it to the dirty politicians and cheeky coaches to prepare our candidates we will only end up with many more lotus-eating long jumpers. If we want more of highly focused modern day Arjuns like Abhinav Bindra, now is the time to act.