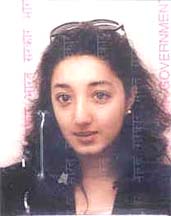 The warmth, depth, vibrancy and multiplicity of life in India - particularly the experiences of women in the subcontinent - are what Revati Sharma Singh, 31, strives to depict in her oil paintings. The slightly-built artist sits on a sofa in her living room in suburban London, the sounds of two small children playing upstairs drifting into the room. The living room is home to oil paintings, carvings, pottery and the occasional cookbook and houseplant.

The many-hued oil paintings are hers: images of India, predominantly of women - some carrying earthenware pots on their heads, dancing or playing the sitar (long-necked, stringed Indian musical instrument). They are striking, moving - almost alive.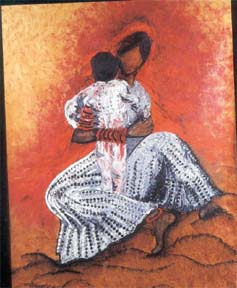 The complete unselfconsciousness and lack of pretentiousness in her work appears to stem from the artist herself and the down-to-earth quality that resonates from her. Singh works with her hands or a palette knife. Using a brush, she explains, is too "impersonal".

Being Indian and being a woman, explains Singh, are inextricably linked and integral to her and her art. "I love India, I yearn to be back. Everything I tend to paint is inspired by what I have seen or felt there. And I have always painted women."

She stops, reflects for a moment, and then adds: "It's because they are so strong. It's a thankless task, being a mother, all over the world; but I think in India, women really suffer - especially in rural India. I have seen how hard they work and how cheerful they are and I don't know how they do it. Women inspire me because of their strength."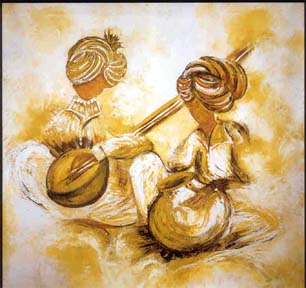 In her studio in the loft at the top of the house, half-completed oil paintings sit alongside crayon masterpieces by Singh's three-plus daughter Saniya.

Singh, who was born in Himachal Pradesh, India, before moving to Mumbai where she grew up, says she paints her memories of India and of women as she sees them as having influenced her life and shaped her creative process. She moved to London in 1998.

As an artist, Singh admits she has been relatively fortunate: in the four-and-half-years since she began painting she has had four exhibitions around the world - two in London, one in Singapore and one in Delhi. Her latest exhibition, called 'My Own India', was held at the King's Road Gallery, London, between February and March 2004. Singh is the first Indian to exhibit here.

The process of painting can be arduous, she says. She could go for a month without painting anything and then, without explanation, an emotion will rush into her. "Sometimes I just have to get up and paint. We could have just come back from a party and Darpan (her husband) wants a chat - but I just have to paint. He understands. He's supportive."

After graduating from the Delhi College of Art in 1996, Singh became a web designer. Indeed, she admits, it was only by chance that she began painting in 1999, after moving to Singapore with her husband. She had no job, no social circle and nothing to do. "I hated shopping," she says, so she started visiting different galleries and one artist told her where she could get oil paints.

"So then one morning I got up and I painted. The first painting took me about half-an-hour, so I went back that same afternoon and bought six more canvases.

"I had always been interested in the arts but I had never done it. The first step gave me the confidence - I had six paintings that first day."

Singh says it is support from her husband and the female members of her family that has been instrumental in her becoming the woman, the mother, and the artist she is today. "My mother and (maternal) grandmother have always supported me. I come from a family of strong women," she adds.

Far from finding her gender a barrier, Singh feels she has always been lucky as a woman, and has had lots of opportunities. "The 'can't do' thing never happened to us as women. It was only when I grew up that I realized how privileged I was. Perhaps, subconsciously, that freedom does manifest itself in my work."

Singh did not want to move to London five-and-a-half years ago. "I was miserable," she says. "I was indignant that I had to move away, leave my friends and family. Then I had Saniya, and I was still constantly yearning to be back in India. Then one day I thought 'what is this child going to think, her mum is half living in India and half here'. That was the day I completely changed my mindset."

She thinks she is more at peace being in London now, and that this is reflected in her work. "I think my paintings now are also positive, more uplifting and there are more images of mother and child now."

As for the future, Singh wants to set up her own gallery so that up-and-coming artists can exhibit their work at the venue free of charge. She would also like NGOs and charities to benefit through some exhibitions of her paintings. It would be, she says, "Giving something back - especially to a women's organization or something to do with children."