Why We Celebrate Christmas?
Christmas is a time of joy as we celebrate the birth of our Lord Jesus. Two thousand years ago a unique child was born in Bethlehem, and His name was Jesus. Five to six hundred years before His birth many prophets of God foretold about the birth of Jesus Christ, that a child will be born to a pious Virgin with the Power of God.

Their prophecy was fulfilled when the Angel of God appeared to a Virgin called Mary. The Angel told her that she will bear a Son, and He shall be called Jesus. Many asked the Angel how could it be since she did not have a husband? The Angel told Mary that the Holy Spirit of God will be upon her and she will bear a Son, The Child will be called the Son of God. Luke 1: 26 --35.

The birth of Jesus was unique because He was born with the power of God. The angels of God came from heaven to announce about His birth to the poor shepherds who were keeping watch over their flock at night. The shepherds filled with surprise and joy went to Bethlehem, and found the baby Jesus in a manger as told by the angels.

Another amazing thing happened when three wisemen from different countries saw a new bright star in the sky. It was the sign of the birth of a King. They followed the star which led them to Bethlehem and stopped where Jesus was. They worshipped Him and presented their meaningful and expensive gifts.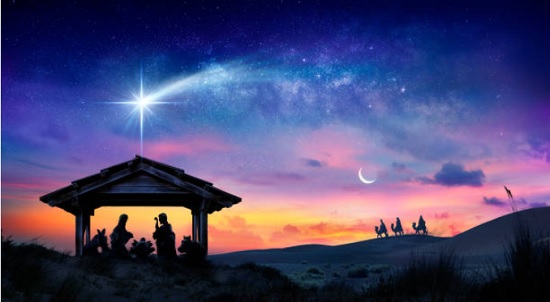 This type of birth never took place in the history of mankind, because Jesus was sent by God for a special purpose. God's plan was to save the sinful world. So he sent his only son Jesus Christ to be sacrificed for the sins of mankind.

Jesus lived and walked on this earth , but His life was without sin. He was the only perfect man who ever lived on this earth. Even His enemies could not find any sin in Him, when they wanted to kill Him.

He came to save the world and gave His life to show the way of Salvation from sin and to give everlasting life to those who believe in Him. He lived on earth with the power of God, performed many miracles of healing the sick, feeding the poor, and raising the dead.

He was crucified at the age of thirty three, not because of His sins, but because of the sins of the world. The greatest event happened when He rose again from the dead, and He is alive now . John 3:16.

" For God so loved the world that He gave his only son that whoever believes in Him should not perish but have eternal life". At Christmas we celebrate the birth of our living God and saviour — Jesus Christ.
Image (c) istock.com
22-Dec-2020
More by : Dr. Frank S. K. Barar
---
---
| | | |
| --- | --- | --- |
| | I have liked your note on Jesus Christ Both Krishna and Christ are my beloved gods | |
---