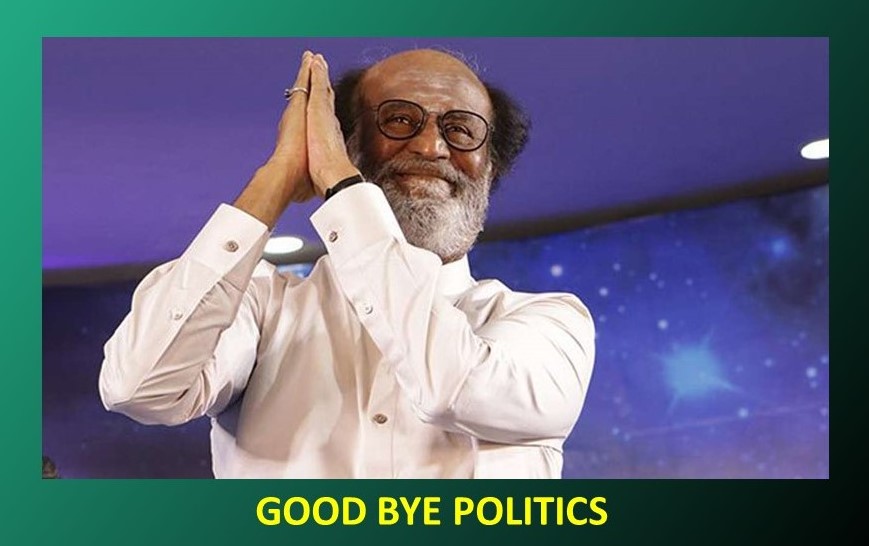 So finally, Tamil Nadu has lost the greatest opportunity to get a leader who intends starting a political party to lead the state to rule without corruption, achieve success and elevate its position to great heights.

Yes. Super Star Rajinikant finally announced his inability to start a political outfit, manage and bring the state out from the clutches of the corrupt Dravidian parties. The reason? Yes. It is his deteriorating health conditions; he had undergone kidney transplant a few years back, he had fluctuating blood pressure and above all the never ending threat of pandemic Covid which can easily affect senior citizens as he is now seventy years old. He had to travel and meet lakhs and lakhs of public for electioneering which is impossible.

But, you see all these have dawned on him only yesterday since he made statements even a few days before that he is ready to even die because of his health conditions to save and to provide 'good governance' to the Tamil Nadu state.

How, where and when this 'wisdom to leave politics' dawned on his mind?

That is the point. When he had gone for his shooting of Sun Pictures movie 'Annaththe' in Hyderabad, some of his crew members were down with Covid. He had suffered fluctuation of blood pressure and got admitted in Apollo Hospital. After the treatment he was sent back to Chennai. Soon after his return he made announcement that he gives up his political aspirations which had 'shattered' hopes of not only his fans but also those who were expecting a 'miracle' or 'tsunami' in Tamil Nadu political scenario.

Well. I don't like to discuss politics of any sort and especially Indian. But, because first of all the 'tall claim' Rajinikant made as he will start a party which will follow 'Spiritual Politics'. What that exactly mean? In my view, it is an oxymoron. May be there are some who play 'politics' in spirituality also. But, how someone can make 'spirituality' of politics?

Leave that. Rajini supporters are all along telling that he spoke against the corrupt ruling AIADMK led by Jayalalithaa in 1996 assembly elections and voiced his favor for DMK through their powerful channel (at that time) Sun TV which caused the total defeat of the ruling AIADMK. It was because of its absolute misrule and the extraordinary hubris exhibited by its leader Jayalalithaa. But, Rajini's fans still believe that it was because of the 'Super Star's voice people voted out Jayalalithaa. They all feel even today that time itself he should have floated a political party with his high ideals. He was only 46 at that time and hale and healthy.

Why he didn't do that?

Because he was not interested to serve the people through politics. He wanted to only entertain and keep them 'happy' through his 'spicy masala movies' and earn a lot of wealth, name and fame. The directors and writers of Tamil Nadu saw the profitability of this idea and in every movie he was mouthing political innuendos, suggestive lines, punch dialogues, oblique references to the Tamil Nadu politics. It worked for some years. Because of his spiritual inclination he made a movie on 'Ragavendra' and later 'Baba' were he tried to preach 'spirituality'. But, both movies fell flat at the box office.

Immediately, Rajini realized the situation and went back to his usual formula 'good versus bad' and 'rich versus poor'. Even then his films like 'Linga', 'Kabali' 'Two' and 'Darbar' kissed the dust and the distributors thronged his house for refunds.

Rajinikant knowing the pulse of the TN people started talking about politics more vociferously after the death of two big leaders of the two Dravidian parties; Jayalalithaa (2016) and M Karunanidhi (2018). The reason is very simple. He need not have to be scared of these two giants. So he started mouthing political statements like 'if not now, it can never,' 'I am ready to die for giving good governance to TN people' etc. His heath was same with replaced kidneys, Covid was very much there and anyone can have BP fluctuations.

Rajinikant might have expected:
1. Someone will do all the ground work and as in movies where he had to just mouth the dialogues and bask in the glory of the combined efforts of the script writer, camera man, stunt master, makeup man, director and above all great publicity. He will demonstrate some style and walk away with his unassailable 'Super Star' image. In addition, he gets paid sumptuously for that.
2.But, in politics it is impossible. MGR started his career when he was in DMK itself. In fact, he was the major contributor to DMK's popularity among the downtrodden. He had built an image as the savior of the masses for long and he did it also in real life to a great extent. He traveled a lot to meet the public in person throughout TN and even with his borrowed kidney and impaired speech he could win over the elections because of his long innings and image of him in politics. He never uttered 'oblique' punch dialogues and all along he spoke for his party. He was in addition very generous.
3.Though MGR didn't leave the mantle to Jayalalithaa and just left her high and dry, she didn't lie low. She fought bitterly her way up in the political world. As a single isolated woman, she was bold, confident, communicative and indefatigable till she achieved what she wanted. She didn't acquire AIADMK soon after the demise of MGR and sit on the CM chair instantly. If one followed her career or read her history, they will realize it.

With no qualifications of that sort, Rajinikant expected to hit the headlines only by making 'vague statements' and kept telling that 'he will come at the right time'. What does that mean? He is in addition, a miser who even asked for some income tax concessions very recently for his Marriage Hall because there was no income during the pandemic!

The Super Star expected something else and received something else. Just like in celluloid, he thought he can become popular in politics also with the support and recommendation speeches of a few thoughtless and self-serving political commentators.

Nevertheless, that proved to be wrong. So the mighty 'Super Star' floppily walked out of the political arena. Some personality who made an exit even before entering politics!

Good for him and more especially for Tamil Nadu!