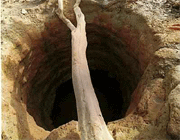 Drought and floods in India are a perennial phenomenon, recurring with regular consistency every few years. Scientists had warned about the current drought situation that has now affected more than 50 million people and herds of livestock have died.
True these are natural disasters, yet it is also known that man has the capability to conquer and tame nature. The political system or government's ideology has a major role to play in these issues.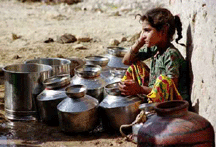 India is rich with water resources with some of the great rivers in the world. The earlier Indian rulers during the Mughal regime or the British Raj did not pay any attention to conserve the trillions of cubic meters of water of the great Indian rivers that simply get emptied into the ocean. Water conservation is possible by building dams, joining the rivers, building canals and letting the flow circulate within the country.
In the post independence India too, the Governments have miserably failed in handling the water resources. Resultantly, even in 21st century, India as a whole suffers from acute water problems. The politicians battle out the issues of "Water Sharing" within states without any concrete results and the social activists are busy doing "Dharna" and "Satyagrah". Yet the plight of the common man, particularly the women continues to worsen.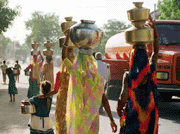 How long the Indian women will have to spend their days in only gathering water from far away distances?
This issue of water scarcity, drought and floods, raises a lot of questions:
The national agenda should get clearer. People have a right to live a healthy, pollution free and hygienic life.
Is anyone listening?