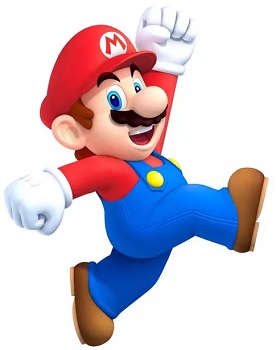 Mario is Nintendo's mascot and he has turned forty this year. Nintendo created Mario forty years ago in 1981. The first game that he starred in was Donkey Kong. Unlike certain other games of that era, Donkey Kong has multiple screens.

At first, Nintendo didn't intend to make a Donkey Kong arcade game. They wanted to make an arcade game about Popeye the Sailor Man. But because King Features Syndicate thought that video games were just a fad, they wouldn't allow Nintendo to make a Popeye game. Nintendo then had to create the characters that appeared in Donkey Kong.

Originally, Donkey Kong was going to be Bluto/Brutus. Pauline was going to be Olive Oyl, and Mario was going to be Popeye. Just one year later, King Features Syndicate saw what a huge success Donkey Kong was and they allowed Nintendo to make a Popeye arcade game.

Let's think about something for a moment. If King Features Syndicate had said yes to a Popeye game in 1981, Mario wouldn't exist. There would've been no Super Mario Bros., no Super Mario World, no Super Mario 64, etc. There also would've been no Super Mario Bros. movie, but many people would be thankful for that.

When Donkey Kong was released in 1981, he wasn't called Mario. Mario was called Jumpman, and Pauline was called Lady. It wasn't until the next year that Mario received his name when Donkey Kong Junior was released. In all of the games that Mario has appeared in, he has been the hero, except in Donkey Kong Junior. This was the only time when Mario was the villain.

Mario's last name is also Mario. He is Mario Mario. Let's discuss why he has a cap, overalls and a mustache. In 1981, Nintendo couldn't animate Mario with hair so they gave him a cap. Mario's arms wouldn't move as he walked so they fixed this by giving him overalls. Finally, they couldn't give him something as small as a mouth so they gave him a mustache.

The next arcade game that Mario appeared in was Mario Bros. This was when Luigi was created. Mario Bros. is a platformer like Donkey Kong, but the goal of the game isn't to climb to the top of the screens. About two or three years later, Nintendo made Super Mario Bros.

Mario was originally a middle-aged carpenter. But Nintendo made him younger and turned him into a plumber. Mario has become such an iconic figure that I can't imagine the video game industry without him. He is probably the greatest video game character of all time. He is Nintendo's greatest asset.