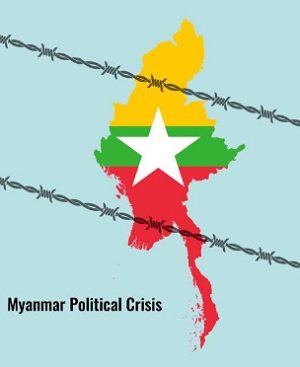 Myanmar, an Asian country of 54 million people, is a member of the regional grouping ASEAN (Association of South East Asian Nations). It shares land borders with Bangladesh, China, India, Laos and Thailand. It is multi-ethnic, multi-religious and multitribal in nature with a number of ongoing tribal insurgencies. The country was previously known as Burma till 1989 when the generals changed the name to Myanmar. The name Burma derived from Sanskrit word: Brahma Desha. Hinduism was predominantly pervasive in Burma during ancient times. Both names of the country are rooted in Hinduism; Burma is the British colonial officials' phonetic equivalent for the first half of Brahma Desha the ancient name of the region. Brahma is part of Hindu trinity, a deity with four heads. The British colony of Burma was administratively a part of the British India from 1824 to 1937. Burma was separated from the rest of the India in 1937, just ten years before India became an independent country in 1947.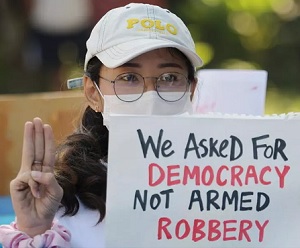 Myanmar is the only country in Southeast Asia that shares a land border with India. The shared frontier stretches for more than 1,643 km. The two countries also share a 725 km maritime boundary in the Bay of Bengal. India rightly sees Myanmar as its gateway to Southeast Asia, with which it is seeking greater economic integration through its 'Act East' policy. India is seeking regional connectivity with Myanmar through India-Myanmar corridor project. Four of India's north-eastern states, Arunachal Pradesh, Nagaland, Manipur and Mizoram, are geographically contiguous to Myanmar. India also shares the strategic waters of Bay of Bengal, including the area of strategically important Andaman & Nicobar islands where the two closest Indian and Myanmar's islands are barely 30 kilometers apart. A large population of Indian origin people, estimated to be in the range of 2.5 million, lives in Myanmar although after independence Myanmar had started to expel people of Indian origin.

After receiving independence from the colonial British power in 1948, Burma, practiced a nascent democracy till 1962. The elected Prime Minister U Nu, however, had to invite the military to help the civilian government contain insurgency in 1958 which culminated in a coup by General Ne Win in 1962. Myanmar, subsequently, was ruled by an oppressive military government from 1962 to 2011, leading to international condemnation, total isolation and sanctions.

The 1962 coup brought about a complete disruption in not so thriving bilateral relationship with India. General Ne Win's (original name Shu Maung) isolationist 'Burmese Road to Socialism' policy that remained in vogue for the next 26 years, included nationalization of industries, repression of ethnic and religious minorities. Myanmar essentially became a police state. In real terms, these meant a severe isolationism, expulsion of foreigners, discouragement of tourists and closing off the economy. A large number of ethnic Indians were expelled from Myanmar. Consequently, ethnic Indians who formed the backbone of Burmese government and economy during the British rule, serving as soldiers, civil servants, merchants and moneylenders, were reduced to a negligible minority. By 1964, an estimated 100,000 such refugees had reached India from Burma. Ne Win regime had tried to "keep both India and China at arm's length", being "suspicious of the motives of two big neighbors". Nevertheless, Myanmar's neutral stand during the 1962 Chinese aggression on India was perceived as a "pro-Chinese tilt" by New Delhi.

In 1988, nationwide protests broke out against the repressive regime. Dubbed the 8888 Uprising, the civil unrest was sparked by economic mismanagement, leading General Ne Win to step down. In September 1988, the military's top leaders formed the State Law and Order Restoration Council (SLORC), which then seized power. Aung San Suu Kyi, the daughter of the country's independence hero Aung San, became a notable pro-democracy activist during this period. She was living in England with her British husband and two British citizen sons. She left her family and came back to Burma to lead the protests on the call of the students. In 1990, free elections were allowed by the military, under the assumption that the military enjoyed popular support. Ultimately, the elections resulted in a landslide victory for Suu Kyi's party, the National League for Democracy (NLD). However, the military refused to cede power and placed her under house arrest.

The military remained in power for another 22 years until 2011, following the military's roadmap to democracy, during which the elections were held. The military gave up the isolationist stance and began developing ties with other countries. Fear of China's strangle-hold on the economy in part drove military leaders to institute the 2011 reforms. China was also fomenting ethnic insurgencies in Myanmar. The military drafted a new constitution in 2008 under which it retained substantial power, including the right to appoint ​25% of the parliament members. Constitution restricted the presidency to any citizen who did not have any foreign citizens as relatives.

Following the 2011 reforms, foreign investment skyrocketed from $900 million in 2010 to $4 billion in 2017. Donors, such as the European Union, Japan, and the United States, dramatically increased their aid to Myanmar. The World Bank also committed millions of dollars in credit and grant funding. Between 2011 and 2015, a tentative democratic transition began, and elections held in 2015 resulted in a victory for Aung San Suu Kyi's NLD party. She was not allowed to become president of the Republic. The military retained three cabinet positions including defense, interior and foreign. A new post was created by the Parliament and the NLD of State Counsellor who was de facto the leader of the civilian government. Aung San Suu Kyi was given that position despite military junta's reservations.

The 2021 coup was orchestrated in the aftermath of the general election on 8 November 2020, in which the NLD won 396 out of 476 seats in parliament, an even larger margin of victory than in the 2015 election. The military's proxy party or the "Kings' party", the Union Solidarity and Development Party, won only a paltry sum of 33 seats. The army disputed the results, claiming that the vote was fraudulent. The army ordered the independent election commission to void the results which it refused to do so. There was pressure on the civilian establishment leading to rumors of an impending coup. Predictably, a military coup d'e'tat began in the early morning hours of Feb 1st 2021. The military (Tatmadaw) deposed the President Win Myint and the State Counselor Aung San Suu Kyi and arrested both of them. Absolute powers were acquired by the military under the fig-leaf of proclamation of emergency by the vice-president. On 2 February 2021, General Min Aung Hlaing established the State Administration Council, with 11 members, as the executive governing body. Repressive laws have been unleashed on the peaceful protestors in Myanmar by the military junta. Civilians leaders including Aung San Suu Kyi have been prosecuted with "trumped up charges".

Historically, India lost to China to the detriment of her national interests in 1980s and mid 1990s when it took a strident, "preachy and moralistic" approach and refused to engage with the military junta. Gradually, India became more pragmatic in the late 1990s onwards and bilateral relations with Myanmar improved slowly. It did cause some heartburn for the NLD and Aung San Suu Kyi but it was more pragmatic approach. Myanmar had historically harbored various insurgent groups from North East India owing to porosity of the borders. India conducted its first open surgical strike in 2015 against insurgents belonging to NSCN-K faction. The operation took place in response to an ambush of Indian Army convoy of 6-Dogra regiment in Chandel district of Manipur across the border in Myanmar in 2015. 38 insurgents belonging to NSCN-K group were killed. Myanmar's government insisted that the operation did not take place on its territory and that Myanmar does not allow rebel groups to use its territory to stage attacks against foreign countries. However, the subtext was that India conducted the surgical strikes against the insurgents with full awareness and blessings of the Myanmar military who had deniability for international consumption.

Military to military cooperation was increasing between India and Myanmar. Indian Army Chief Gen. Manoj Mukund Naravane and Foreign Secretary Harsh Vardhan Shringla visited Myanmar on October 4-5th 2020 , where they met leaders such as State Counselor Aung San Suu Kyi, as well as General Min Aung Hlaing. During the visit, the two sides agreed to strengthen their partnership in connectivity projects, capacity-building and trade, and to broaden their defense exchanges across all three services -- army, navy and air force. India subsequently gifted a thoroughly refurbished Soviet era Kilo-class submarine to Myanmar in October 2020. The diesel-electric submarine, the INS Sindhuvir, which was commissioned to the Indian Navy in 1988, had been refurbished by state-run defense shipbuilder Hindustan Shipyard. With a displacement of 3,000 tons, a maximum operating depth of 300 meters and a top speed of 18 knots, the vessel is now Myanmar's first submarine. It has been renamed UMS "Minye Theinkhathu", taking its name from a historical hero in Myanmar, and was showcased during the Myanmar's navy's fleet exercise.

During this time of emerging democracy, President Barack Obama started to engage Myanmar. His administration boosted humanitarian aid, eased bans on new US investments, and in 2012 named its first ambassador to Myanmar in 22 years. Obama visited Myanmar twice, and President Thein Sein made a trip to Washington, DC. Obama removed most US sanctions a year after Myanmar's 2015 elections, though a variety of noneconomic restrictions remained in place, including an embargo on arms sales and visa restrictions on some officials. The same approach was taken by the Trump administration.

The US and the "West" metamorphosed from being ardent admirers of Aung San Suu Kyi to becoming strident critics and some even demanding that she be stripped of her Noble peace prize when she defended the Myanmar government and the military in 2017 in the International Court of Justice on the complex Rohingya issue. This made her even more popular within Myanmar population but weakened her internationally. Perhaps, the international expectations were too high without realizing the ground situation in Myanmar where there is national consensus on the Rohingya insurgency and expulsion. The "West" lost the chance by not supporting the NLD and Aung San Suu Kyi more vigorously during the 2015-202 period when they were nominally in power in Myanmar. Again, the "West" out of strategic ignorance and myopia has adopted the Mantra of sanctions, more sanctions, and yet more sanctions vis a vis Myanmar! The US government under Biden announced fresh sanctions against the Myanmar coup leaders from accessing more than $ one billion in Myanmar funds held in the US. The million-dollar question is whether such an approach will work? The answer is a resounding NO.

In contrast to this, China did not even acknowledge that there has been a coup in Myanmar. Chinese mouthpiece, the Global Times, dubbed the coup as "a major ministerial reshuffle". China blocked the UNSC statement condemning the coup on Feb 3rd 2021. China will exploit the isolation of the military Generals to draw Myanmar into a tighter economic and strategic strangle-hold as the Western nations start piling up sanctions. China always plays double and triple games. While supporting the military, China had been funding, arming and providing shelter to armed ethnic insurgents (Shan and Karen). In 2017, Aung San Suu Kyi was invited to China and she signed the agreement with Xi Jinping on the "China Myanmar Economic Corridor" as part of China's "New Silk Road" program. Under CMEC, China is building a new main road from the border town of Muse to Mandalay, the second largest city in Myanmar. China is also building a deep-water port in Kyaukpyu, on the Bay of Bengal; the port already serves as an oil and gas terminal for the pipelines supplying China's landlocked Yunan province. This deep-water port once fully operational will be a dual use facility, essentially another Chinese naval base.

What is happening in Myanmar today has to be understood in the context of the prevailing democratic standards in the entire ASEAN region besides keeping in view Myanmar's own history of ethnic strife and coups. The normative behaviors and standards in ASEAN are not up to level of West-minster type of parliamentary democracy. Tiny Brunei is still an absolute Islamic monarchy with no democracy. Laos is a single party socialist state. Vietnam is a one-party communist state. Cambodia despite its claims to periodic elections is a de facto one party vestigial communist state. The Cambodian strong man Hun Sen has been the Prime Minster for more than 35 years having defected from the Khmer Rouge. Thailand has perpetual and periodic military coups in the name of royalty and no democracy. Singapore is a de facto one-party state since 1965 with no change of power from election to election. Malaysia, a highly corrupt Islamic state, has a totally unrepresentative government that does not enjoy parliamentary majority. The current Prime Minister refuses to call for new elections. The Malaysian state sanctions racial and majoritarian apartheid. Only semblance of democracy in ASEAN is currently in Indonesia and the Philippines. There are ongoing Islamic insurgencies in the Philippines, Thailand and in Myanmar.

While Myanmar was slowly charting a less China-centric and less China-aligned course, the coup and the subsequent sanctions by the "West" will change the geo-political situation. The newly imposed sanctions and further isolation will make Myanmar more dependent upon China economically as well as diplomatically. The "West" has been short-sighted and has driven Myanmar into the arms of China in the past and will do so again second time. The "West" needs to understand that China already controls 90% of the trade in rare earths. Myanmar is very rich in minerals and rare earths. China has already sanctioned US defense establishments and will not supply rare earths to American defense firms. Nothing should be done to humiliate the military junta. US should engage the military junta with a carrot and stick approach, ensuring that Aung San Suu Kyi remains safe and without any bodily harm while slowly restoring democracy giving a face-saving exit to the military junta.

Indian has permanent national interests in the stability of Myanmar. India cannot allow the current Myanmar regime to be embraced entirely by China. General Min Aung Hlaing is supposed to be very suspicious of China and had been balancing China with maintaining good relations with India. As usual India would be sandwiched between the Western demands for sanctions and isolation of the military regime versus pragmatic need to engage the Generals as well as the Myanmar civil society and the NLD. India should nudge the military junta to slowly work towards democratic restoration while engaging them. Rambo style diplomacy will not work. No-one should be an apologist for the military junta in Myanmar. Notwithstanding that, no-one should act irrationally and drive Myanmar deeper into the Chinese kiss of death! The human rights of the innocent but brave Myanmar population cannot really be safeguarded by a blunt-force regime of sanctions alone which will not hurt the military junta. Any squeezing of Myanmar will tilt the balance of power in the Indo-Pacific region in China's favor. The need of the hour is prudent engagement.