Wanderer by Rajender Krishan
Paperback ISBN : 978-1-947403-15-4 Amazon ebook ASIN : B08T7VS8DZ
Available on Amazon USA | Amazon India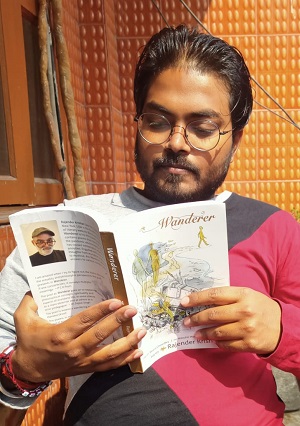 "Wanderer" is a poetry book, filled with serenity throughout. Almost all the poems stimulate deep thinking and emotions.

Wanderer is a collection of exactly 100 poems with very candid and clear single word titles. Each poem deals and explains values of life in a remarkably simple and eloquent way. It is an amazingly simple and humble guide with healing powers that brings the reader at ease while reading and truly feeling connected in a meditative way.

In the poem 'View' the lines

"No wonder, the mystic meditates
tranquil with dropped eyelids
oblivious to the transient spectacle"

And the artwork beside it fills the reader with peace and humility in the beginning itself.

The poet has shown his keen observation skills with an underlying urge to simply ask - why do we fail to recognize the truth of life when it is present within each of us? He shows how our true ultimate guide is present within us and thus if only we care enough to listen to it, we can make the right decisions in our life.

The truths of life as a whole shows his spiritual mindset towards life. The poet has put an emphasis on contemplating and being in touch with one's self to get the correct guidance in the journey of life. He has also given an importance of keeping calm one's mind and how if only we do not react but respond we could avoid most of the trouble.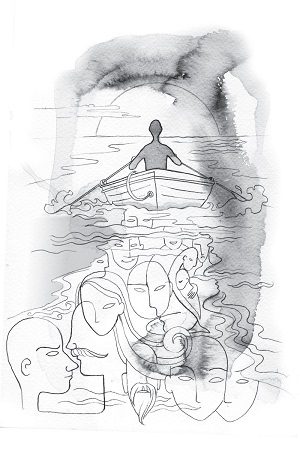 Through most of his poems the poet gives insight into work ethics and optimism. Being morally right and devoted to one's work is what he urges everyone to be.

Further we see how the poet has evoked the feelings of universal brotherhood and Inter-connectedness that we have with each other with special focus given to one's marriage and the mindset that it demands to live life together with compatibility.

'Coby' is poet's unique poem that he included in his book where he has shown his beautiful relationship with his pet dog Coby. And showed how even animals can offer many sensibilities that sometimes we as humans, fail to give to each other.

And at last, in the poem 'When' the poet beautifully ends the book with the poem and artwork which in a way summarizes one's whole life:-

'The question
is no longer relevant
about why, how, where
if one feels gratified
of having lived life
positive and content


More on Wanderer