Wanderer by Rajender Krishan
Paperback ISBN : 978-1-947403-15-4 Amazon ebook ASIN : B08T7VS8DZ
Available on Amazon USA | Amazon India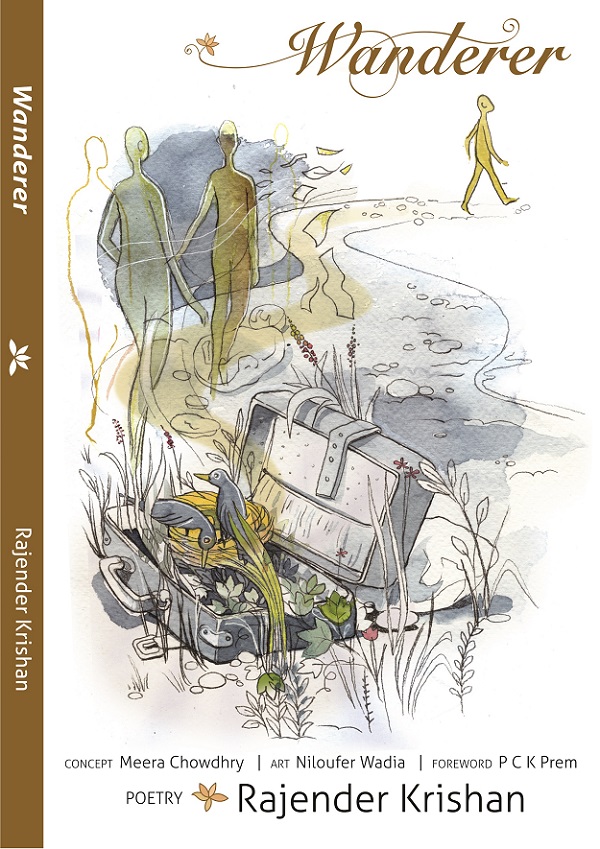 The book: A travelogue of a restless mind. The paper: bright white with blank spaces. The poems: arisen from observation and contemplation. The drawings: bewitching. Niloufer Wadia's distinct illustrations are the poetics of reverse ekphrasis –she has replicated the poems through her art; they pack a punch, each a meditation in its own right. The front cover arrestingly invites the reader to meander with the wanderer into the book and the mind of the author.

Once inside, it becomes a journey of engagement with the poems. They are intensely focused, yet with spaciousness to let the reader indulge in his own mental and spiritual roving. His questions challenge our harmony. Rajender dons the mantle of one who realizes that like him his readers must keep alive their spirit of independent seeking. So, he nudges us to see things differently and pitches our psyches into the realm of personal investigation. Carried on the wings of honest inquiry, with assertions and misgivings, doors close and open and we are provoked to find our own answers.

Many of the poems are not complete. He does not seal them with the finality of his convictions. He leaves a little gap in the circle of his thoughts, for the reader to step in, find her pace in her own time till they begin to resonate at her core. The poems slowly penetrate the substratum of being – his and ours – to arrive at profound feelings which we otherwise tend to evade. The subjective thus transmutes into the universal. The wanderer models for us how to be this, how to do that, how to tread humbly towards the center of our self.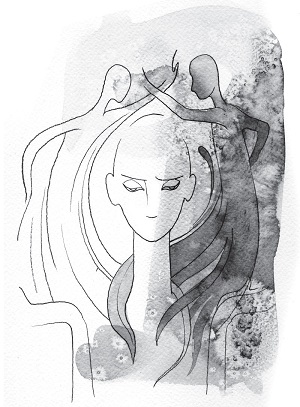 Some of the poems that come through as didactic, I understand as self-discourses. It could well be that the poet's higher Self, is subconsciously instructing his ego self. A few others read like aphorisms or pedantic jottings in a diary. Rightly so. As the author says in his preface, "...the thoughts seem to go nowhere or merely hover aimlessly" and again "Wanderer covers poems that have their genesis in the same environment (pandemic of 2020) with a churning of fleeting thoughts..." With the gift of tuning in to the melody of his soul, of life and the world, the poet has notated the spiritual with the metaphysical and the mundane into this poetic symphony.

With natural spontaneity and simplicity, he gives us reflective poems that candidly crystallize collective experiences and personal insights. Despite the darkness of global fear, pain, uncertainties, rumors, trauma, gloom and death unleashed as a consequence of the pandemic, the poet has remained anchored in his own light; one sensitive finger strumming the common chord that connects us all, he maps the incompleteness of man's journey to self-knowledge and points the way ahead for our drifting steps. Even though, with routine upended, his mind milled about in a definite timeframe, the poet's consciousness has infused his thoughts with timelessness.

A book to be read and reread.


More on Wanderer