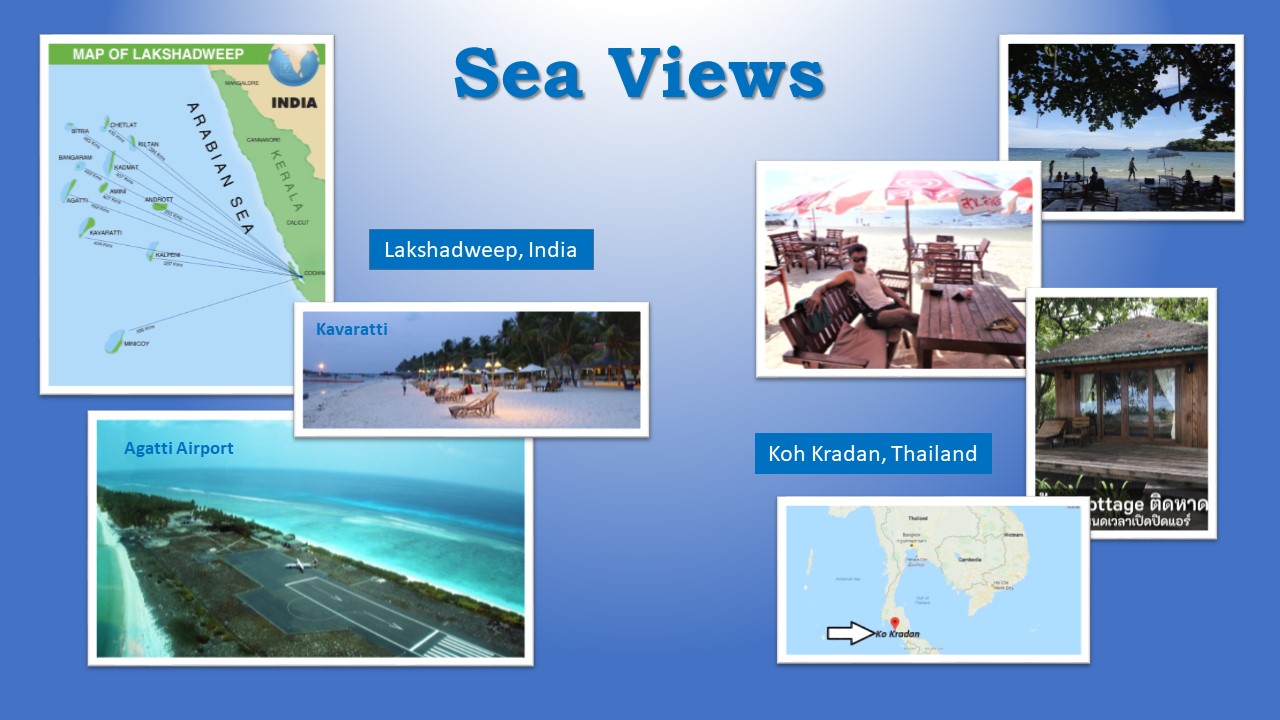 I just cannot forget two islands I have visited; one Lakshadweep when in service to do a Risk Study of IOC storage at the island. A special permission had to be taken in Kochi to visit Lakshadweep. I flew to Kochi and from there flight to Agatti. The landscapes one could see while reaching Agatti and from there by boat to Kavaratti either by boat or helicopter are really awesome.

Kavaratti island is so small and beautiful with full of greenery. I just wondered if one can easily cover the island just by walk. Surrounded by sea and in some places one could see the sea on both sides. Breathtaking views! Thanks to CLRI and IOC.

After my work I couldn't return on the day I planned because of the rains; neither the boat service nor the helicopter operated. On the second day after the rains subsided I could move to Agatti from Kavaratti by Helicopter. Again the aerial view of the green island and the blue sea around were just rare visual treats!

My other trip was to the solitary island Koh Kradan near Thailand with my young and always energetic friend Sriram. From Thailand old airport we traveled to Trang by air. From there travel was through road to the pier. From the pier the Koh Kradan Island was another hour journey by motor boat. On our forward journey the boat had to move against the wind direction. So we got completely drenched with sea water when we reached the island.

A serene and green place with spacious modern cottages overlooking the sea was like a heaven. When we visited there wasn't much crowd. The sea almost looked calm and the waves were just smoothly coming and touching the shore.

I understand there are several islands like this around; want to be alone, calm, quiet, listening only to the waves of the sea, chirping birds and whistling wind? Visit these places. I fondly remember those trips to Bangkok and those islands. Thanks to Sriram Balakumar.

The sea views are just awesome and so is the silence. We just look insignificant before the magnificence of the nature.