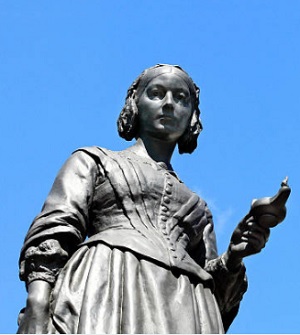 Florence Nightingale, a doyen of the nursing profession was born in Florence, Italy. The legendary British nurse, hospital reformer, and public health innovator, dedicated her entire life to nursing. In 1884, Russia invaded Turkey, which resulted in the Crimean War (1854-1856). Nightingale was deputed with 38 nurses to undertake a nursing mission in Crimea, where 5000 British soldiers were housed in filthy conditions with infected war wounds. Each night by the end of the day (20-hour day) by the light of the lantern she personally inspected every ward, and thus was titles as "The Lady with the Lamp". Within months casualties from infection among the soldiers dropped from 42 percent to 2.2 percent.

In 1860 she founded the Nightingale School of Nursing at St. Thomas Hospital, London. This raised the level of the nursing profession to the level of the medical profession. She wrote the first textbook for nurses, titled, "Notes on Nursing" in 1859. In 1907 Nightingale became the first woman to receive the British Order of Merit . After her death in 1910 the Crimean Monument was erected in her honor in Waterloo Place, London in 1915.

Other great names in the field of nursing and allied services are:

(i) Clara Barton (1821-1912),
(ii) Margaret Higgins Sanger (1883-1966),
(iii) Sister Elizabeth Kenny (1886-1952), and
(iv) Mother Teresa (1910-1997), who among other honors received the Bharat Ratna in 1978, and the Nobel Prize for Peace in 1979.

The above is a description of the lives of the greats in the field of nursing and allied sciences in the service of humanity.
Ref: Drawn from the book "Pharmacology for Nurses" by F.S.K. Barar, Peepee Publishers, New Delhi, 2007.
Image (c) istock.com