Revisiting R K Narayan's fiction
Fiction is the most popular genre of literature. Readers read with interest and writers write with finess.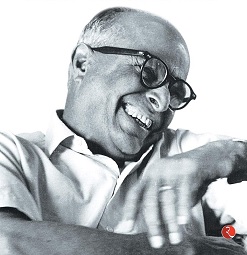 R. K. Narayan, one of the triumvirate of Indian English fiction masters, is popular with readers for a number of reasons. He wrote in simple English about the events familiar to the common folk. His down to earth characters drawn from the teeming middle class relate themselves to the readers of a region. The reader doesn't strain himself to recognize the actors as his acquaintances living in the neighbourhood. Events or accidents are grasped easily as they are culled from the society in which we live. Qualities like greed, ambition, selfishness ,love and hatred and other such palpable weaknesses are the subject matter of the novels and short stories. To appreciate his fiction education or training in human behaviour is not required.

Swaminathan represents the typical boy in the company of an aristocratic lad and a bullying group of youngsters.

Natraj a do gooder and a timid person brought up in traditional style becomes a victim of circumstances.

Margayya who uses his rustic intelligence to earn livelihood grows into a crook to amass wealth which seems to be a pre condition to become powerful in society.

Vasu the taxidermist is out and out a stranger with devious methods to achieve what he desired.

Rosie who is a trained dancer has only fallen for a mediocre Raju as she was unable to suppress her strong desire to give expression to her talent. Marco the conscientious archaeologist had pursued his goal wth single minded attention. Raju's transformation into a sadhu was not his doing but the foolishness of gullible public who adored him and saw a miracle in his presence.

In The Vendor of Sweets the protagonist is the only intelligent character created by RKN and is pitted against the successful businessman of raw intelligence.

There is the talkative man whose escapades are the stuff of fairy tales and who is outperformed by the woman who represents progressive women power.

RKN started with tiny tots passed all stages in life through his novels and represented the society and it's constituents in all its hues not faltering nor forgetting the apostle of peace and deftly clubbed patriotism with love in The Waiting for Mahatma.

20-Mar-2021
More by : Prof. Akella Ratnam
---