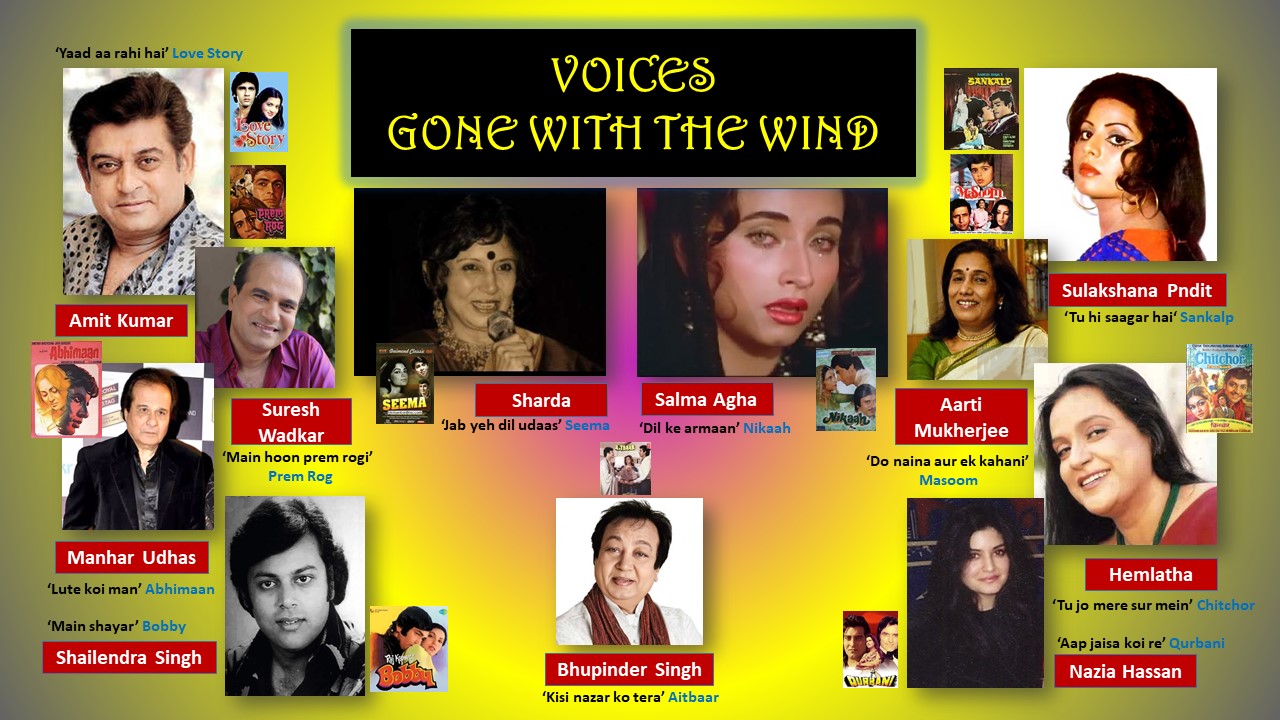 When I was an ardent listener of Hindi film music in late 60s to 80s, apart from the popular voices, I watched the induction of some new voices through popular movies. All these playback singers at that moment swept the audience by storm. Their names, songs and popularity soared so high and their interviews and photos appeared in all the magazines. But, all for a short period. Some slowly and some suddenly vanished from the scene and none knows now where they are and whether they sing or not. Well, the present Hindi film song sceneario is absolutely different and I cannot speak much on that.

Let me recall those popular guys and gals of those times.

Sharda was introduced by Shankar-Jaikishen with the song 'Titli udi' in Suraj (1966) and followed it with 'Jab yeh dil udaas' with Rafi 'Seema' (1971), shot to prominence and bagged the Filmfare award for her number in 'Jahan Pyaar Mile' (1970). She was in the field for a few years and disappeared after some forty songs approximately. Her full name is Sharda Rajan Iyengar and a Tamilian.

Shailendra Singh, the young handsome guy became rage with his songs in Raj Kapoor's 'Bobby' in 1973 especially 'Main shayar to nahin' and 'Hum tum ek kamre mein' and almost became a ghost voice for Rishi Kapoor. ('Rafoo Chakkar', 'Khel Khel Mein'). Later, after a few hit songs, he hit the screen as an actor too, through 'Do Jasoos') (1975). But, his career in both playback and acting dwindled.

Salma Agha, Pakistan born British Indian singer and actor touched stardom and immense popularity with her film 'Nikaah' released in 1982 in a significant titular role. She sang her own songs 'Dil ke armaan', 'Dil ki yeh arzoo', 'Chehra chupa liya hain' and 'Faza hain jawaan'. The songs too hit the charts. But, both her later movies and ghazals failed to impress the public. But, Salma received both awards of Filmfare for the Best Actress' and 'Best Singer' for 'Nikaah'.

One has to call Nazia Hassan as a one film wonder only; her debut song 'Aap jaisa koi re' in Qurbani (1980) and hit the head lines and film fans hearts. Though she too won the Filmfare Award for the best singer her subsequent films didn't help much to boost her career in Hindi. Nazia was highly academically qualified person and she retired from singing on her own choice soon. Her premature death at the age of 35 (2000) due to cancer was a sad news.

Manhar Udhas who had a heavy voice was appreciated for his songs in some popular movies like 'Abhimaan' (1973), 'Lute koi man ka nazar', 'Har janam se hamaara milan' from 'Kagaz ki Nao' (1974), 'Hum Tumhe chahate hain aise' in 'Qurbani' (1980), 'Ding dong o mere sing a song' in 'Hero' (1983), 'Har kisi ko nahin milta' in 'Jaanbaaz' (1986). Yet he couldn't make it big.

Bhupinder Singh whose voice which suited ghazal singing had impressed the film folk with some of his popular and poignant songs in films like 'Dil dhoontha hai' (Mausam, 1975) 'Kisi nazar ko tera' (Aitbaar 1985), 'Beeti na bidayi' (Parichay, 1972), 'Naam goom jaayega' (Kinara,1977), 'Ek akela is sheher mein' (Gharaonda, 1977). Later, we couldn't hear him much in films.

Suresh Wadkar's voice was identified with the songs of 'Pyaasa Sawan' ('Megha re megha re', 1981) and 'Prem Rog' ('Main hoon prem rogi', 'Meri kismat' 1982). He became popular with other songs in 'Ram Teri Ganga Maili' ('Husn pahadon ka', 'Ram teri ganga maili', 1985). Though he had chances to sing in popular films like 'Chandini', 'Sadma', 'Raja Hindustani' the popular songs went to other singers.

Amit Kumar though is the son of legend Kishore Kumar with an impressive voice couldn't make it big except with a few films. His songs in 'Love Story' turned superhits and also the Filmfare Award for his song 'Yaad aa rahi hai' (1981). For some years he was the voice of Kumar Gaurav the star of 'Love Story'. Later, his songs in 'Tezaab' ('Ek do teen' 1988), 'Tridev' and 'Bhaagi' none brought him back the earlier success.

Hemlatha' had been singing since late sixties. But, she was noted for her song in 'Chit Chor' ('Tu jo mere sur mein') in 1977 and bagged the Filmfare Award too. Her promoter Ravindra Jain gave her several songs yet except 'Akhiyon ke jharokon se' from the film with the same title (1979), 'Megha o re Megha' from 'Sunayana' (1980), 'To is tarah se meri zindagi' in 'Aap To Aise Na The' (1981) several other songs didn't hit the charts.

Masoom's song 'Do naina aur ek kahani' (1984) and the Filmfare Award made Aarti Mukherjee's voice popular. 'Shyam teri bansi', 'Kar gaya kanha', 'Main wohi darpan wohi' from the movie 'Geet Gata Chal' were quite captivating in her voice. These songs and 'Do panchi do tinke' from 'Tapasya' (1976) are still memorable melodies.

Sulakshana Pandit, though was a good singer with a dulcet voice, she had to migrate to acting cashing on her looks. 'Beqarar dil tu gaayeja' with Kishore Kumar in 'Door ki Rahi' (1971) was her first song. Later, her songs like 'Tu hi saagar hai tu hi kinaara' in 'Sankalp' (1975), 'Somwaar ko hum mile' with Kishore in Apnapan (1977), 'Baandhi re kahi preet' in 'Sankoch' (1976) still provide pleasant listening.

These are just a handful of playback singers whose songs still linger in my memories and take me down the memory lane to my younger days. These artistes hadn't make it very big; came as whiff of fresh air and lingered for some time and went into oblivion. Yes. These persons are also must be in their sixties and seventies.

I thank my memory and the virtual world for bringing back those old songs alive with their names, faces and films. Time may pass, age may advance, but, for me, those songs are still young only. Yes. They can never become old.