... an evening newspaper of old Chennai ...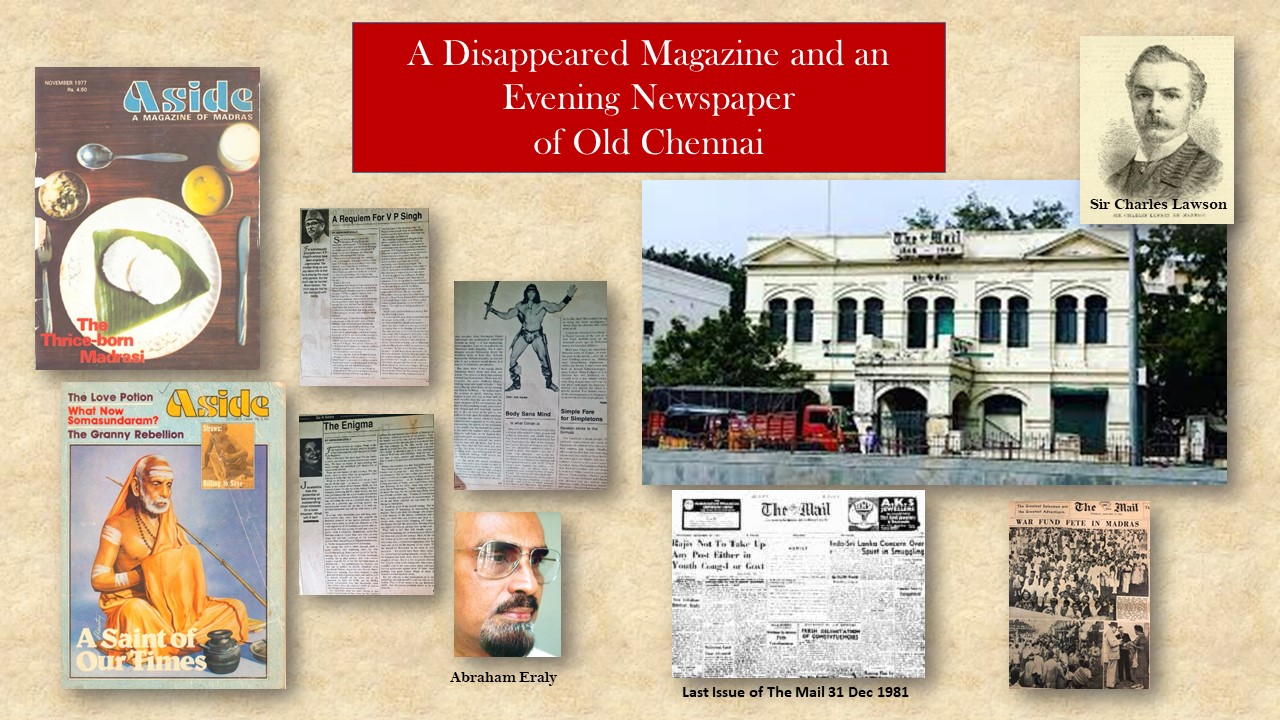 We have come across magazines coming up and vanish either slowly or all of a sudden. During 1977 to 1997 an English magazine named 'Aside' was published from Chennai by a popular writer, columnist and editor Abraham Eraly. Aside carried mostly matters related to the Chennai city and its activities. There were political and social analyses by the Editor with exemplary style and language. When in college and later I subscribed to this magazine till the publication was stopped due to financial problems after functioning as a fortnightly from 1986.

The magazine carried general articles covering lifestyle, cinema, drama, dance and music, politics of mainly Madras and also sometimes nation by the popular writers like S Muthiah, Randor Guy, Mithren Devanesan, Harry Miller, SG Vasudev to name a few. Eraly's editorials 'So it goes' used to be very crisp and sharp. His comments on VP Singh, Rajiv Gandhi, Jayalalithaa, Kushwant Singh were quite interesting.

Prathibha Iyer, Janaki Venkataraman, Seetha K, Sridevi Rao too write highly readable articles as well as critical and hilarious film reviews.

In her requiem to Abraham Eraly Janaki Venkataraman had mentioned that Eraly was a known atheist. But, what surprised me when I searched for old Aside issue covers one was of Kanchi Sankaracharya and it was a detailed cover story.

Just a few amusing quotes from the film reviews: 'Conan The Barbarian': Arnold moves with all the amazing ungrace of a hippopotamus in an advanced stage of pregnancy.', 'Kavalan avan Kovalan': the country lass pouts swollen lips and finds simple locomotion impossible without hitching her skirts up to her thighs and the audience are titillated,', 'Villain Radha Ravi is in a gold car (yes. Solid gold) chased by Vijayakant (Coolikaran) and the car goes up in flames, all the aurum melts and pours down the guy. He dies gold plated. Amen.' In a highly melodramatic Shivaji Ganesan Lakshmi starrer 'Hero Shivaji dies in the end and Lakshmi also dies just for company'.

Janaki Venkataraman concluded her tribute with the line "Aside had achieved what Eraly had intended it to – help to understand the city a bit better by exploring its past and present in depth.'

I think today we have many supplements come with the main, major newspapers covering the city activities.

Those try to fill that void. Yet, reading experience of 'Aside' was something different.

The Mail, which was initially known as The Madras Mail was English daily evening newspaper published from Madras Presidency and later in Tamil Nadu state from the year 1868 to 1981. It is the first eveninger in India that survived for 112 long years.

The newspaper was started by two journalists Charles Lawson and Henry Comish on 14 Dec 1868. Once it was a formidable competition to The Madras Time and The Hindu.

In 1945, the evening newspaper of its own kind was acquired by Amalgamations. The oldest newspaper of India was closed down with the last issue dated 31 Dec 1981. With the changing times, competition and internal problems and political interference, the paper couldn't manage even to sell 7000 copies a day. The staff strength also substantially reduced. When the 112 years old newspaper announced about its closure in November 1981, many committed readers seemed to have written letters to the office for continuation of the eveninger but to no avail.

I remember my elder brother in late 1970s and 1980s used to buy this evening newspaper religiously everyday. I, however, couldn't remember reading anything special in it except news items.

The only reminder of this historical newspaper is its closed office building in the busy Anna Salai (Mount Road) even today which looks old yet imposing.