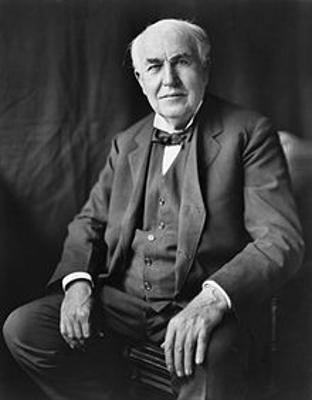 Thomas Alva Edison was born in Milan, Ohio in 1847, and was educated primarily by his mother, Nancy Elliot Edison, a high school teacher. In 1863 he became a telegrapher. He invented several devices for improving telegraphy, and his first patents were for the electrographic vote recorder and the stock ticker. After selling the two patents he equipped a laboratory in New Jersey.

Later the phonograph was one of Edison's first projects, and the technique was further improved with the help of Charles Summer Tainter, and Chicherter Bell, a cousin of Alexander Graham Bell ,the inventor of the telephone.

The electric light bulb was invented by Edison in the United States, and by Sir Joseph Wilson Swan in England. The invention of the motion pictures was a much more complex process involving numerous other inventions such as photography and eventually sound recording.

In 1887 Edison opened his Invention Factory in West Orange, New Jersey, and employed a staff of 1200 that turned out dozens of important inventions like the automatic telegraph and the Storage Battery. All this was possible because of the hard work and good organisation put in by Edison, which made Thomas Alva Edison one of history's greatest inventors.
Reference: 100 men Who Shaped World History by Bill Yenne, Gemini Books, New Delhi, 1997.
Adversity Provides Opportunity
Thomas Edison lost two million dollars worth of equipment and the record of much of his life's works when the Edison Industries were destroyed by the fire in 1914.

Edison's son Charles, rushing about to find his father, at last spotted him standing near the fire, his white hair blown with the winter wind. He saw Charles and asked him where is your mother? Bring her here. She will never see something like this again in her life.

The next morning, walking among the ashes of the many of his hopes and dreams the 67 year old Edison said, "There is great value in disaster. All our mistakes are burned out. Thank God we can start anew".
Reference: From "Anecdotes of the Great, by J Maurus, BYB Book, Bombay, 1990.