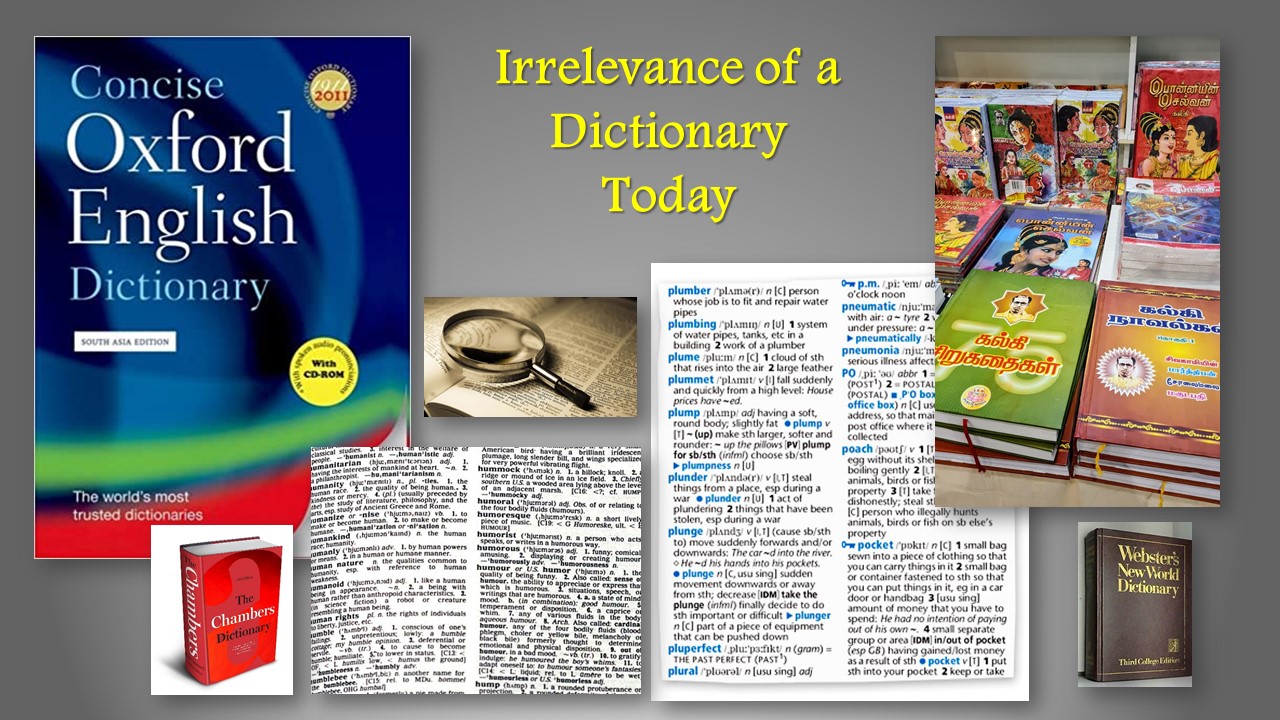 For me, the present day irrelevance of a dictionary is quite shocking, depressing and disturbing.

One may ask why?

'Shocking' because if I want to know the meaning of a word I instantly use google or thesaurus online for it, 'depressing' because if I have to take and look into the dictionary by turning those slim and fragile pages and 'disturbing' because once I used Dictionary as a fiction book to browse if I have no book or no other work to do just to pass time. All these make me into a lazy, lethargic and someone who prefers to go for fast and quick solutions.

Of course, the lifting of a heavy dictionary and scanning through those flimsy pages and also reading those micro-mini lettrers are no easy tasks, I would say. A voluminous Websters Dictionary I purchased ages ago, was donated to a library. Still I have an Oxford not so big with me collecting dust. I feel sad…

Google had made me forgetful, lazy, dull, indifferent and a Dumbo! But, it still provides a lot of information just by the click of a mouse! What an anomaly! Modern Tech makes one bright in one way and dull in another way!

Post Script: I saw recently all the volumes of Kalki's stories and novel 'Ponniyin Selvan' printed and bound into one big thick A4 Size heavy book. How to hold them and read? These definitely need a book spread stands which were used in good old days for keeping Ramayana, Mahabharata or Bhaghavat Gita!! Dictionary also joins that category! I am sure these A4 size famous PS also. Well. Sometimes, etymology or origin etc. will be available in the dictionary. But, these are also there in the net.

Do you refer a dictionary even today? If so, I really admire you.