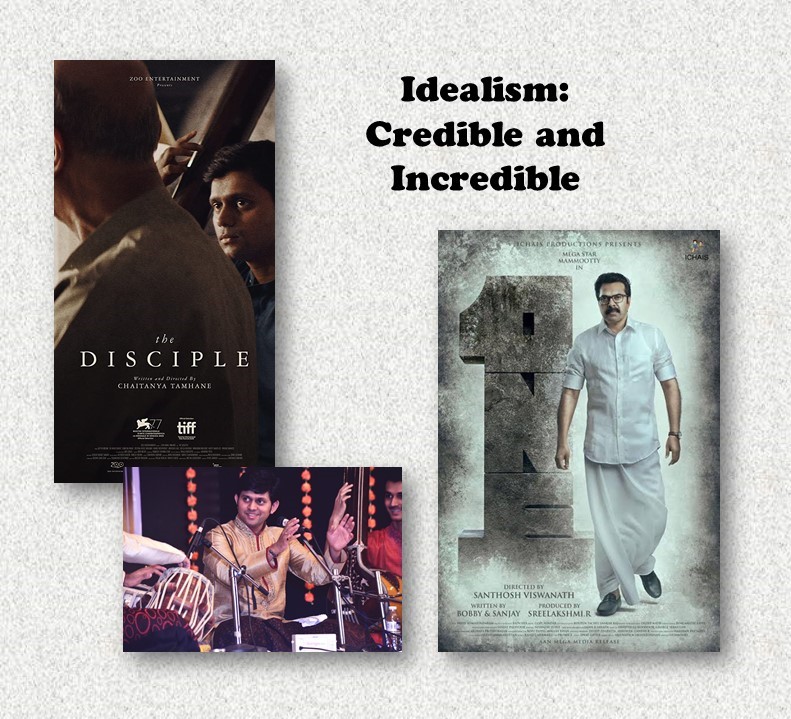 I happened to watch two very idealistic movies in Netflix in recent days; one on Music and another on Politics.

'The Disciple' is a Marathi movie written and directed by Chaitanya Tamhane, produced by Vivek Gomber. It is about an aspiring young Hindustani vocalist. The movie had garnered loads of critical acclaim abroad in certain international film festivals.

Well. It had all the qualifications to be an art movie; slow moving, ideal characters, minimum dialogues, dim lighting, almost black and white cinematography and not well known actors. In fact, there is no female character at all. It is the tale of a youngster's futile attempts to be an outstanding vocalist to bring name and fame for his guruji who is considered to be an ideal in the music world. The young protagonist and his guru, in real life also Hindustani musicians. Sharad Nerulkar the young singer's unsuccessful efforts finally land him in selling recorded music of the once great artists and promoting young talents in his own little way. The story carries the bitter truth that for one to become 'iconic' needs 'it'; call it fortune or exceptional talent or smile of Madame Luck.

The strength of the movie is, of course, the way they have shown the typical classical music concerts, their venues, audience and singing and also the contemptuous way one critic comments about many popular artistes. Good acting by all but Aditya Modak as Sharad and Arun Dravid as his Guruji are memorable. I heard Aditya Modak's Hindustani concert in YouTube (IndianOil Now Hear Us Series) and his presence and performing look promising. He offered Nata Kedar, Rageshree Bahar and Sohni.

The another is a Malayalam Movie 'One' about ideal politics in India. A straightforward and honest CM of Kerala wants to introduce a new bill 'the Right to Recall' the ministers after two years in case if they fail to deliver the promises made. It is as expected opposed by the Opposition Party as well as his own party people and the CM resigns. The final frames show that the bill becomes real in future. Perhaps an impossible Day Dream in Indian Politics!

The film stars Mammotty as the CM is written by Bobby and Sanjay and directed by Santhosh Viswanath. There are no women characters here also.

What I feel? Both speak of idealism.

Difference?

'The Disciple' is 'credible' and 'One' is 'incredible'.