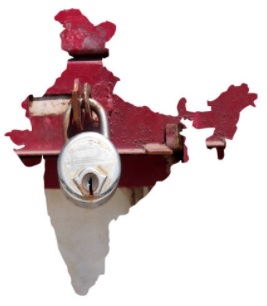 As we were smarting up for preparing to usher in new academic session in March last year, lockdown struck. We were taken completely unawares.

Academic year 2020-21 started with this chant---No school No fee ! Every school got surrounded with such piercing and de-motivating comments. Emergence of Pandemic created havoc amongst people; it brought a wave of closure. Each door was compelled to be closed so was each shutter. This all was done to keep life going. This closure, compulsion of being inside might have posed a question to educators, psychologists and any person aware of the need of being a social and thinking human being . An adult may have various ways to adapt but what about the youngsters, what will prevent them from falling in trap of unidentified, uninvited desires? Is this solace good for them? What about the kids who belong to small cities, remote villages, to whom access is limited to persons having rigid thoughts and indifferent attitudes. Above all how to prepare them to face the crisis which is surrounding us in different ways.

A locality which still does not consider schooling as an essential need for living, where nurturing a child still focuses upon providing food, cloth and the commodities which according to them help them to maintain pace with the modern society which mainly includes gadgets (if they can afford). As a part of such a locality our school tries to develop and inculcate a desire to acquire ability to be grounded; to dream and finally to have courage to face challenges amongst the present and future of Bahraich, a small town of Uttar Pradesh, India. Being a school we felt it our responsibility to keep life going in this crisis. Young minds need to be engaged, taught to take responsibility and make society aware of the crisis, and this resulted in our willingness to get connected with our students.

The crisis had struck at a point when schools were closing their previous academic session and planning for the next. This was the time to plan, to add and to set themselves after getting equipped with new ideas and new equipment, and with a new goal. But the pause button changed everything. A challenge which was never imagined emerged with it's broad smile. The first thing to do was to find out the way how we can beat it. We are not loaded with resources, helping hand even idea providers; we need to find our own way. Analysis of different platforms, it's accessibility by teachers as well as our audience (students) was done. Limitations were counted. All these exercises pointed out that Whatsapp is the approachable and doable platform.

Fortunately, in the last few months our acquaintance with the digital world was built. So we found ourselves equipped with the computing skills and were a bit relaxed that will be able to convey messages and create documents etc. All the staff came together and agreed to meet the challenge. The classes were arranged. Which brought a big relief amongst few students specially for higher classes. In junior grades, only a few parents appreciated this effort, and most had no concern. As, we were expecting such reactions so did not lose the courage. But still there were many corners to beat and the most important question was what to teach? As sudden closure has not given chance to take books and other resources. Fortunately, over the last two years we were incorporating activity based learning gradually in the process of teaching learning, so few sessions of energizer were adequate to prompt teachers with what to do? The activities started working on making children acquainted with the present crisis. Teachers have shown their creativity and filled colors in information, experiences and what to do tools.

But the battle is not short-lived; we have to equip ourselves. We can't ignore the need of books and resources. So now this was the time to serve as a link, a link between resources and teachers. The wheel started to roll, searching for suitable resource linking it with the right person and making sure our efforts should not go waste was the next task. The phone turned into a message bank. The online school seems to remain open for 24 hours, as students and parents are quite new so we can't ignore their queries and curiosities.

Everything started rolling with many encouraging as well de-motivating interactions. We started analyzing our working pattern, its impact etc. A big truth cannot be ignored that this technique is quite new for we teachers. Without reading the eyes and face of a child how a dialogue can be established. We believe in two way traffic, without exchange the satisfaction of transaction of an idea is not complete. Hence search for more ways to begin. Demand for live class also arose from parents of urban areas . But many of our students are in remote places where we can reach through whatsapp but live classes will not be able to connect them.

Now the need for making school more effective and meaningful and a two way communication platform encouraged us to make videos. As many subjects and topics can't be done without visual representation.

Teachers specially female teachers were hesitant, as these modes were generating an idea of to be judged continuously by the eyes which actually do not understand them. So a series of google meet workshops, whatsapp interactions ultimately prepared and equipped us with the understanding of how to prepare resources and how to use and mainly how to explore new ways.

Still we were struggling with the number of students who were within our reach. Since last three years we have worked hard to bring the kids from villages to school as the school is aimed to enrich the locality with the bright sun of awareness. But this situation has taken the school in reverse gear. Many children were not in reach. Planning to connect them started, But a big set-back hit the entire system and it was a financial crisis. The inflow of school fee was almost nil and as we don't have any backup. So it was tough for us to move together. Ultimately, the entire team came together and decided not to give up. We continued to work despite the financial crisis and also promised to hold each other's hand as long as possible.

We started to reach students with the help of our drivers and fourth grade staff. The students were reaching to us through their notebooks. Drivers were acting as carriers of notebooks from students to school and teachers and vice versa.

All these efforts clearly indicated that we need to work in the direction of creating independent learners, and cannot miss the aspects of schooling. As a result many features were added in our online school. Different activities focusing upon skill, and social aspect etc were designed and executed, not only that there was a provision of online certificates also. Quizzes, drawing Competition, reading activity, performing small activities to explore science, social science at home became regular features.

These efforts are not going in vain; many students have shown progress and remarkable positive change. We are happy with such results at one end but at the other, the struggle to get connected with many is still on. In this struggle the school has helped many who were in need and had responded to the school's call. The school is moving ahead with the idea of keeping the idea of schooling alive, but the ideas like No school No fee, on the plea that the physical space inside and around the school building is closed, compels to my idea of schooling . Extraordinary situations, elicit extraordinary responses, Is schooling limited to building, chalk, black board or is beyond it? Such approach of parents kills the idea of schooling where the first lesson is given to give respect to each effort, to understand each other and stand together.
Image (c) istock.com