Written jointly and with inputs from Shriya Handoo, Mansi Verma, Damini Solanki, Meenakshi Maidas and Navamya Acharya
Waking up every weekday at 8 am, Mr. Shiran Khan dresses up in his formal attire. Like every other day, he is prepared to take classes for his undergraduate students. Except now, Mr. Khan does not travel to his college but turns on his laptop and joins a zoom call for online lectures. For the next 7 hours, he continuously sits in front of a screen with his camera turned on. More often than not, all he has in front of him are mere tiles with students' initials on them, who are present in the class but their mics and cameras remain off. For the past year, this has been the story of teachers across the globe. Students are unmotivated, distracted, and on the verge of burnout. But what about the person on the other end?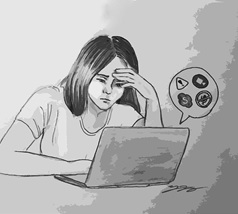 In physical classes, teachers try to create an environment where each student feels involved. Sitting in front of a screen, such an interaction is not possible. "I teach Cost Accounting, Finance, and GST that are practical subjects, and addressing queries and explaining concepts online is extremely difficult," said Mr. Khan. Similar to conceptual subjects, co-curricular studies also took a hit. Chandramohan K R has been teaching Carnatic music in Kerala for almost 40 years. After six months of running online classes, he has started taking individual classes recently for students following social distancing and said that it has been a huge relief. "Yes. With growing technology, we can take classes without meeting students. But I will always prefer offline classes. A student can only completely grasp everything from a teacher when they sit face-to-face," he added.

As the country went into a series of lockdowns to curb the spread of the virus, many schools and colleges shifted their classes online. The teachers, who were used to the chalk and duster all their lives, had to familiarise themselves with relevant technology. That too, quickly. Ritu Jain, English teacher at DAV Public School, Danapur, said, "I had to learn to use Google Meet, Zoom, Gmail and various other applications and software to create video lectures and activities for the students." Jain's inexperience with technology added more hours to her daily work schedule. Apart from conducting her classes, she also had to dedicate her time to be familiar with the software. Yet somehow, with the help of her children, she managed to get used to it with time. "Coordinating amongst teachers was a hassle we experienced at the beginning. But all of us have got the hang of it now," Rachna Suri, a schoolteacher from Pune, said.

Teachers across the globe are facing the challenge of keeping students involved in an online class. A study conducted by Microsoft in 2015 states that the average attention span of a person is 8 seconds, and students happen to be more impatient and distracted unless the teacher raises their voice. "The average strength of my class is 30 to 40 students and engaging all the students in the online mode is not easy. Making the classes interactive was very important yet difficult for us. I took a few courses from a portal for online teacher training," Rachna Suri said.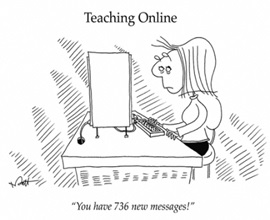 The tables have turned now, as the teachers have become students too, spending a lot of their time learning new applications. The need for interactive videos and PowerPoint presentations has increased, leading to teachers spending extra time on their screen, apart from regular classes. Now that classes happen on virtual-meeting platforms, teachers get out of one meet and join another. High screen time has been affecting both the physical and mental health of teachers. Other than its effect on eyesight, the extended time sitting and not moving leads to problems like obesity, diabetes, heart diseases, migraine, and many more. "I spend at least 9 hours on my laptop daily. I already have specs, so I always refrained from long screen hours. But with work from home, screen time is a mandate for us. That said, there is always a flip side to things. We got to learn new technology, which would not have been possible without the lockdown," said Rachna Suri.

Internet infrastructure in India, currently, is not sufficient to sustain the recent shift from offline to online. "In an offline classroom, while the average strength of the class was 45-50, the total turn-up in the online classes would be around 35-40. Some students have shifted to their village during the lockdown, and they give excuses on how they cannot join due to lack of connectivity," said Ritu Jain. The Internet's reach in the rural areas has not yet grown to a point where students could use the online mode efficiently for studies. This is making it tough for the teachers to reach out to all the students.

Amidst the general issues of connection around the country, the teachers in Kashmir had to deal with the uniquely abysmal situation of working in a 2G network. Zuhaib Mansoor, who teaches Botany to high school students in Srinagar said, "We used asynchronous lessons because students couldn't listen to us with the slow connection. It took me 7-8 hours to upload a video lesson on 2G network."
Unfortunately, there have been instances where teachers had to face online bullying by their students even after putting their time and effort into bringing the best for them. Students would join with a different name and cause distraction either by texting on the chat box or unmuting their mics and making noises. Sometimes, they would even shout out disrespectful comments to the teachers. They, in the name of fun, are taking advantage of the situation where the teacher cannot make out who is creating such nuisance in the ongoing class. Ritu Jain said, "The students would sometimes share the class link with their friends who are not students of the school. These kids would join the class with different names, unmute their mics and play music or pass offensive comments."

Another outcome of the work-from-home culture is the blurring line between work and personal time. Lakshmi Ramesh, a high school Physics teacher from Kochi, said, "Teachers who are mothers or wives have it twice as hard as they have to take care of the whole family even during work hours now. Earlier, we could differentiate between work and personal life when we used to go to schools for those six to eight hours."

Surprisingly, the online mode has also become a boon for some teachers. Bindu Revi, a high school Sociology teacher from Dubai, said, "It is easier to manage both family and work as I am working from home. For example, I can take my time to do the house chores in breaks between lessons." Priyal Gandhi, an advertisement graduate who is pursuing a postgraduate degree in design, used to take private tuition for high schoolers before the pandemic hit. "It was too hectic to travel across the city to take tuitions after college. When everything shifted online, I didn't have to go from one home to another for teaching, that saved time for me which I could invest in my studies and other passions," said Priyal.

For some teachers, the lockdown challenged their identities, but for some, it stripped them of theirs. Vinita Sahay loved her job as a kindergarten teacher in Patna. But with the onset of Covid, her school shut down, and so did her connection with the students. "Children so small cannot be taught in the virtual model, so the classes have remained shut since last year. They were not merely my students but an inalienable part of my life; I don't know when I will see them again," Vinita said. She has started taking private classes for primary graders to remain in touch with teaching. But it cannot compensate for the loss of joy that she experienced while dealing with 3-year-olds in kindergarten. "Things in the past one year have been exceedingly difficult for teachers, but those who still have the privilege to teach must celebrate the beauty of it amidst all the chaos," said Vinita.