Black Screens Beyond a Deity's Control
This article has been jointly and with inputs from Kajol, Rhea Varghese and Chinmai Tiwari. They are students at the Symbiosis Institute of Media and Communication, Pune.
The COVID-19 pandemic has compelled schools to re-evaluate their mode of teaching. Teachers had to rapidly figure out how to impart education in a distance-learning climate. The changes thus challenged educational institutions over the last year to develop a hybrid mode of learning.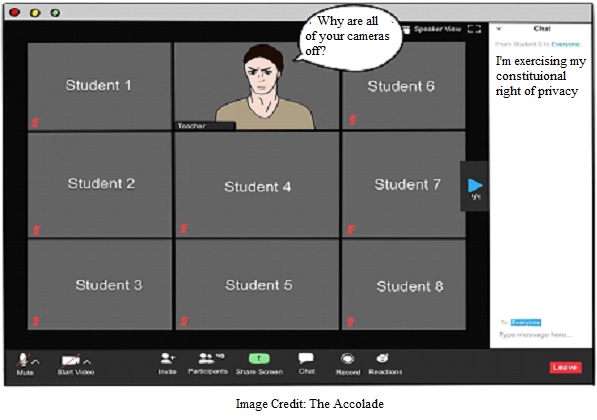 Tending to students on-screen has become the new normal for teachers during COVID-19. It's anything but a cakewalk as they not only need to learn and adjust to new advances but also face online bullying. Undoubtedly, numerous teachers are likewise refusing to instruct online classes as they are being 'harassed' by their parents as well.

"Parents are no help either. During one of my classes, I see some mother feeding her child or a father sitting beside their child. Sometimes I hear some parents whispering the answers to the questions I ask in the class to their child or some person would just stand behind them and not move at all." Mrs Shiny Varghese, an Environmental and Social Studies teacher for classes 5 to 8 at The Aditya Birla Public School (ABPS), Bharuch said.

Many teachers expressed that online classes have destroyed basic classroom etiquettes. Students create various fake IDs to make improper comments during class, give themselves celebrity names, photoshop teachers' photos to troll them, turn off their cameras and change their profile names to Connecting. From back answering, muting, or tossing the professors out of the class, students have done it all.

The Vice-Principal at ABPS also provided an instance where he received phone calls from few teachers complaining about a student and/or students who were impersonating him and entering the meet. Initially, the teachers thought that he was joining the meet to inspect the situation of the classes, only to realize later on that he never attempted to enter any meeting at all. The student took this a bit further and tried joining the classes of other teachers teaching in other classes but this time the teachers were aware of the situation and locked the meeting, making him or her wait in the lobby.

The Times Of India published a case of St. Xavier's College, Mumbai. The college suspended three students of class XII for sharing their ID and password with outsiders, to disturb the class by spamming.

Another test is keeping students connected with, particularly the preschool kids who run around during the online classes as their ability to focus is short, it's hard to keep them indulged.

Mrs Sherly Abraham, a primary teacher at Seventh Day Adventist, Ahmedabad said " as such, managing a class of 40 in the offline mode was quite the task for me, just making them sit in their places took half the time and creating ruckus in the name of asking doubts made it impossible for me finish the syllabus in the desired time. Now, with the entire setup made online, it has made the situation more complicated, so now you can do nothing but shout at them on the speaker and hope that they listen to it and calm down."

Family members of the students are taking an unexpected interest in their online schooling. They are regularly found gatecrashing a class, just to perceive how the teacher looks or on the pretext that they need to perceive how s/he educates. As if going to the classes was sufficiently not enough, few parents even go to the extent of interrogating the teachers.

"There is no limit to the amount of text messages or phone calls from the parents for the smallest of reasons. Some would ask us to send the session plan once again since they lost the previous one or request us to check their child's notebook now when the date of submission would be two days ago. I just hope they understand that even if we are teaching them from home or according to the present situation, we are going to school while the students learn at home, we have a life as well as a family to take care of, we really cannot be available 24 hours a day to listen to the complaints regarding lack of attention to other students or syllabus not being completed on time. For the medium to run smoothly, co-operation on the part of students, their parents and the teacher teaching them is very essential." remarked Mrs Varghese.

Teachers say they are as of now under a great deal of pressure and are overpowered by the digital experience. Recordings from online classes showing teachers being helpless have additionally gone viral via social media. As indicated by a new report by Deccan Herald, numerous teachers from private schools across Karnataka have refused to conduct online classes going forward.

Mrs. Shiny further said "The biggest problem for me while teaching the primary students lies in taking their attendance. As soon as the class starts, I ask them to write their names in the chat box at least 6 to 7 times as some students join the meeting using their parents' phones, which becomes difficult for me to understand who actually has joined the class. Even if I shout at them to write their names, there is little to no response. Some students will keep on interrupting and say that they are present even if their attendance is already marked while some wouldn't bother speaking at all and would later confirm their attendance on WhatsApp. It is physically exhausting and mentally frustrating to see 10 to 15 minutes of my class get wasted while taking attendance."

Transitioning from offline to online medium has given students a free pass to hurl derogatory remarks on the teachers. Mrs Manisha Vaid, a senior secondary English teacher at ABPS said "Students studying in senior secondary classes think that they can get away with any wrongdoing as no one can physically question them or identify the culprits behind misconduct. I have been suffering from hypothyroidism for a very long time and there was no problem in the offline mode but one day, a class 12 student called me by name and even proceeded to fat-shaming before leaving the meeting. Since the student had entered the class with a different account, we couldn't identify the person behind it, but had this reported to the Principal since it was clearly stepping over the lines of basic mannerisms and personal comment on one's physical appearance"

Mrs Varghese said that while teaching, she shares her screen to present videos, pages from the textbooks, or presentations. Some would doodle on the screen, while others would speak in between and try to disrupt the atmosphere of the class. When she finally switched off the screen sharing option for everyone, students kept on requesting her to allow them to share the screen. It became increasingly annoying for her to decline the notifications that frequently popped on the screen while teaching.

She also mentioned another incident where she was scolding a student who talked incessantly during her classes, to which the student replied back saying " toh aap kya kar loge" (what will you do then?). The courage exhibited by the students to speak such things behind a blank screen really portrays the respect one has for a teacher and how in the online mode, it has managed to stoop low to this extent.

With no word yet on when schools can resume, teachers say they are making an honest effort to move beyond the obstacles, which implies simply disregarding the rebellious behaviour of the students.

While private school teachers essentially complain about online harassment by students during video calls, government school teachers are struggling to reach students who don't have essential requirements like cell phones, PCs, and the web. Online classes for children with no facilities, they say, is as good as no classes at all.

For teachers who have spent a significant amount of their lives before students, with chalk and the blackboard as their lone devices, the new 'normal' is startling. Online coaching by means of Zoom, Google Meet, Skype and different platforms is an entirely different method of teaching and learning for the teachers just as the students.

Each teacher is making an honest effort to keep their students drawn in the most ideal way they can. With the pandemic, everybody is remaining on new ground and the way forward is a cloudy best-case scenario.

Students are able to take control of the online study since they are technically knowledgeable. Accordingly, teachers need to furnish themselves with the abilities needed for the platforms and know its subtleties. There may be a touch of trouble initially, however one can improve upon it with practice.

The learning curve to online education is a steep one and empathy is the need of the hour. And with evolving technology in any form (smartphones, computers, email) it takes a while to figure out the workings of the online platform recommended by the institution. It is important to remember that just as each student learns at a different pace, so do their teachers.