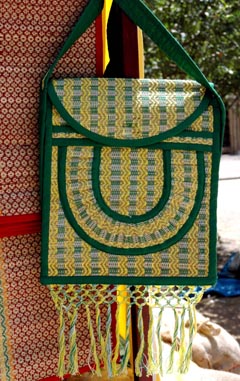 The humble grass is making waves: More and more city dwellers are discovering the beauty of grass and reed products. While for a long time cane and bamboo products were popular, grass and reed products are now catching up. Their growing popularity is understandable - their designs are aesthetic; they are affordable; and, above all, there seems a growing trend among city dwellers to go for nature-friendly products. In fact, several city dwellers are switching over to environment-friendly products, like cane furniture and recycled paper, to reduce the ecological imbalance our consumer society has unleashed.
Until recently, `grass crafts' for many urban citizens were simply things village women made for their personal use. Women in many villages continue to fashion objects for everyday use from the grass growing in their backyards. Today, enterprising designers have started using their designs to make grass mats, baskets, coasters, potholders and boxes.
India has a variety of grass and reed - kora, moonj, sikki, madur, golden grass,sitalpatti, broom grass, kawna - each shaped by the soil and climatic conditions of a particular area. The biggest plus with grass is that it grows wild, protects the soil, supports a multitude of species and is perennial, thus offering returns for a long time.
Madur or madher mostly grows in West Bengal and is used to weave very fine artistic mats. The grass is soaked in water and then split into thin strands. The mats are woven on a loom - the grass forms the weft while the warp is made of cotton or jute. They make ideal floor mats for summers. These days, to cut down the weaving time, the grass is stitched (in bright colors) together on the sewing machine and then shaped into purses, letter holders, screens and thin curtains. To add life to the product, a cloth lining is added.
Sitalpatti, as the name suggests, means cool grass. It is actually a form of water reed, which is cut, dried and then plaited into mats. The plaiting is done in attractive zig-zag patterns. The outstanding feature of this reed is that it is extremely glossy. The earthy color adds to its attractiveness. Sitalpatti is used to create attractive cushion covers and purses (using leather or leatherite, jute and cotton). Long strands of sitapatti are woven with jute to make water bottle holders. File covers and folders from sitalpatti are also getting popular.
The golden grass or kaincha from Orissa has the look of gold! It is harvested once a year and then dried and stored. The most attractive kaincha products are coasters, soft toys and baskets. However, as the kaincha products weigh a lot, their transportation cost is quite high. This prevents their widespread circulation.
Moonj, the hardy grass from Uttar Pradesh and Bihar, is often fashioned into attractive dustbins. Sikki, its more fragile cousin, is dyed in attractive shades and is used by a lot of sculptors. Both moonj and sikki are also being used to make cosmetics boxes and coasters. Unlike kaincha, both moonj and sikki are very lightweight and are also used to make necklaces, bangles and earrings.
In South India, kora grass products are very popular. Kora grass from Pattamadai is well known for its exceptionally fine quality - it can compare to some of the finest cottons produced in India. Other variants of grass, which are gaining in popularity, include kawna mats, banana fibre accessories and products made from pineapple fibre.
Grass products are eco-friendly, biodegradable and reduce the use of plastic. Increasing use of such products will go a long way in making our cities more ecologically balanced.