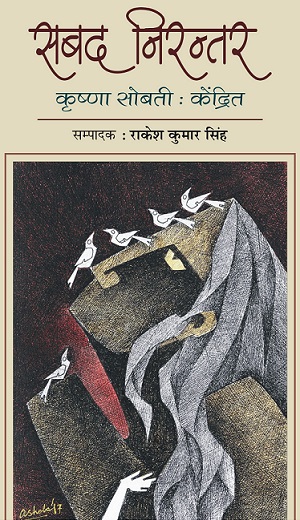 Sabad Nirantar (Hindi Quarterly), Krishna Sobti: In Focus, edited by Rakesh Kumar Singh, Volume 1, Number 1, January-March 2021, pp. 340, Price Rs 200 (India) $15 (Overseas), Subscription―Annual: Rs 600 (Individuals), Rs 750 (Institutions); Life: Rs 6000 (Individuals), Rs 7500 (Institutions).
In today's cyberage, most journalism is shifting to the digital platform. There are several electronic journals and magazines available on the internet. However, there are a few media houses that still publish quality periodicals in print format. Some literarians bring out journals at their individual level, too. In Hindi, there are quite a few literary journals that maintain the requisite standards. To run a literary journal with due concern for quality is a challenging task, indeed, and it is even more difficult to sustain a print journal when there is no institutional funding or support in the present digital era. Only the individual's sheer literary craving or inner zeal makes him or her work tooth and nail to keep the journal alive.

Edited by Rakesh Kumar Singh, Sabad Nirantar is a newly launched quarterly journal in Hindi in print format, devoted to literary discourse, discussion, review and analysis. Its contents include essays, research papers, repertoire, letters, reviews and interviews, besides translations from other languages into Hindi. The maiden issue, January-March 2021, brings into focus the literary oeuvre of the celebrated Hindi author, Krishna Sobti, who is unique among Hindi literati in voicing the weals and woes of womankind in bold parlance. This bulky number of 340 pages presents interesting material on Sobti's writing, meticulously arranged into three sections: Evaluation, Memoirs and Interviews.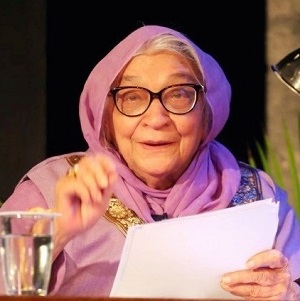 The first section carries 29 incisive appraisals of Krishna Sobti's work by academic scholars and her fellow writers. Professor Savita Singh posits Sobti between the regulations and transgressions and assays her role in fighting the patriarchal system of Indian society. Krishna Kumar Kimbahune discusses her as an authoritative voice of female sensibilities and feminist consciousness. Dr Rekha Sethi explicates the democracy of language in Sobti's fiction, which aims at braving the dangers of free expression and defying literary institutionalization. Dr Jaswinder Singh succinctly comments on her prose style and also shares his reminiscence about her. Dr R. Shashidharan briefly critiques her stories as poignant descriptions of the tragedy and devastation caused by the Partition of India. Madhuresh presents an insightful analysis of Sobti's maiden work, Channa, which was recently published in 2019 as her last novel. In his essay, Professor Chaman Lal describes Channa as the author's first and last finest work of fiction. Dr Jaswinder Kaur Bindra deliberates on her travelogue, Buddha ka Kamandal: Ladakh. Tarsem Gujral discusses her book, Sobti: Ek Sohabat, as an important work to comprehend the diverse facets of her creativity. Vipin Chaudhary assesses Zindaginama as a significant document of the socio-cultural history of undivided Punjab. In his concise comment, Professor Jaidev describes Zindaginama as a great saga of the land of Punjab―its rich traditions, myths and legends. He says this novel comprises various elements, including poetry, comedy, tragedy, modernist consciousness, political post-colonialism, feminism, and self-introspection, among others. Professor Jasbir Jain describes Zindaginama as a comprehensive and universal account of life itself. Vishwanath Tripathi deftly evaluates Sobti's novella, Mitro Marajani, describing it as a powerful testament to those who do not take fiction as a serious genre. P. Ravi also examines this story in a gendered context. Professor Siyaram Sharma describes her novella, Aye Ladaki, as a story of a sense of meaninglessness of family. In her comparatively long essay, Professor Vasudha Dalmia discusses Sobti's novel, Dil-o-Danish, as a modern love story, which touches on global and local dimensions of feelings and thoughts in a very sensitive manner. Neer Kanwal Mani articulates her experience of translating Sobti's magnum opus, Zindaginama, from Hindi into English in a short write-up. She describes how she and Moyna Mazumdar underwent the difficult and complex process of rendering such a huge piece of work in the English language, since this novel is replete with a rich, intricate socio-linguistic, traditional and cultural backdrop.

The second section includes memoirs about Krishna Sobti and her life and work by 17 distinguished writers and scholars, including Gitanjali Shree, Sudha Arora, Narendra Nagdev, Professor Garima Srivastava, Kanti Kumar Jain, Shailendra Pratap Singh, Gurvachan Singh Bhullar, Birkha Khadka Duvarseli, Mahesh Darpan, Leeladhar Mandaloi, Kushal Mehta, Vishnu Nagar, Professor Harjit Singh Gill, Professor Chaman Lal, Ashoka Vajpeyi, and Sukrita Paul Kumar. All these memoirs are consequential in understanding Krishna Sobti both as a person and a writer.

The third section carries the interview Krishna Sobti gave to Alok Bhalla. This section includes Mahavir Agrawal's dialogue with Namvar Singh on Sobti's anti-patriarchal novel, Mitro Marajani. Besides, it also carries a profile of Krishna Sobti prepared by Dr Vivek Jayaswal. The last pages of the journal display Sobti's five hand-written letters procured from Giridhar Rathi and Sambhavana Prakashan, Hapur.

Nine write-ups in this number of the journal have been translated from English into Hindi by translators including Pranjal Dhar, Govind Purase, Dr Jaswinder Kaur Bindra, Shankar Lal Purohit, Dr Raghuvansh Mani, Madhubala Joshi, Dr Sanjeev Kumar, Chandrali Mukherjee, Satyam Sandeep, Ravi Kumar, and Dr Rajesh Yadav. All these translators deserve kudos for effectively rendering the English content in the Hindi language with due attention and consideration for the intricate jargon and critical phraseology.

Editor Rakesh Kumar Singh has divulged that the forthcoming number of Sabad Nirantar will be dedicated to the issues of farmers and the agro-economy of India. It will carry perceptive essays by noted scholars including Devendra Sharma, Professor Amit Bhaduri, Jacques Derrida, Ram Sharan Joshi, Nand Kishore Acharya, Professor Sucheta Mahajan, P. Sainath, Professor Sudha Singh, Professor Vinod Shahi, Professor JPS Oberoi, Gauhar Raza, Surjit Patar, Dr Navasharan Kaur, Dr Sukrita Paul Kumar, Shamsul Islam, Professor Ritika Khera, and Madhuresh among others. Besides, there will be interviews and reviews. Aside from special issues, regular issues of the journal in the coming months will include essays, analyses, reviews and interviews on contemporary socio-political, cultural and literary topics.

This inaugural issue of Sabad Nirantar, with its quality content, and attractive layout, affirms that it will soon get recognition and wide readership. For academia, researchers and connoisseurs, this journal is worth subscribing to as it carries valuable information and instrumental material for reference and further inquiry and dialogue. Kudos and best wishes to the editor, Rakesh Kumar Singh, and members of the editorial board, Professor Prabhat Patnayak, Professor Anil Bhatti, Professor A. Arvindakshan, Professor Anil Sadgopal, Professor Nivedita Menon, Professor Savita Singh, and Subhash Gatade for painstakingly working on this journal.