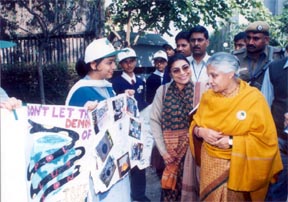 "At least they could leave our ice cream alone. How can children not eat ice cream?" lamented a student from Carmel Convent School at the seventh Community Led Environment Action Network (CLEAN)-India meet, held in New Delhi in February 2004. The meet was organized by Development Alternatives (DA), an NGO.

Carmel's environment club had put up an exhibit - showing how manufacturers use toxic chemicals like ethyl and benzyl acetate to give ice cream their fruity flavors. The exhibit also showed the use of a glue-like substance - made from the udder, nose, tail and rectal skin of animals - in the ice cream to add texture. At the meet, many students admitted that they would continue to eat ice cream, but that they may not relish them as much as they did earlier.

DA started the CLEAN-India program in 1996 with the belief that children can be powerful agents of change. Whether they are fighting against use of crackers and polythene bags or promoting eco-friendly festivals or paper recycling - when children talk, parents do listen.

Today the CLEAN-India network has 25 schools across the country that work with NGOs, civic bodies and corporate organizations to improve the environment. The CLEAN-India meet is an annual feature and an opportunity for the members to interact and share their concerns about the environment.

At the 2004 meet, students (about 400 in the age group of 10-17) attended workshops on topics like concern for animals, the use of toxic chemicals in food, and waste paper recycling. The children also put up colorful displays in stalls, offering some solutions to environmental problems.

Many of the stalls made a plea for eco-friendly festivals. Delhi Schools like the DAV Public School (Srestha Vihar) and Delhi Public School (Dwarka) demonstrated how Holi colors could be environment-friendly. Tea-leaf extract or henna powder can be used to produce green; for a yellow, sandalwood powder works well; and for a deep red, beetroot extract is the best.

Some students also suggested that during festivals like Durga Puja (worship of goddess Durga) and Ganesha Chaturthi (worship of god Ganesha) unbaked and unpainted idols should be immersed in rivers and lakes. In fact, students of Bharatiya Vidya Bhavan Kendra, Aurangabad (Maharashtra), described what they did during the last Ganesha festival. They collected all the flowers given as offerings from 400,000 people, and instead of throwing them into the river, decomposed them to use as fertilizer.

The Aurangabad school students also showed how, with the help of wriggly worms (also on display), plastic bags and soil, organic kitchen waste can be converted into fertilizer and vegetables can be grown in these bags. The brinjal (eggplant) and ladies' finger (okra) growing in the plastic bags made a compelling argument.

A student from the same school proudly reported how he averted a disaster on the eve of Diwali (2003), when he found that the water supplied by the municipal authorities contained coliform bacteria. He immediately warned the civic authorities, who stopped the release of water and then treated it. Today, the school regularly checks the water supplied to the city. Several students involved with the CLEAN-India campaign have started checking the quality of water from taps, and in rivers in different states. CLEAN-India Shillong (Meghalaya) has undertaken cleaning of the Umshympi river, and in Berinag (Jammu and Kashmir) students have spread awareness to stop bathing and washing near water springs.

Besides, some schools have started cleaning their water tanks regularly and have installed water purification systems.

Another theme on display at the meet, was the value of tree planting and medicinal herbs. Students from St Xavier's School, Kodaikanal (Tamil Nadu) reported that they had a herbary, where they grew eucalyptus and fennel (which have anti-septic and anti-fungal qualities); lemon grass (to cure headaches); hibiscus (to cure fever) and spearmint (for fever and gas problems). Delhi's Salwan Public School and Shri Ram School (Vasant Vihar) displayed herbal cures for common ailments.

Two Delhi schools, Sanskriti and Gyan Mandir put up a prize-winning exhibition on paper recycling. They showed how old newspapers and paper waste are converted into recycled paper.

The children also displayed several placards with messages pleading for an eco-friendly earth. Two of these - "Will the 3rd World War be about Water?" and "In the year 2025 would water sell at Rs 100 per liter?" - warned of a grim future.

The Chief Minister of Delhi, Sheila Dikshit, who attended the meet, advised and encouraged the students, "Change what you can, your house, your area, your school, even your bus. Little changes do matter." And on the importance of the segregation of garbage, she said, "You show the way, we will follow."

Students of Amity International School (Delhi) have been ecologically active in the H-block of Saket. With the help of the community and the Municipal Corporation of Delhi (MCD), they have set up a solid waste management system. The garbage is segregated into wet, dry and hazardous waste. The wet and dry waste is thrown in red and blue bins while the hazardous waste goes into special bins supplied by MCD. Residents have responded very positively to this initiative.

At the meet, Dikshit also launched CLEAN Pages (a Delhi Environment Directory) and handed over the first copy to Naini Jayaseelan, Secretary, Department of Environment. The directory is a guide for citizens who want to be involved in environment conservation.