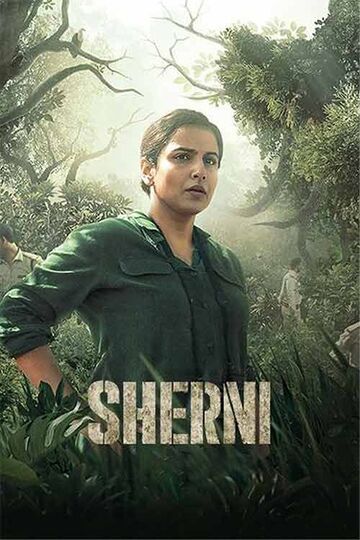 Let me be honest; I am neither an animal watcher nor a forest enthusiast. Yet, I ventured to watch 'Sherni' for the simple reason after reading a positive review and for Vidya Balan. This 131 minutes' movie might sound more like a documentary on the forest life than on wild life and also about the lives of those connected with it; the conservator, officer, offices, the population living there amidst danger and yes the wild animals. I was taken away completely from the urban life to a place hither to not known to me.

But, in reality it is the narrative of a woman forest officer Vidya Vincent who takes up a mission to catch a disturbed tigress wandering in the thicket of the jungle somewhere in India (Madhya Pradesh it is referred) with her two cubs. There is already a human casualty because of this animal. So it becomes the duty of the forest department and its officials and also the villagers living in and around to track the animal. Unfortunately, as everything in India, politics, elections, clashes, personal interests, greed and human foibles interfere the hunt. Vidya wanted to catch the tigress and her cubs alive and send it to the national park.

Is she successful in her mission crossing all odds like an opportunistic officer, political interference, a true animal lover, the volatile village people, an ambitious ruthless hunter and a dignified powerful forest expert?

Is the tigress T12 or whatever on prowl survive? What about those cubs?

The story and screenplay by Astha Tiku is good, direction by Amit Masurker (known for his good film 'Newton' which I haven't seen), Rakesh Haridas on cinematography are very commendable. Vidya Balan once again proves that she is an actor of substance and the supporting cast Vijay Das, Neeraj Kabi and Shart Saxena play their part naturally.

In my mind a lot of questions arose; how the environmental protection and development activities have to be compromised? Who decides it and how the lines are drawn for Environment a wildlife Impact? But, as long as the political chicanery, power play, greed and the never ending poverty prevail in our country such problems and conflicts are bound to keep happening; because humans are more dangerous animals than those live in forests.

Vidya at the outset who even never likes to entertain a cat in her quarters in the end caress the cat which comes around her legs. Before that scene there is a simply striking scene about the survived cubs! Those frames are 'simply awesome' to explain it, you say in the present day idiom!

Definitely not an entertaining movie with romance, violence, heroism, glittering stars, opulent sets and foreign locales, catchy music etc.

Yet, watchable and illuminating.

Now, streaming in Amazon Prime.