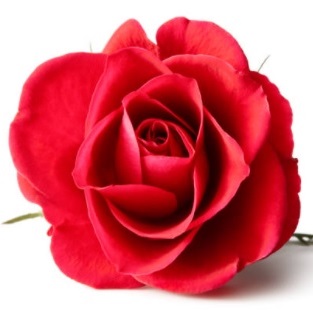 O my Luve is like a red, red rose
That's newly sprung in June;
O my Luve is like the melody
That's sweetly played in tune.

So fair art thou, my bonnie lass,
So deep in luve am I;
And I will luve thee still, my dear,
Till a' the seas gang dry.

Till a' the seas gang dry, my dear,
And the rocks melt wi' the sun;
I will love thee still, my dear,
While the sands o' life shall run.

And fare thee weel, my only luve!
And fare thee weel awhile!
And I will come again, my luve,
Though it were ten thousand mile.
A Red, Red Rose is a Valentine's Day song, a poem of love, red rose and earnest yearning seconded by the intense feelings expressed into words, the unputdownable heart-matter. Only a lover can write as such so passionately and emotionally. The emotions of love, how do they overpower one only a lover can say and feel it. To see the beloved in the red rose or to compare with it is the main thing of the poem. My Love Is Like A Red, Red Rose, how beautiful is the expression, how lovely is it to express as thus! At that time think we within if she is like a red rose, if is she just like that. Can love be as such? Is it really so? Yes, some girls are ravishingly beautiful is the thing. This also matters too however be the complexion and face-cutting of the beloved she is but no less than a rose to her love. One who has not loved cannot say it. One who has not cannot express the emotions of love.

Love is but the name of some feeling. While reading the poem, we get reminded of the flower stalls and sales on the eve of St. Valentine's day, placing of the flower bouquets on the altar of the saint and the story of his goodness, oh, my God doing the rounds. How benevolent and sacrificial had he been! While reading the poem, the imagery of white, pink and red roses flash over the mind's eyes and pearly water drops trailing over the petals and a sweet fragrance coming out, the redolence maddening us as well. When we read the poem, the love for the flower too takes us over. How much passionate are we about!

Flowers show our sensitivity. When we read the poem, the images of Romeo and Juliet, Laila and Majnu, Shirin and Farhad dance before the eyes. How has the world misunderstood and underscored the lovers and the couples? When we read the poem One Day I Wrote Her Name, My Mistress' Eyes, The Wild Swans At Coole and The Lake Isle of Innisfree come to our sight. To read the poem is to to search love in flowers Western and Indian too. From the Indian perspective, we may search in jasmines, juhis, chamelis and champas, belis, kaaminis and malatis, gandharajas, kanchanars and mogras. Here it is My Love is Like a Red, Red Rose, on reading it, we feel if there were someone who had written, I Love You titled poem just like Wyatt's Forget Yet Not.

The wordings reflect the time-spirit of the poem when it was written and also of the use of the dialect. But there are many facets of love, love for the parents, for the sisters and brothers, friends and relatives, pet animals and things, sons and daughters. Love is not love what we think it about. Love is also a thing of the heart.

The poet says that his love is like a red rose, a red, red rose that is newly sprung in June. The flowers blooming in the month of June have a freshness and attraction of their own. His love is like a melody that has played in tune sweetly. To compare love with a red rose is an uncommon comparison. How dreamy it appears to be, the red colour so fast and dazzling! Whoever sees it gets attracted and charmed by. The red hue dazzles the on-lookers. There is something of George Herbert's Virtue which one may come to feel in it. The feeling of love is almost same.

A fair lass she is without doubt in her appearance and beauty and with her he is in love with. He will continue to love till the seas go dry. A fairly maiden, so lovely to look at and beautiful he is in love with. Such is the darling of his heart and so deep is his love for her.

He will go on loving, loving for ever till the seas dry it, the rocks melt with the sun. As long as the sands of life keep running, the river of life streaming so long will he continue to love her. He will always long for her, and she will continue to be his love.

The lover bids her well, wishing her a good prospect and fortune. Let there be good wishes abounding with. Let there be good hopes doing the rounds. He will come again even though he is thousands of miles away from. Whenever she calls, he will come. He will come hearing her call. He will attend to giving maximum priority. The distance will not be a factor. Just likeness should it be in heart. There should be love in heart. Goodbye for the time being, for a while, he is taking leave of her or she may be with him, again he will come to meet, see her or she will.

How beautiful is the expression, the thought and the idea, my love is like a red rose, my love is a rose, a red-red rose! And we confuse in between a rose and a beloved! Is she a rose personified? Or, a girl just like a red rose? Is it not an exaggeration? Or, in reality a girl can be as such? Whatever be it, it is a poem of love and the red rose. Dew drops trailing from, trickling down the rose-petals is the scene.

Red roses are symbolic of love, sympathy and bonding. They also speak of romance and relationship. To compare the beloved with a red rose is an uncommon imagery. Can the beloved be not with a red rose to give or with it into the hair?

Even though far from, he will come, he will come to attending the call. To love is not to leave and desert one on the path of life. To love is to be a friend of joy and sorrow. To love is to be a companion. It is a beautiful poem of metaphor and simile. On reading the poem, we think of plucking a red rose and gifting it to love. The dreams of love only a lover can it about. To be loving is to be full of sentiment and feeling, sensuousness and emotion. The feelings of heart, how to express it? How the love of heart? The emotions of love are so compelling.

A ballad, a lyric of love and its intense feelings it has the capacity to charm and captivate anyone. Love is here like a red rose. There is definitely the music and melody of some Scot folk song heard in it which the poet might have heard in capturing for it and tuning it so well as thus in this manner. A Scottish song, it is of Scotland and its own lass whose dialect we can hear in it. The red rose as someone's love, is it not surprising enough? An English girl, A Scot maiden as a red rose, how to narrate it the story of love?