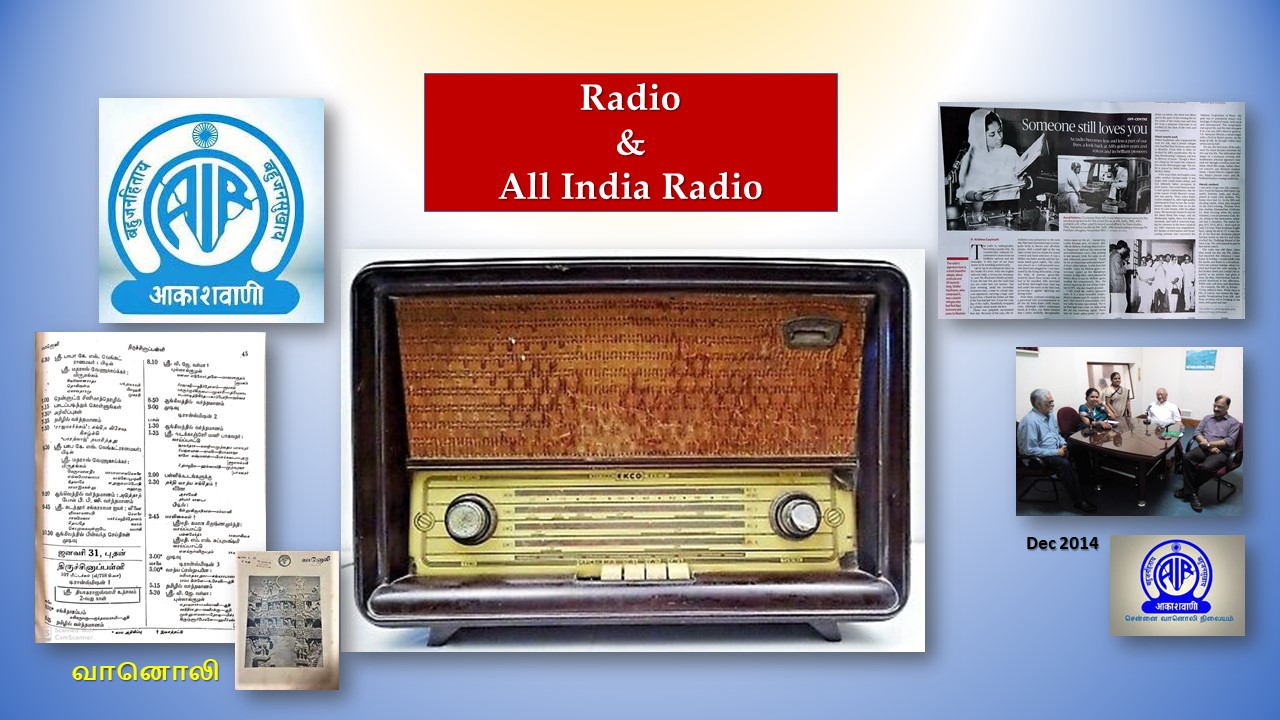 Last Sunday Magazine 'The Hindu' carried a small essay on AIR titled 'Someone Still Loves You'. It is about the bygone days of Radio and All India Radio programs.

As I belong to that era, while reading the write-up my memories came flooding about the radio we got when I was in Elementary School and the days I had been attached to the radio listening to the various programs in them in the subsequent years.

As it had been described the beautiful adagio, the signature tune is memorable. I came to know that the music was composed by Walter Kaufmann, a Jewish refugee fled from North Germany to Bombay for AIR who worked for it.

We had a National Ecko radio which looked quite bulky but good and most of Tamil film songs I listened through radio only which was indeed the only source for us at that period. There were Tamil plays like Dubash Veedu, Kappu Katti Chathiram, Janata Colony etc. in which Panorama, Nagesh had played main roles. Drama festivals were there with even Sivaji Ganesan and Savithri played vital roles. There were concerts of popular artists during prime time for one and half hours. There were special national programs in the night also. For film songs there were programs like 'Neyar Viruppum', 'Thirai Ganam' etc. A program book released by AIR itself was titld 'Vanoli'. English news and news readers like Lotika Ratnam and Melville de Mellow were very popular.

Once Vividh Bharati came, we had lot of opportunities to listen to Hindi film songs. Jayamala was a special program compered by some popular actor or personality with interesting anecdotes described by them between songs. 'Man Chaahe Geet' was very popular with the selected songs on the requests from the listeners.

Unfortunately, in the house we stayed in West Mambalam at that time had poor electrical supply and sometimes, the night programs cannot be enjoyed at all as our radio failed to get the required voltage supply. Sigh! Those were some days.

Today as the author rightly mentioned radio and its programs have become a quaint relic.

Surprisingly, in the later part of my life, I have gone to AIR auditorium for covering the Radio Sangeet Sammelan in their auditorium a few times. I also had the opportunity of presenting a program with my favorite films songs (Then Kinnam) once, a small tribute to AIR during their 81st year of service and also participated in a discussion on Chennai December Music Season in 2014.

While many of us think that the radio and AIR programs are no more popular, their staff said that there are still committed audience who enjoy the radio programs religiously.

It is, indeed. Heartening.