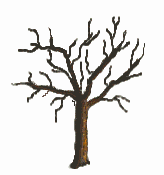 It was that night of June 6, 2000 that has left an impression on me till date. I rarely dream while asleep. But on that rainy day, I was woken up to a revelation that ignited a spirit in me ' to do something for the benefit of all. Next day I shared the details of my dream with my Environmental Studies teacher in school. She appreciated my concern for what I had seen and my commitment to the cause. I shared the dreams with my friends.

My friend, Nisha, and myself were walking through a barren land .We had walked for more than a mile and were exhausted. There was no shade anywhere to hide us from the scorching heat. We were soaked in the grime and sweat of the humid climate. The feeling of irritation and exhaustion was at its peak and both of us started coughing .The strong winds that blew occasionally only added to our woes. They carried with them pollutants of all kinds. Suddenly we were befriended by a ferocious looking leopard .Was he a man-eater, we wondered? Uttering the name of the Lord and seeking protection from Him, we shivered in fright. Why was the leopard out strolling around rather than hiding in the forests behind the trees? Perhaps the dense forests have been cleared and the animal had no choice but to come out into the open. He has been deprived of his natural habitat. It was then that I woke up .I realized the importance of Mother Nature and the role of trees therein.

Nature is an infinite source of beauty. Only one should have the eyes to behold it and the heart to feel it like the English poet, Wordsworth, who, after seeing the daffodils, said:
'And then my heart with pleasure fills,,
And dances with the daffodils'.
Nature is a great teacher. Nature without trees is akin to 'Fish without water' or a 'Head that sports no hair on it!' Trees occupy an important place in the life of man. They give us so many good things and yet expect nothing in return. Trees add beauty and color to an otherwise colorless background. They have been a source of inspiration to many artists around the world. They come in all sizes, shapes and colors adding to the amazing variety of flora around us. They are spotted in Bollywood films where the heroes run around trees chasing the heroines.

Trees help humans in more ways than one. They reduce air pollution and global warming through respiration and removing particulate matter. They taken in Carbon dioxide and give out Oxygen that sustains life. Trees play an important role in maintaining a moderate climate by lowering air temperature. They provide shade and conserve energy. They help to reduce noise pollution. Besides, providing shelter and food for generations of birds and wildlife they reduce soil erosion too. Trees have been providing the wood required for various purposes from firewood to building huge structures. Trees attract rain-bearing clouds. In countries where agriculture is the main occupation, these are heavily dependent on the rains for water. Many trees provide us with medicinal products such as quinine and eucalyptus oil. In fact, many medicines that we ultimately use come to us through trees and vegetation.

However, the population explosion and the expansion of the geographical areas have only resulted in the indiscriminate felling of trees. People around the world are cutting down trees to make way for homes, businesses and parking lots. But as we grow our cities and cut down our tees, we lose far more than pillars of our landscape. We loose a valuable environmental resource. The presence of trees adds beauty to the spot and helps to increase property values. They make communities more beautiful and livable. They make one feel good.

Would we prefer a life that is colorless and boring or one that is vibrant, cool and healthy. I think most of us would choose the second option. Then can we imagine a Life without Trees? Never. So let each one of us start planting/replanting a tree and preventing others from cutting the same. Let us Hurry, TIME is running out!