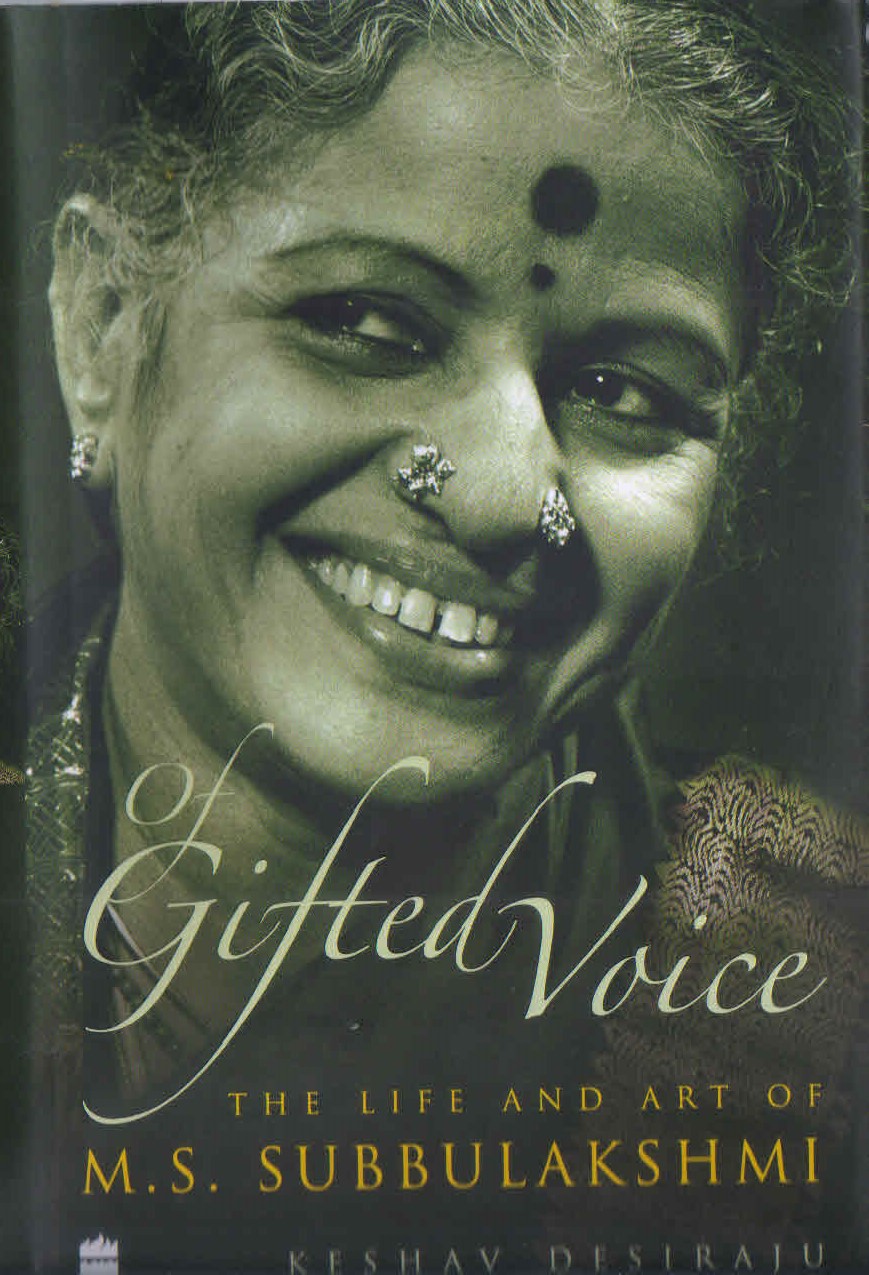 Of Gifted Voice: Keshav Desiraju;
Harper Collins Publishers India,
500 pages; Price Rs.559
It is a fact that writing a biography is a tough task; that too writing on a legend like MS Subbulakshmi is unquestionably a Herculean task if the author chooses to cover the entire illustrious life of her and musical and personal life journey with authentic details. One could easily understand the amount of energy and labor invested by the author Keshav Desiraju; the innumerable details, wealth of information and also the almost ample coverage given to MSS 's contemporary musicians.

The book has been divided into 15 chapters, Notes, 2 Appendices, Glossary, Bibliography and Suggested Readings, Index, Index of Songs and finally about the author. The references are meticulously made in the book in all chapters. No doubt the books has been written with the knowledge, dedication and diligence of writing a doctoral thesis. So sitting and completing the book in one go is impossible (at least for me!)

Honestly speaking, reading the book almost feels like going through a doctoral thesis only. The language is very good and the expressions are quite meticulous.

Therefore, the book has a load of information and material both on the professional and personal sides of MS Subbulakshmi. Her entry into music, her ascend, her film experience, her professional achievements, her concerts, her favorite kritis and ragas, her entry into devotional singing are all well delineated. The readers stand to gain the life and achievements of her many contemporary women singers like Rajam Pushpavanam, NC Vasanthakokilam, T Balasaraswati (Bharatnatyam), DK Pattammal, ML Vasanthakumari, T Brinda and T Mukta and others.

Everyone who had followed MS would know that she had her set of favorite songs and ragas. She was very fond of ragas like Sankarabharanam, Bhairavi, Todi, Kalyani, Keeravani, Kambodi, and Simhendramadyamam to name a few. She invariably had chosen these ragas for Ragam Tanam Pallavi in many concerts or as the main one. While the author has not left out even a single kriti MS sang, it is surprising her 'Kanneduthagilum kaneero' by Suddhananda Bharati in Simhendramadyamam during initial stages records.

The specialty of this book is that the writer had covered to a great extent MS's personal life also. He had clearly mentioned her opulence as well as the time when the Sadasivams have to go for a frugal way of living like the major shift from the Kalki Gardens to Nungambakkam.

Though well known, one cannot but admire the fact that the singer's dedication to music and its nuances. Every kriti or sloka or bhajan she sang was learnt with great attention and commitment. The voice being her great asset the songs as well as the hymns well-tuned by the musical experts captured one and all; both the initiated and uninitiated. That was her strength.

The book is definitely for those who wants to know the life and music of MS absolutely. So it is a special one for MS's fans. For others it is a comprehensive history of Carnatic music and of celebrity MS Subbulakshmi. Nevertheless, with due respects to the author's magnificent compilation, for me the book could have been more precise in some places as I felt there were sections and descriptions which were quite repetitive using different narrative techniques.

'Of Gifted Voice' by Keshav Desiraju is an outstanding tribute to the great legend.