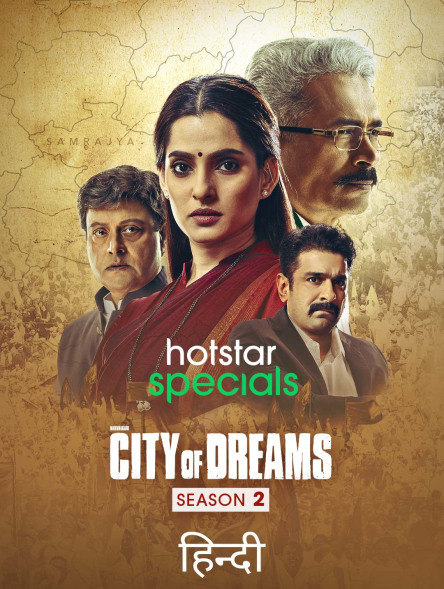 'City of Dreams Season 2' emerges with the same ardor of Season 1. Nevertheless, of the ten episodes I felt the first three to four episodes are positively lethargic<.

It is the continuing battle for political power between Amey Rao Gaikwad and his tenacious daughter Poornima Rao Gaikwad. Poornima wants to retain the power by winning the forthcoming elections and Amey wants to thwart her efforts as he hates a woman occupying the seat of power<.

The murky Indian politics which roams around the elegant board rooms, plush homes and hotels, milling crowds of Mumbai and the depressing holes called homes of the poor are explicitly portrayed. In the same manner, money, murder, sex, scandals and ruthless attacks and lack of loyalty in relationships are strewn all along the episodes<.

After watching City of Dreams both seasons I understand nothing is sanctimonious in this holy land<. Power and money can buy anything and the humans are also ready to sell anything from integrity to body for a price for acquiring them. This series categorically establishes the misogynistic male vision even it is one<'s own father.

The central characters are played by Atul Kulkarni (Amey Rao Gaikwad), Priya Bapat <(Poornima Gaikwad) and Eijaz Khan <(Wasim Khan) and Sachin Pilgaonkar <(Jagadish Gaurav). In Season 2 there are a few additions like Adinath Kothare as Mahesh Aravle, Poornima<'s early love interest and former husband and Krrish Chhabria as Amit Amre, the teenage and rebellious son of Poornima and Kaushik<.

The racing climax and the shocking end of Season 2 are quite unexpected.

Well, those who can digest blood, gore, violence, sex, politics and some thrill can visit <'Mayanagari, <(Season 2). Others kindly abstain.

Written by Nagesh Kukkunoor and Rohit Banawlikar and directed by Nagesh Kukkunoor, the series is streaming in Hotstar.