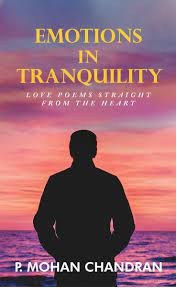 Emotions in Tranquility by P. Mohan Chandran
Xpress Publishing (An Imprint of Notion Press)
LOVE – the four-letter evocative magic word! Affection, passion, attachment, desire, obsession, sensuousness……the list of attributes is endless. Vivid images of archetypal lovers 'Romeo-Juliet,' 'Laila-Majnu,' 'Antony-Cleopatra,' 'Baji Rao-Mastani,' come to life instantaneously. 'Filmy' love often depicts 'Macho men' 'vulnerable beauties' and 'muscular villains' with happy endings after orchestrated twists and turns. Legendary monuments of adoration and fidelity - the Taj Mahal and the Bibi Ka Maqbara standing as mute witness, continuously attract travelers from far and near. Does love live 'forever in memories.?' Is love confined to romantic overtures?

Love is all around us - in a child's hug, in a friend's concern, in people around us, in animals, in life forms and non-life forms. Love is constant, not an emotion, as most of us believe it to be. Taking the cue from a renowned anthropologist, romantic love is a 'drive,' it's 'too long lasting,' consequently, it is 'not an emotion' as fear, sadness, or anger.

Well then, what is love? Its classification brings out varied reactions from the members of the society, that include friendship, adoration, affection, mania, lust and more. In the poet's own words: 'Love is divine. Love is eternity. Love is the quintessence of life and enriches and ennobles it. Love is one of the most beautiful and natural feelings ever to occur to any human being. Love is a feeling which develops naturally and blossoms with time to become immortal.'

Is love always about happy endings? Stories of star-crossed lovers Romeo-Juliet, Laila-Majnu, and a multitude of others with tragic endings have implications of union after life has ebbed out. While love is believed to be addictive, leading to euphoria, it can also be excruciatingly distressing.

Poet P. Mohan Chandran brings out the 'painful' aspects, 'the lack of courage' to express one's feelings and more in "EMOTIONS IN TRANQUILITY." In the poet's words, 'It hurts to love someone and not be loved in return, but what is more painful is to love someone and never find the courage to let that person know how you feel.'

This poetic collection of 52 poems has been divided into three parts: Joyful Love Poems, Melancholic Love Poems and Abecedarian Poems; there are poems to attract the 'fortunate' and the 'spurned,' along with 'wisdom' 'for managing pain in love and overcoming it with aplomb.' In almost all the verses, the poet has used rhyme, rhythm and imagery to convey efficiently.

In 'Mystical Love' (page 3), the adoration of a lover is stated explicitly, even as the foundation of love builds up with warmth and exuberance -

'By your beauty, I was awestruck,
Our rendezvous has brought me great luck.
My heart's home, when will you adorn?
Will you make me smile or mourn?
With you alone, I want to share my life,
I want you, forever, to be my wife.' (pg.3)

In 'Vicissitudes of Love,' (pg.3,5), the simile and rhyme skillfully bring out the essence of togetherness in love.

'Of your love, you leave a stamp,
Amidst darkness, like a lamp.' (pg.3)

The concluding lines bring out the sharp contrast as the title suggests -

'Love knows not, to lose,
Even other impediments, it'll cruise,
But, those who fail in love, booze,
Love, for them becomes a veritable noose!' (pg.5)

While 'Moments of Love' (pg.6) projects the elated spirit -

'My dreams, when you share,
Even the impossible, I dare.' (pg.6),

'Goddess of Love' (pgs.7,8) expresses chants of love using captivating phrases –
'Angel of peace,' 'harbinger of joy,' 'embodiment of innocence,'' mascot of good luck,' 'catalyst of inspiration,' 'idol of trust,'' image of true love,' among others

It continues in 'Magic of Your Thought' when the pining lover confesses:
'Life without you, I can't even dream,
Life is worse than death, it does seem!' (pg.10)

And, with renewed vigor, pronounces in 'You know Not' you've changed me for the better…(pg.15). Showers of praise and adoration are heaped in 'The Beauty of You.'

'You're as beautiful as a star,
You're in my heart, though very far.
You're more beautiful than the Moon,
Your presence in my life is God's boon'. (pg.17)

Lines in this poetic collection reveal that love is not merely infatuation, or carnal, it involves a deeper and intensifies with time -

'You always respect and fight for the truth…' in 'Magnetic Simplicity,' (pg.19)

'As a mother bird teaches its young one to fly…' from Paradigm Shift' (pg.22),
'A day when, only 'pure happiness' to you, others serve…' in 'A Red Letter Day' (pg.26),

'Indelible mark, my love will leave on your heart, even long after I'm gone…' from 'The Triumph of Love.' (pg.30 )

I am reminded of social science researcher Karla McLaren's views that 'Love doesn't just restrict itself to romantic relationships.' Love survives 'trauma, betrayal, divorce and even death.' Furthermore, profound love is punctuated with spontaneity - being natural with one another, reflecting a flow and resonance with deeds that stem from the heart, not with intellectual acumen!

Adroitly, as the poet switches over to poignant verses in the Melancholic love poems section from pages 43- 86 (that includes an Acrostic verse, page 48) he brings out the pangs of separation, betrayal, and deceit with great lucidity; one wonders if he has experienced some or all of it at a personal level!

'In love, now I don't have an iota of belief,
Life without love, is an eternal relief. (pg.43 Love Post Mortem)

'Pains, like bumper harvest, piled in a heap…' and
'I was awaiting a crop, on a barren field…' (pg. 45 Incinerated Love)
'Why do we love only a single soul?
Without that person, why don't we see ourselves as a whole?' (pg. 57 Shattered Love)

'As drops of water cleanses a leaf,
The tears from my eyes, cleanses my grief.' (pg. 67 Operation Blue Love)

'It transgresses the present, future, and the past.
Every second is a veritable hell,
Where living souls can never dwell!' (pg. 78 The Pain of Pain)

The Abecedarian poems bring out insightful lines on love that can be pure and unrequited -

'Judge me not, purely on the basis of my extrinsic dealings.' (pg.91 Embedded Dreams)

'Locomotive power I lost, and drowned myself in an emotional storm!' (pg.93 Zombie Love)

Poet P. Mohan Chandran comes across as an individual who has had meaningful interactions with people from various walks of life, has spent considerable time in observing their behavior; additionally, his research and creativity hats, I believe, have triggered a tsunami within, which has enabled 'Emotions in Tranquility' see light of the day.

This collection would prove to be a good read for people to understand that when love takes us on a roller-coaster ride, it unlocks the vaulted gates to purify hearts; further, it expedites introspection for emergence into a higher being.

Happy reading!