Wanderer by Rajender Krishan
Paperback ISBN : 978-1-947403-15-4 Amazon ebook ASIN : B08T7VS8DZ
Available on Amazon USA | Amazon India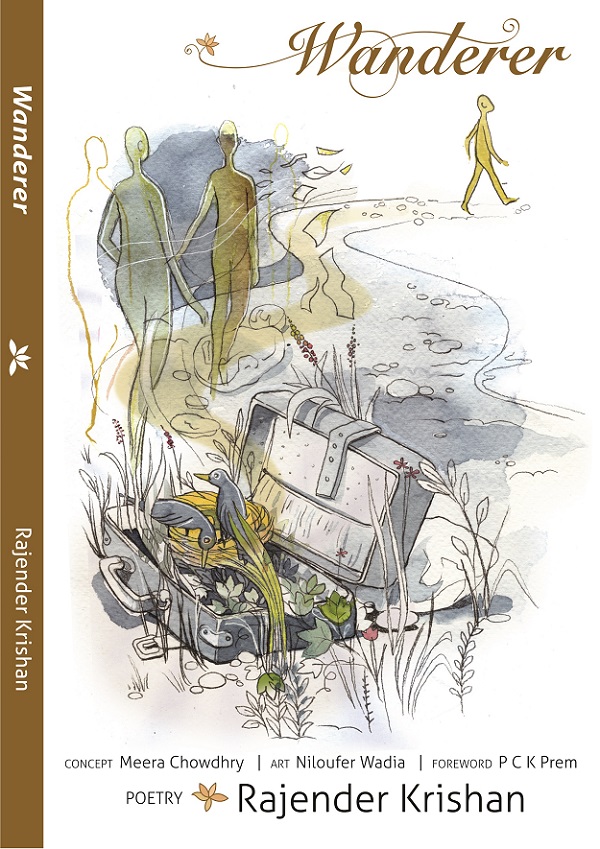 If one keeps company with Rajender Krishan's Wanderer, as he saunters into one hundred avenues of life, he is bound to find it worth his contemplative time, and more. Well, I have savored Rajender's earlier Solitude and the recent Gospel (Amma's that is) commendable both but in my reckoning, the poet in him excelled as Wanderer. Not only that, given its outreach into every conceivable corner of human experience, this indeed is Wanderer Where Not.

I would like to take the not-yet-read-readers to a few stations of his wanderings to enable them to appreciate what his whole journey into life would be.

He outlines his quest in his very second station, the 'View', thus:
"That what is formless
is yet the only eternal form
Searching which
the anxious wanderer
walks with protruding eyes
while the formless rests within"
And what all he espies and grasps in the affairs of man!
"What perception ably does one hold?
Experience or the one that was told!"

"Lamenting on pain
there is surely no gain"

"Allow me to exert
for one more day
in my attempt to empty
the trunk of cravings"

"Labor merits dividend
only when well-done"

"Better seek refuge
in the virtue of
econciliation"

"When facing failure,
ask yourself, if you are
satisfied with the intent
and the effort you have put in"

"Don't think how far
the destination is
think if you are
on the right path"
As if to stress that one should not let go the light-hearted facets of life –
"An ant in the pants;
Shoe with a grain of sand
naturally disrupts
the pace of progression"

"Natural beauty hidden
glamor asserts clamor
Corona-mask fashion
Sets up arty designer"
Giving a personal touch to Togetherness, in a way, the poet pays his due to his spouse with whom he kept the marital course for forty-five years
"A desire arose, then,
to discover togetherness
that allows us to explore
every day, even today."
And about life in general in our medical times –
"Of intervals, every day
With a plethora of other treatments
and innumerable do's and don'ts;
the fight to remain alive itself
is becoming a novel ailment"
Surely, Rajender could be aware of the import of his endeavor
Lips are zipped
diffidence abounds
yet the attentive listens
when poetic eyes sound.
One can go on and on, but it may be apt to end with Krishna's quote in the Gita in Ch 10, v42:
O dear friend need there none to delve in full
suffice to say it's portion Mine that supports all.