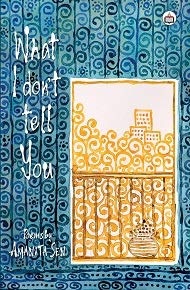 'What I don't tell you'- is a collection of well contoured and conceived free verses of sensibility and spontaneity. The 60 poems included in the volume are a mix of dilemma and confidence, a sway between the silence and a say, equations of palpable pain and tolerance, a plethora of reasoning. What is most intriguing, is the simplicity of the language with profound depth of the thought process. I have found her poems very aesthetic and mellifluous. There's a dismissal of plain logic and acceptance of natural faith and humanism in the unseen, untouched, unaccepted realities of life.

I justify my claim with the opening lines of her very first poem "The Healer" which took me to another edge of realization of human psychology.

"Then I touched the body of
The Grand Old Rock and cried.
I cried to it, till it sucked me off
The last drop of the pain left,"

These four lines took me to a dimension of belief that when you need to share your grief for a little solace, it's not important where and in what you find it, but, important is the decisive urge to seek it. The expulsion of negativity that is corroding and weighing down is the key to a peaceful life.

In her poem "Some Nights" there's a reflection of the tumult of dark emptiness within, the struggle of human nature to seek relief in preternatural mystery of the dark night.

"In the continuum of time
These nights have a status
distinctly page-marked,
and I simply called them 'loved'.

In loneliness a poet's nihilistic-self incline towards a healing, in an isolated enigma, absolutely as dark as her inner-self, the night is like a lover with a similar lonely vibe. A satisfaction grows inside the empty space, nurturing the seed of love.

All debacles don't always shatter the way they are supposed to do, the tendency to withstand with courage and esteem or to project helplessness aren't innate traits, but personal choices. In the poem 'It's Ok to Fall', I found the poet dealing with both as flipsides in the two paragraphs.

"If you did not reach out
for her with your hand
when you saw she fell,
if you thought it's all
in the game to fall and not
all fall needed a hand
to be up and about, …"

here is a tongue-in- cheek evocation, expressing a volume of confidence and the capacity of acceptance of failure, owing it all alone. Not always, does one claim or wait for a hand of assistance.

In the next paragraph there's a slight deviation to the more delicate and feminine expression of emotion.

"But spare her the laughter
at the memory of falling
for the laughter when cuts,
does so irrevocably…"

Reactions to vulnerable situations can be different, it might help to evolve or the battery might shatter and scatter.

In both the cases the poet preferred cocooning her feelings.

The poem 'Suicide', is about how thoughts prick a mind, if they crystalise they shine as beautiful icicles, if they don't,cut inside with their sharp edges. Sometimes, the flair aclosure is glorious, at other times lead a devastating end.

"Where is poetry in those closures,
The magnitude of whose finality is cruelly big?
Or there is one, which gets written,
In the ad-libbed act of signing off from life?"

Many a time, the restlessness can be killing, unless there are ad-libbed expressions of logjammed feelings. Who know this better than a proficient poet, who is herself a mental health advisor! She needs no scaffolds to hold her to a pedestal as a poet or a professional, her poems vouch for her.

In the poem 'The Riveting Tale', the poet explores the periphery of many possibilities with her ardent quest, finding the end of the fascinating tales. She poignantly covers the distance between her assumptions and the reality.

How much ever we are happy in our conjugal life, in our dreamscapes we see unclear faces and shadows of unknown people whose presence leave a subtle happiness and thrill in us, unknowingly we long to relive the moments, or wait for the dreams to recreate the moments. The secret pleasure of such moments has been very beautifully expressed in Amanita's poem "Midnight". She sums it up in her very signature style-

"Nor will I tell you
how they all come alive,
the still-alive city trees,
in their swishing conference,
sighing out our breathing air,
contemplating contamination.

But I tell you meekly
how sleep, the closest ally
refurbishes my faith on it,
when you ask for a poem
and I inaudibly say,
"I sleep at midnights!"

Don't we all do\ want it the same way? Cherish such moments without sharing them with anyone, fearing contamination, i.e. being asked for an explanation or a valid reason behind the unknown presence, or we are scared of loose comments, arguments and others being unreasonably judgemental.

Coming next to a poem, each line of which soaked me in its brilliance and left me dumbfounded with its depth and veracity. The poem 'Island'

"In my island, with you I walk,
but you are not a body.
Barring a few loyal ferries
bringing to me the noise
of the world beyond the sea,
my shores are empty."

Such an aesthetical revelation of loneliness is a rare read. A unique presentation of an incorporeal presence, unavoidable and stirring, is what impressed me.

"Having lived from
one raindrop to the next,
leaves know it like a text,
what silence between
the fall could mean."

How much grave and painful is the fear of loss, only one who has lost something very intimate and important in life, knows! We all have experienced such fear, but such an intrusive idea of expression is possible only by a poet of caliber like, Amanita.

"To decipher the silence
between the words
when we talk.
They all seem to know,
the buds, the leaves, the snow,
I'm the island,
deep inside me, you walk."

Most of the time loneliness isn't a choice, we make a truce with it, for the peace of mind.

The beautiful lines remind me of 'Jodi Picoult' who said "Let me tell you this: if you meet a loner, no matter what they tell, it's not because they enjoy solitude. It's because they have tried to blend into the world, but people continue to disappoint them."

We are so rooted to our regular, monotonous routine, that we often forget to renew or define some very rejuvenating and beautiful aspects of life. Love, care, appreciation, encouragements are just plastic elements of speech, of convenience. The synonymous usage a mere decorum, nonchalance. Sometimes, a happenstance can reintroduce oneself to a new meaning and a new found joy of such an expression. The poem 'Spelling "Love",' depictsone such instance when, the poet with her motherly heart, while nourishing and nurturing a little birdling learns the true meaning of love, the forgotten word reverberates in her mind.

'The Nude Model and the Artist', is a poem that has a touching story to tell, a woman who is compelled to bare herself not in front of her lover but a total stranger, an artist. She becomes a model for sustenance, letting a stranger touch, but in process she gets used to his touches of care that slowly was bringing her to life, both on the canvas and within. She falls in love with the artist. Knowing that he is passionate only for his passion, and once the task is over, she'll be displayed to many licentious eyes. She tries to forget the future, just enjoys the moment.

In an era when lies are lied about, we all face the dilemma, fighting the demons of lies living within the spaces of our convenience. "Fighting the Truth" is a poem dealing with such a dilemma. Living in a denial, sometimes it is difficult to discern which of the oneself is real. Knowing, truth has its way of taking an upper hand over the lies, dealing with the lies we unconsciously fight with our own conscience.

I had heard Amanita recite the poem 'My Regret-Box' at Amaravati, during the official launch of Amaravati Poetic Prism- an anthology marking a place of honor in many prestigious record books. For a long time, the poem kept resonating in the mind, awestruck with the concept and conception.

"I usually don't open it,
my own regret-box.
Last night I did, to
rearrange the old ones,
to make way for those new."

In life, we all have boxed regrets, fears, secrets, memories, and with time these keep adding on. The new ones always take the place of the older ones. But, have we ever given a thought, that they are important, need attention, need rearrangements, setting priorities? How relatable! Frankly speaking I never could have written this beautifully a poem in this context. The last paragraph is even more intriguing,

"My walk away from the box has begun.
I hear screams from inside, regrets
refusing to be labelled so, caged brutally.
But I will not relent, let them quieten soon,
and wait for their healing naturally!"

Very well-crafted little phrases, speaking eons. Commendable, eloquent expressions, effectively emoting on unusual topics is Amanita's forte.

Suppressed emotions often scream louder than the expressed, bottled emotions often take its toll. Everyone experiences a situation when they hide or throttle an emotion just to avoid complexities in life. Sometimes, it is not about avoiding complexities but, the unease of opening up, or inability to properly emote. In her poem 'What I don't tell you', which is also the title of her poetry compilation, the poet in a conversation with her poem shares a few secrets.

"I don't tell you
that in fierce hours
lonely, nowhere to go
I will only come to you,
…
O my poetry,
I don't you much, except sometimes,
like I did right now,
I do!"

She tells what she generally holds within herself, but, let it out as she thinks she is ready to submit those truths that would be accounted, those truths she knows not with whom to share, for whenever she is restless, her only confidante has been her poem. Her silence has stopped her from seeking justice for those who have meted harsh injustice, souls that have broken beyond repair, she wouldn't refuse today to bare all to her muse, and peacefully rest her head on the shoulder. A poet can trust only her love!

'The Story of a Glacier'
"Icicles of some frozen memories
in the ocean of time,
turns to a glacier-
…
Wakefully alert with
the memory of a wreck
it prays for a ship to steer past it
and not write again
the story of going asunder."

The poem is as picturesque as the classic, unforgettable movie, 'TITANIC'. To me, this poem gave the feel of a reel in motion.

Next, I choose to mention a poem that drew me in is, 'My Ten-year Old Jeans'

"My ten-year old jeans,
floored me yet again today.
Grateful to it, that am,
for how it holds my body,
like the mother to her, pressing comfortingly.
…
like a lover putting up
with seeming snags,
keeps loving, incessantly."

With such sincerity the poet expresses her gratitude to an old clothing that hadn't failed to surprise her, holding her now changed body. With age the contours of the body changes, bulges of the girth gained disproportionately generally doesn't fit into the old clothes, but her jeans did, when it fit so well she felt that it had the tender care of a mother's pressing hand and the accommodating ability of a caring husband, who readily adjust to all her mistakes and the tantrums thrown!

The poem, 'The Incongruities', shows the soulful, caring and observant side of the poet's nature. She goes to pray, like most of us do in hope and belief! On one such occasion, she saw a man on a wheel-chair. Not a trace of grimace on the face. His disability did not alter his trust. He had his hands folded, a smile of certitude on his face as he watched the deity. The youngsters frolicked around, more inclined to fun than faith. The sight perturbed the poet, the very contrast presence, one having lost, still has faith, on the contrary those having everything so ignorant. She is in two minds, whether to fold her hands in faith or give up the long practiced feel-good belief.

To sum up, Amanita's poetry has sensible imagery that, capably train and sharpen a reader's thought process. The poems have striking expressions, superb observations, are symbolically sound, vivid, fascinating and laden with varied electric emotions. If you have read you definitely would agree with me. For the poetry lovers, who are looking for a good read, I recommend 'What I don't tell you' by Amanita Sen.