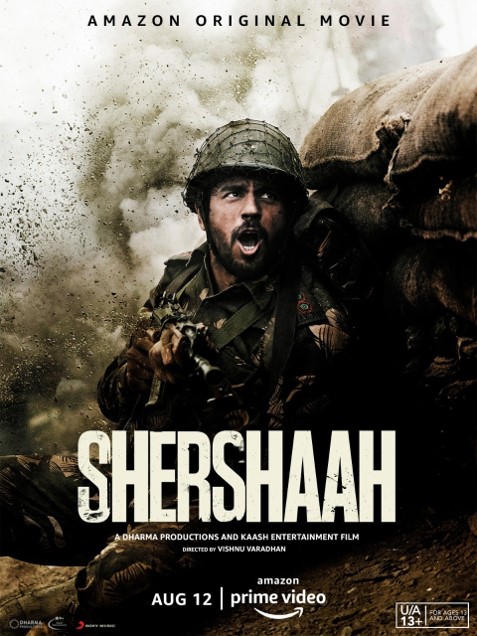 Let me be honest; I am not a votary of war films; or action packed dramas. Of late, little tired of biopics also.

I was skeptical when started watching 'Shershaah' which once again turned out to be a bio pic of Vikram Batra, a hero of Kargil and an awardee of Param Veer Chakra posthumously. Vikram lost his life at the age of 24 in winning the Kargil war in 1999. It was really a surprise to me '(yeh) Dil mange more' (borrowed from the Pepsi's iconic ad line) is a phrase used by Vikram Batra during his war stint where he wanted more bunkers to be blasted. It seems it is also his words that 'Ya toh tiranga lehra ke aaunga ya tiangae mein lipat kar aaunga' may sound cinematic but it seems his twin brother vouched for these dialogues his valiant bro spoke.

So we have the screen always showing the Himalayan terrains of treachery highs and lows, bunch of army men, blasts, shooting noises, falling bodies, charred corpses, dialogues either grim or charged with emotion.

Songs? I never heard them as they were in the background and technicalities are as usual exemplary.

The brief relief came in the form a passing romantic interlude of Vikaram Batra with Dimple Cheema whom he didn't marry actually.

This movie is a turning point for debonair Siddharth Malhotra from the lover boy to a real action hero. He had done it with élan. Apart from a few young females strutting across initially it is Kiara Advani who gives a relief as Dimple as Vikram's love interest. Kiara with her charming looks and smiles (reminds me a lot of early days Hemamalini when she smiles!). It seems in real life Dimple remains as a spinster working in a school.

War films promote love for the mother land and patriotism when authentically made and create special respect for the army force and people work in it. I was moving when the closing screens listed many of those characters connected with the events alive, dead and retired and received honors. Writer Sandeep Srivatsava and director Vishnuvardhan deserve appreciation for making a biopic with least cinematic frills.

But, my thinking goes differently; it is painful to watch humans fight and kill in the name valor or aggression or retaliation. Why men of the world just remain dissatisfied with what they have? Our literature and history hail war or battle as a mark of valor and courage but fails to condemn the death of several lives in the bargain. The winner is celebrated while the one who lost it is humiliated.

Sorry for my blunt view: I hate wars and destructions of any form; be it glorifying or condemning.