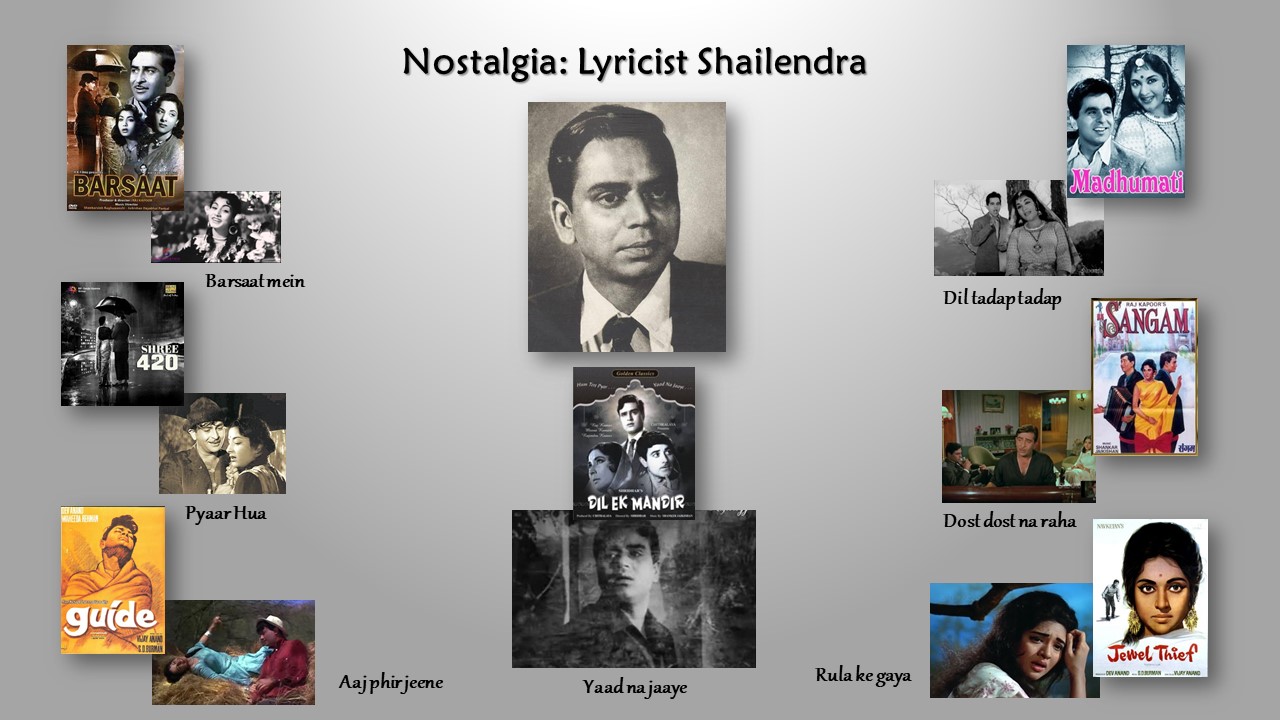 Many times, reading an article on writers, movies, personalities, events or songs of my early days bring happiness as well as sense of loss come to my mind. Probably, that is an indication of ageing.

Well, a brief but impressive and informative writeup on poet Shailendra by Narendra Kusnur titled 'Shailendra: Poet of the Masses' (Friday Review, The Hindu dated 27 Aug) kindled old memories. Shailendra born on 30 August 1923 and passed away at the early age of 43. But, for nearly two decades he reigned supreme with his memorable poetry.

Shailendra mostly was teamed with Raj Kapoor, Shankar-Jaikishen, Hasrat Jaipuri and the songs invaribly sung by legends like Lata, Rafi, Mukesh, Manna Dey and Kishore Kumar. Nevertheless, later he had written to other music composers also like SD Burman and Salil Chaudhary also. A song becomes popular by its lyrics, music, singers, actor and picturization.

I cannot still forget the lyrics of 'Barsaat mein' (Barsaat), 'Pyar hua ekraar hua' (Shree 420), 'Dost dost na raha' (Sangam), 'Dil tadap tadap' (Madhumathi). 'Yaad na jaye' (Dil Ek Mandir), 'Aaj phir jeene ki tamanna hai' (Guide), 'Tera mere sapne', (Guide), 'Rula ke gaya sapna mera' (Jewel Thief). Shailendra wrote only simple lyrics but they were expressive and absolutely suited to the situations.

The songs for me are old but still young; lyrics are simple but still fresh; the music is soft but still melodic.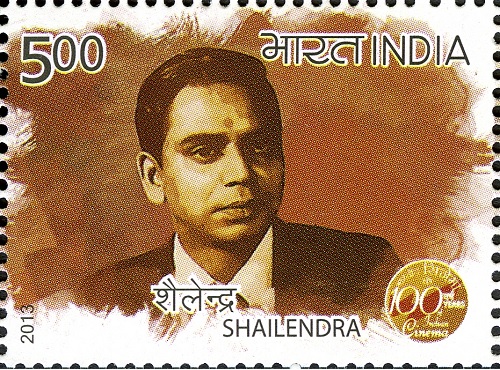 ... Dhool Ka Ik Badal Albela
Nikla Hun Apne Safar Mein Akela
Chup Chup Dekhoon Mein Duniya Ka Mela
Kahe Maan Kare, Abhiman Kare
Mehman Tujhe, Ik Din To Hai Jana
.....
– Shailendra in Jis Desh Mein Ganga Behti Hai