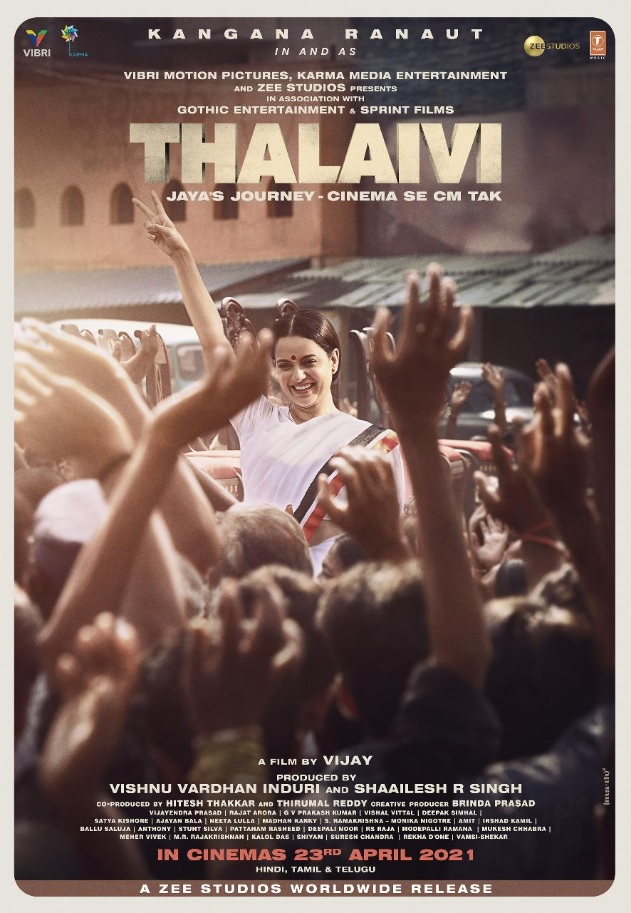 It was really amusing to me to watch the original 'Thalaivii' in Hindi (Netflix) because the whole story is about Tamil Nadu and in Tamil Nadu and with Tamil Nadu cinema and TN politics and politicians.

The first awkward aspect of this too much publicized film is the main character Jayalalithaa which was donned by Kangana Ranaut; it is nothing but stupid to see a royal looking Jayalaithaa in a diminutive Kangana. The cursory prosthetic makeup and all are of absolutely no use. None of her act, dialogue delivery or presence recreate Jayalalithaa at all. That apart in her young and early days Jayalailathaa was stunningly attractive with her complexion and disposition. Ranaut is a far cry from Jayalalithaa's exquisite personality.

I am not quite sure what the makers want to convey through this 'Thalaivii'; the hurdles of a single woman making it big in politics or cinema or her latent love and opportunistic story with the mass leader MGR. For me, the whole writing of the film in bits and pieces conveyed nothing much except that Jaya and MJR were close and the latter motivated her to enter politics and public service.

Real life history of Jayalalithaa was more turbulent, complex and challenging than what had been partially tried through this rather insipid movie. With Tamil names and boards in the background the characters speaking Hindi look positively ridiculous.

Surprisingly, but for the opening melee scene which was supposed to trigger Jaya to enter politics with vengeance, none of the scenes were dramatic. All speak their dialogues in very soft manner which is absurd for a Tamil political movie. With so much special makeup for songs like 'Naanamo' from 'Ayirathil Oruvan' and 'Ninaiththen Vandai' from 'Kavalkaran' just two lines on screen was nothing but atrocious. Arvind Samy's makeup and acting to some extent mimics MGR. There were supporting characters like the antagonist RN Veerappan and well-wisher Madhavan played by Raj Arun and Tambi Ramiah in a rather lazy manner. If Mu.Ka was a caricature, Indira Gandhi was just a puppet with not even a single dialogue.

I honestly feel everything about 'Thalaivii' is absolutely flat and inane right from the selection of artistes, writing to the final product.