God's Particle and Other Poems
Urdu Original- Karamat Ali 'Karamat'
English Translation- Elizabeth Kurian 'Mona'
Educational Publishing House, New Delhi-110002
ISBN:978-93-91238-51-3 Price- Rs 200/-
It is well known that poetry is a verbal expression of art, one which disturbs and enlightens as well while evoking awareness, emotion and consciousness. Poetry is indeed the language of the soul, sweet and joyful, sometimes sorrowful when out-pacing purple storms with thunder clouds and strains of sadness and anguish. Urdu poetry's inventive lyricism highlights the intersectional nature of poetry with music, cadence and footprints of life. Karamat Ali Karamat, an eminent poet in Urdu, in his latest accomplished and engaging collection of poems, 'God Particle and Other Poems' fill words with deeper and wide meanings.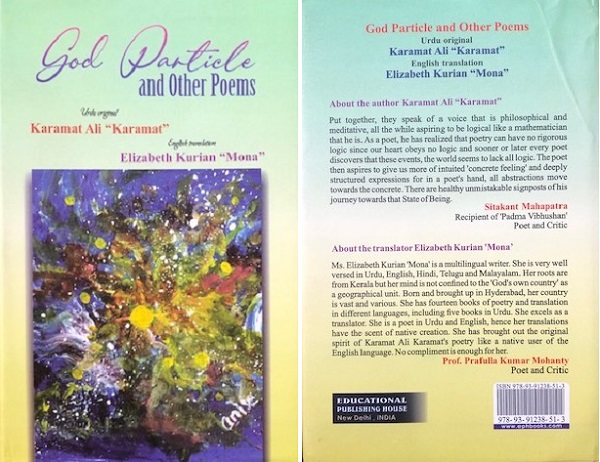 It is true that translation is a process of disseminating cultures. Elizabeth Kurien Mona brings the intrinsic nuances of the original Urdu poems of Karamat Ali Karamat into English language and makes it her own form. Her choice of words is not only shaped by the language but also the traditions of Urdu Culture and Ethos. One of the great strengths of this book is the detail with which she expresses in her translation the emotion and shade especially on those Ghazals.

The poet celebrates art, creativity and inclusion while portraying a world on the brink of destructive fanaticism. He revels in myth and magic realism. The readers will feel the struggle and despair and the sweat and tears that flower in the poems. Sometimes his poems are a heartfelt cry for the soul. And we are reminded that the value of the poem depends upon the justness or appropriateness of the poet's emotional response.

Some of his poems instantly offer upfront presence: a personal voice making honest admissions. It's a collection that extends hands and heart to a reader — no abstraction or obscure shadings.

In her Foreword-II, Prof. Sukrita Pul Kumar mentioned, 'The use of 'God Particle' in the title of the book by the Urdu poet Karamat Ali 'Karamat' actually reflects the rather ambiguous coming together of faith and science in the poet's vision that runs through his poems in this book.'

You think you have discovered
The secret of nature
By naming the 'particle' you found
As 'God Particle." (God Particle)

One of the translations most appealing elements can be to convey the fundamental nuances of the original language. Here the translator mentions, 'Urdu is a flowery language and its poetry is laced with hyperboles whereas English is comparatively sedate. As such, the literal translations of Urdu may sometimes sound far-fetched or even preposterous in English. So, a lot of creation is involved.'

Here is a poet who can create a poem of wonderful liberating power. His poems are like murmuring to one's self and listening at the same time. There are no boundaries and that's what poetry is all about. His poems are as if a journey through endless scenes of the human elements arrested and transformed in a poetic form.

'Sometimes I feel I have become the sun;
Sometimes I feel the sun's abode is in me.
This is unity in diversity;
This is diversity in unity'. (The sun)

In the words of Sitakant Mahapatra, an eminent poet, this collection of poems, 'Put together, they speak of a voice that is philosophical and meditative, all the while aspiring to be logical like a mathematician that he is.' The poet bridges time, loss and the space with a tone that is consistently appealing and alluring. The poems transfigure the impressions of grief into something uplifting and wondrous.

'My entreaty from this burning desert,
Merely give me one drop
Of your munificence
My prayer is this and only this-
Make me a true lover
Of your messenger, the Holy Prophet!' (Entreaty)

We know poetry for the most part is resonant. That's one aspect that makes the written word so grand. It can cross many borders, cultures and barriers. And capture the essence of life to the fullest. The poet's visionary gaze always questions the philosophy of life. In his haiku, the search for answers is palpable, Butterflies of time/ Why do they flutter around/In my heart's courtyard? or What is meant of life? / Poetry asks these questions. / What does wisdom mean?

In the following poem, the poet explores the narratives of life in the realm of nature, people and the surrounds, leaving footprints and elevating recollections.

'O Mahanadi, I have seen you many a time
But I was not able to understand this mystery.
Why don't you appear the same as I saw you yesterday?
Aren't you the mirror of life's experiences?' (On the shore of the Mahanadi)

The poet's consciousness of the surrounds counts for a great deal and has shattered all illusions and romantic dreams. In a world of chaos, these poems help us reconnect over common ground, through the shared experiences brought about in these unreal times.

'Wherever I turn my gaze,
Besides darkness nothing I face.
The fireflies of hope disappear;
Nothing remains but despair.' (The hours of waiting)

His poems resemble an emotive mantle, vividly splicing informal and unreal elements. His poems start working on simple thoughts that turn something almost magical at the end. 'The joy of living, whether it is love or action, is the joy of creating' wrote Romain Rolland. He explores how meaning can be inserted into the much-used word and how it moves on the pages. The beautiful lines, while retaining their rhythms, move towards modernity with their psychological probing of the soul.

'If there is no humility in worship
If there is no modesty in your penance,
Your actions will be further;
No result comes out of mere piousness.'(Labour lost)

It is to be mentioned that the structure of Ghazal is very unique and the couplets in general represents as a two-line poem which is complete in every sense with a common meter-rhyme-refrain format. Urdu Ghazals are very popular worldwide and their translations in English or any other language are extremely difficult. Here Mona's translations bring the cadences of the Urdu language to the best possible manner

'The sound of a broken spirit is my conscience;
The manner of life's spring is my conscience.
To its every tune my life dances;
A harp of time is my conscience.' (Ghazal 1- My conscience)
Or
The robe of sorrow, the sheet of pain is dear to me,
Do not bother, this bed of thorns is dear to me.
I measure myself against the height of sunrays,
The scene of heavenly thoughts is dear to me. (Ghazal 3- These are dear to me)

There is no denying that these evocative poems help us reconnect over common ground and rarely slide to an uncertain and unpersuasive ending. Atreya Sarma U, well-known poet and critic, in his Foreword (III), has summed up beautifully, 'After all, noble ideas from souls like Dr Karamat Ali Karamat are immortal and they go on in cycles as long as the universe exists. And it's time for the readers to dive into the spring of his poesy, ruminate on his reflections and enjoy it from their respective perspectives.'

The book is a gorgeously written celebration of desire and creativity, with alluring and unfathomable imagery. It is one of those books that speak directly to your instinctive feeling, a revelation-there is something unclassifiable about the way the poet goes about his poems as if every line is a turning loose of emotion, a spontaneous outbreak.

The translator interlaces in his own way in translation, the soul of the poems, yet reconnoitring how the idea of staying close to the original can bring you the desired consequence. Precision and frankness are her watchwords for translation.

The cover page is impressive.. This immensely readable book is a must for every poetry lover's bookshelf.