In an impressive function on 'World Peace Summit 2021', on the theme of the conference "Yoga for Sustainable Future" Vishwaguru Mahamandaleshwar Paramhans Swami Maheshwarananda Ji Maharaj " mentioned about the Yoga, an ancient Indian science which can help solving problems of the fastmoving world. The function was held at Sri Alakhpuriji Siddhapeetha Ashram, Kachras, Badi Khatu Nagaur, Rajasthan on November 11, 2021

His Holiness Mahamandleshwar Swami Maheshwara ji explained the importance and need of Yoga for physical,mental and spiritual well-being of every human being. Swami ji is the founder acharya of the system Yoga in life practiced all over the world in more than 5000 centres besides hospitals, rehabilitation centres and schools. Swamiji is spreading the message of peace,love and harmony through Yoga and rich knowledge and culture of ancient India for over 55 years across the length and breadth of the globe.

About 30 delegates from 10 countries and about 50 delegates from India attended the peace conference

Chief Guest Princess of Jaipur and Member of Parliament Princess Diya Kumari in her address in conference highlighted the importance of women empowerment and discouraged the new generation of getting involved in drugs, alcohol and non-vegetarian food which are not necessary for normal living.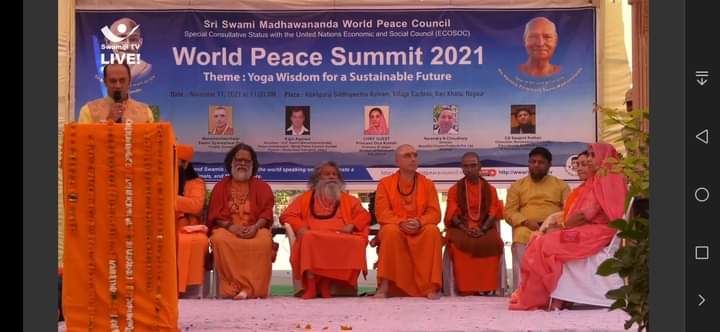 /