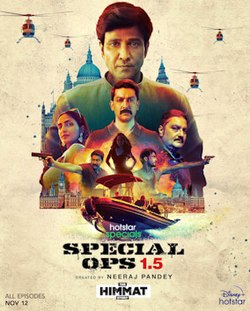 Special Ops 1.5, in a way, is a disappointment. It starts with the same two dry officers investigating the actions of RAW agent Himmat Khan (Kay Kay Menon) to probably know the wrong or seamy side of Himmat's action. According to them and some reports Himmat is known for his hubris, drastic actions and ruthlessness.

Here there are only 4 episodes once again dealing with the espionage drama. The main problem in this series I found is many of the actions are so swift and cannot easily be correlated. Yes. There are plenty of gunshots, broken limbs and dead bodies here and in the foreign soil.

One comes to know about 'sexpionage' also in this series where the 'honey trapping' turned out to be more successful. We see a raw officer himself turning against law, women trying to help in such shady deals ultimately lose their lives by just one bullet. The story shifts from India, Delhi, Kashmir, Colombo, Dubai and Kiev, Ukraine.

Surprisingly, I found the very little romance strewn in this series is better.

Aftab Shivdasani makes his presence felt ultimately to be erased. Kay Kay Menon impresses with his restrained performance; his youthful looks in a few scenes really look good; thanks to prosthetic makeup.

Extravagant bland action show with opulence!