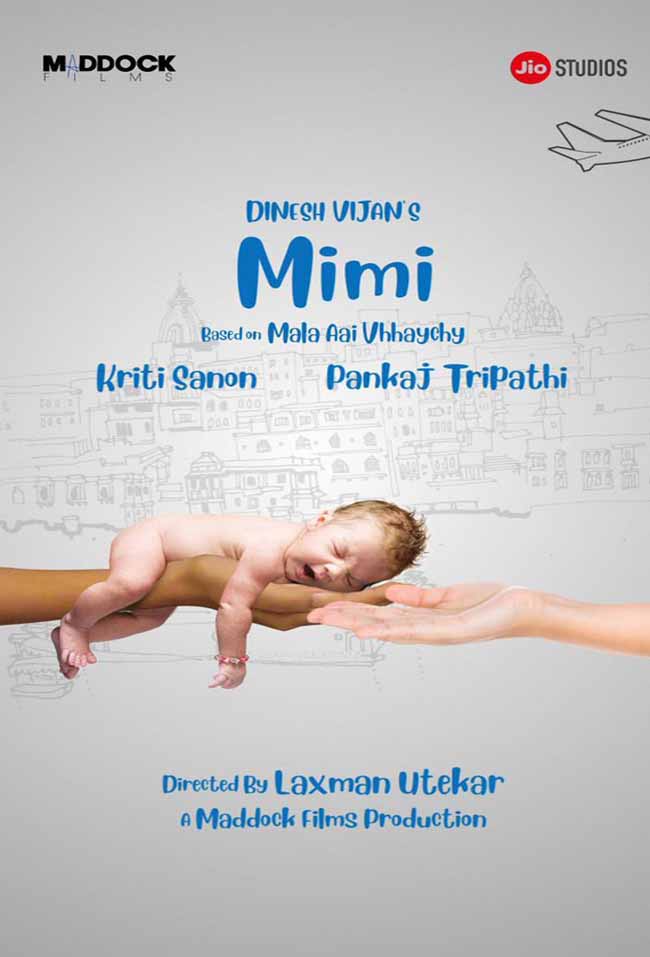 'Mimi,' a Netflix movie was a surprise to me; because it didn't have any of the usual tropes of many of the movies of OTT; thrill, suspense, murder, gore, violence, politics and sex.

Surrogacy has been the topic of many films and this film also basically mounted on that subject. Mimi, a (unsuccessfully) aspiring actor from a small town of Rajasthan struck on a goldmine through a cab driver. She was to be a surrogate mother for an American couple traveling and searching for one healthy good looking youngster to bear and deliver the child.

Mimi accepts the offer (Rs.20 lakhs) and her Muslim friend Shama extends a helping hand with the cab driver to maintain the secret from Mimi's parents and the society around. Mimi gets pregnant but when the gynecologist says the baby is found to have downside syndrome the American couple backs out and asks Mimi to abort the child. But, Mimi doesn't. Surprisingly, the fair baby boy born is a healthy normal child. The American couple comes back again to claim the child after several unsuccessful attempts. Will Mimi and the family which adore the baby now part with the child?

I cannot but feel sorry for the Indian population which is popular for surrogacy openly and illegally which is definitely stark reflection of the poverty, 'greed' and 'need' for money in this society. Well, the pristine purity of motherhood and the Indian's love for having children (especially male ones!) are the highlights. I relished the movie notwithstanding some clichéd scenes as all deal with human emotions. Kriti Sanon and Pankaj Tripathi are the two known faces to me in this movie. They played their parts well.

The surprising part is mostly the media who are largely very kind to big stars' potboilers, absolute drabs in the name of serious cinema and certain favorite directors' movies had been grossly unkind to writer director Laxman Utekar pinning as many holes as possible and intentionally criticizing the Hindu-Muslim co-existence and closeness, right to abortion and women's rights etc.

'Life doesn't move as we think or plan; it goes as it likes. We are left with no choice but to go ahead with life', says Shama, Mimi's friend in one scene. It is very true and I have been following that alone in my life.

I should thank my friend Moses's teenage daughter Andrea for suggesting this movie during my recent visit to Bengaluru.