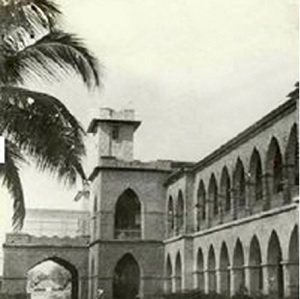 It was four in the evening and my auto brought me to the main gate of the College, my alma mater. At the gate, a security guard peered at me perhaps to ensure that I am a harmless visitor… Hearing that I am an old student of the college, he did let me in… So, here I am in my alma mater once again after 54 years.

And there in front of me a two-kilometer-long lane, the main artery of the College— surrounded by lush greenery, with well-trimmed Acalypha siamensis hedges on either side of the road, multi-whorled moonbeam flowers, Gaillardia, Cosmos on one side, and delightfully woody-stemmed evergreen creepers with drooping flower clusters of blue, Petrea volubilis swinging in the air on the other-side—snaked ahead connecting the main gate to the rest of the buildings in the campus.

As I walked in, there, right in front of me stood that imposing and dominating two-floor stone edifice with its long corridors adorned by gothic arches, joining Lord Byron "…left a grand impression on the mind, / At least of those whose eyes were in their hearts."

Behind it are the playground and the pavilion, to its right is the Veterinary block then the old hostel (Pothana), opposite to it is the JC Bose Life Sciences block, as we proceed further down, there comes the new hostel (Vemana), opposite to it are the rows of asbestos sheds housing Extension Dept. on one side and Physiology labs on the other side, then those two new hostel blocks called Siddartha and Vivekananda opposite to which there is the diary and attached dormitory rooms … and behind it towards the east are two huge sheds of World War II time.

Abutting them was an expansive vacant space and to its south are the veterinary hospital and Animal Husbandry labs. This was the road that I had walked several times over, for four long years.

As it is said that the mind first seeks familiarity… I too, scouted for the familiar spots on the campus. And this led me to the gallery in that stone building sitting in which I heard first, third, and final year theory classes. As I entered the gallery, a battalion of fuzzy memories assaulted me…

It was also the same venue in which I did practice mock-teaching, of course, when none were around, what a pleasure it was! In one such mock-teaching session I encountered a surprising or should I say shocking experience: as I, scribbling Kerbs cycle on the board, turned towards the empty benches in an attempt to explain it, there sat the F&BG Manager in the second row abetting entrance, silently watching me or should I say, listening to me. But quickly recovering continued the lecture as though he was not there.

That was followed by another interesting encounter. After finishing the drill, I went to the restroom to wash my hands that were dusted by chalk piece powder. Unwittingly I left the door unbolted, for I was in just to wash hands. As I came out, Prof IVP, that domineering lot (though lean and of frail personality) of the campus, who standing in front of Chemistry lab, perhaps, for me to come out, said with a quizzical smile, "What man, what would it have been, had Pushpamma came?" Offering excuses, profusely, managed to somehow wriggle out of that awkward situation.

It was the same gallery in which, while I was reading Alistair MacLean's The Guns of Navarone sitting by the window in the back row facing gas tanks, in the Dairy-Chemistry class of Mr. Rehaman, that he suddenly calling me, "that last row, window-side man", questioned, "What is anaerobic metabolism?" Taken by surprise, I tried to answer him by structuring something from out of what he had scribbled on the board and I thought I was near right. Instead of being satisfied with it, obviously with a clear understanding of what I was doing, he enquired about my marks in the second term exams. I said, "Got 36" (out of 50). He then questioned, "How did you get it?" "That's what I was given", replied I. "Don't be smart, come and sit in the front bench from now onwards", ordered he. That was really a hell of a punishment for me.

This episode suddenly took me to Biochemistry classes of I V Subba Rao, whose lectures I enjoyed the most. What a professionalism! He used to write lengthy chemical equations on board without a piece of paper in hand in Biochemistry classes. Remarkable. So was the case with Dr Rangarao's classes, who used to say with a mischievous smile in his glistering eyes, "I can teach DDT for months, for Muller wrote three volumes" indicating their size with his hands. How impressive it was to listen to crop husbandry lectures of Prof IS Rao delivered in his unique rising intonation.

Coming out of that trance, as I walked towards the other end of the building where the Agronomy Dept is located, Mr. Rama Rao and his long-winding recitation about growing tobacco nurseries in one of our 2nd-year practical sessions struck to mind. Starting thus, more as a messenger merely delivering the message, "Along the coast of Andhra, over 650 km, stretching from Kalingapatnam in Srikakulam district to Kothapatnam in Ongole, tobacco nurseries are grown in raised beds of sandy loams during the months of August-September…" he vomited, all that he might have struggled to mug-up last night, in one go. Indeed, I did say to that effect to my neighbor, who unfortunately laughed at it. Noticing it, perhaps, feeling that I mocked at him, he ordered me to walk all the way back to college that was almost five km from the farm, while he along with others drove off by college bus. And that love-hate relationship with him continued for the rest of the year. For, after all, hadn't Salinger said: "You can't stop a teacher when they want to do something [?]. They just do it".
Of course, my preceding-numbered classmate often used to question me: "Emoi Radhakrishna endukoi why do you annoy the instructors? It will spoil your chances of …". But I used to simply brush it off saying "it is a hell of a lot of fun and to have it, aren't we to pay a price?" A lousy rationalization of a lousy student! But looking back, I now feel how stupid of me to pick a row at them, and end up in lots of disadvantages?

But then, that was how life was then… As I was caught in it, a funny incident came to mind: once, in the veterinary practical class, Dr. Venugopal Reddy was explaining how to get the animals that suddenly fainted back into senses using ammonium carbonate salt to activate their sympathetic nervous system. Watching my neighbour meddling with the jar containing the salt I just said, "Smell it". And he did it… and Lo! He had it … at once shrieked loudly, for the mucous lining of the nose might have got strongly irritated (for the bottle containing salt must never be kept directly under the nostrils, it must only be moved in front of the nostrils from this side to that side). Thank god, in a knee-jerk reaction, I snatched the bottle and put it aside. A momentary horror … but thank god nothing untoward happened, for Dr. Reddy is known as a strict disciplinarian.

Reminiscing over such recollections, walking till the end of the road and saluting the corner room of Vivekananda hostel in which I stayed before walking out of that campus once for all, took a U-turn and as I neared the basketball court, a sudden surge pushed me to that sandpit abutting the basketball court in which I and my roommate spent many evenings listening to Radio Ceylon that blared out from the pavilion and talking endlessly about Burmanda's compositions for Navketan, particularly songs sung by Kishore Kumar such as Hum hai rahi pyar ke… dardbhi hamen qubul, chain bhi hamen qubul; Aankhon mein kya ji roopehla badal… and so on…

In that creeping darkness, as I settled in it, cheers from the pavilion rose and fell sinusoidally, a raw energy pulsating in the thick air was palpable in that cheering… Dusting off the sand, tucking away my memories, slowly walked back to the gate. As I returned to the entrance, involuntarily my eyes looked for kakkurthi, that seedy town hall canteen, sitting in which we talked about everything under the sun over a coffee glass…

Noticing a new building in its place, slowly walked along the road and by the time I realised where I am, I am already in the railway station Lo! Those walks in solitude on that soft sand along the railway track towards the VLW training centre in the twilight hours ruminating on everything under the sky flashed at once. In the silence of that encircling darkness, one evening it could be about the life of Gopichand's Sitapati and his ineptness, another day about Buchibabu's Dayanidhi and his flirtations with … yet another day about Adriana, that simple girl of Albert Moravia from Rome with no fortune except her beauty that turns her into a prostitute and her nudging us towards Nietzsche's "Amor fati", and its underlying philosophy… "Do not seek for things to happen the way you want them to; rather, wish that what happens happen the way it happens; then you will be happy", and so on….

Now you may question, what's this rumination all about? Or, why at all? Well, I don't know, but one thing I know for certain: whenever I think of my alma mater, a certain strange-bewitchment overtakes me.