Long Players of Music in Hindi Films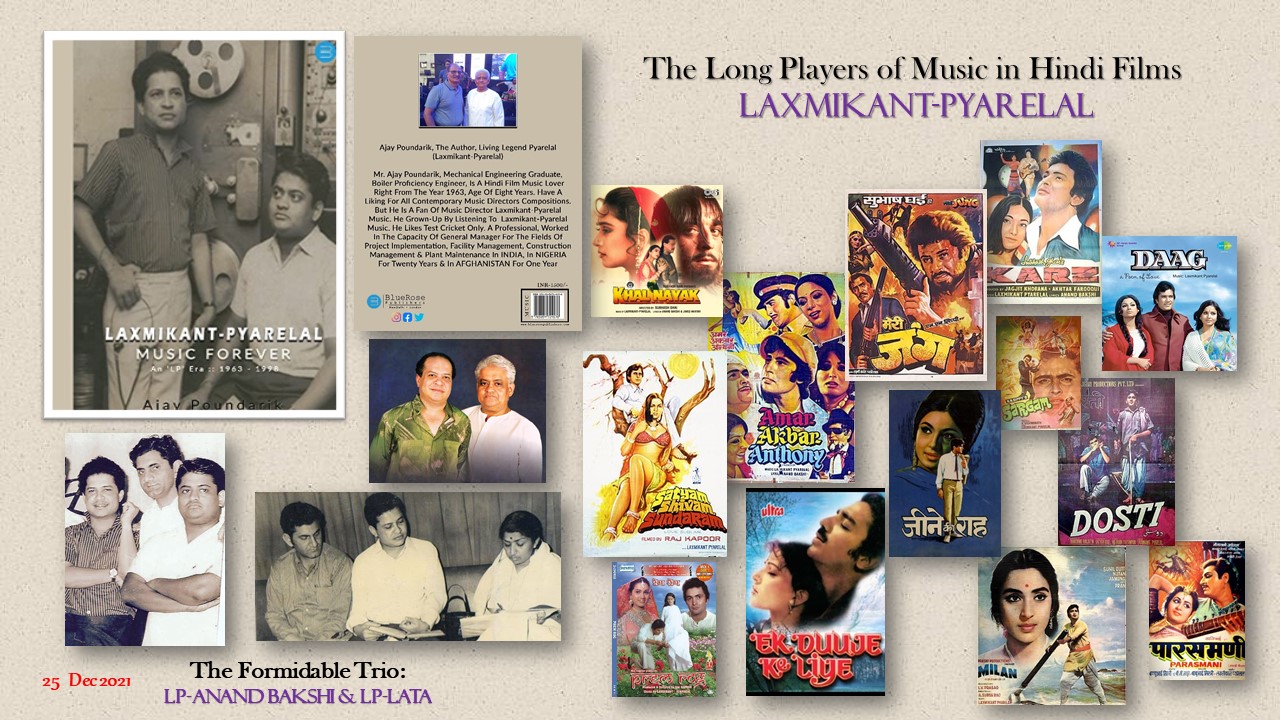 I just happened to come across a book on the celebrated music directors Laxmikant-Pyarelal. These days I have started listening to Hindi film music the popular music composers happened to be The Burmans, Laxmikant-Pyarelal, Shankar-Jaikishen, Kalyanji-Anandji, Salil Chaudhary, Naushad, Roshan, OP Nayyar to name a few.

Nevertheless, LP managed to start their career humbly with a mystical black and white B Grade movie with unknown actors 'Parasmani' in 1963. The major success was the song 'Husta hua nurani chehra' sung by Lata and Kamal Barot turned out to be a big hit. The next year 1964 was still rewarding as the song 'Chahunga mein tujhe' from the hit movie 'Dosti' again a film with unknown artistes. It won them the popular Filmfare award also sidelining two major music directors of that era Shankar-Jaikishen (Sangam) and Madan Mohan (Woh Kaun Thi).

There was no stopping of LP after that. The author Mr. Ajay Paundarik had meticulously listed the various aspects and combination of LP with producers, lyricists, singers and some special credits they have been given to super stars of those times Rajesh Khanna, Amitabh Bachchan and Dharmendra.

The book is an amazing compilation with a large volume of information and details running to nearly 800 odd pages of course with bold letters and a page contains not more than 20 to 25 lines. Even then, the information is mind boggling for me and it took me in a time machine to those days of my favorite songs of LP in a wonderful way.

Sample: LP and Anand Bakshi have the maximum combination of 302 films with 1684 songs. Next comes Majrooh Sultanpuri and Rajinder Krishen with 45/229 and 20/113.

It is a well-known fact that Lata Mangeshkar had sung the maximum number of songs for LP, 712 and Kishore Kumar 402. LP also had the credit of several songs with the next gen singers like Anuradha Paudwal, Kavita Krishnamurthy, Suresh Wadkar and Shabbir Kumar and others also.

Fifty long years of partnership in music came to an end with 2850 songs on 25 May 1998 with the demise of Laxmikant. The book has some old photos of the music composers with other film personalities. There are trivial details also and overall the language is very simple. But, no doubt a massive job.

I bought and read the book's Kindle edition as the price is 10 times less than the printed book.

Wish someone does this type of statistical and informative work for our giants like Viswanathan-Ramamurthy and KV Mahadevan who also enjoyed the longest and successful innings in the field of Tamizh film music.

Or already done?