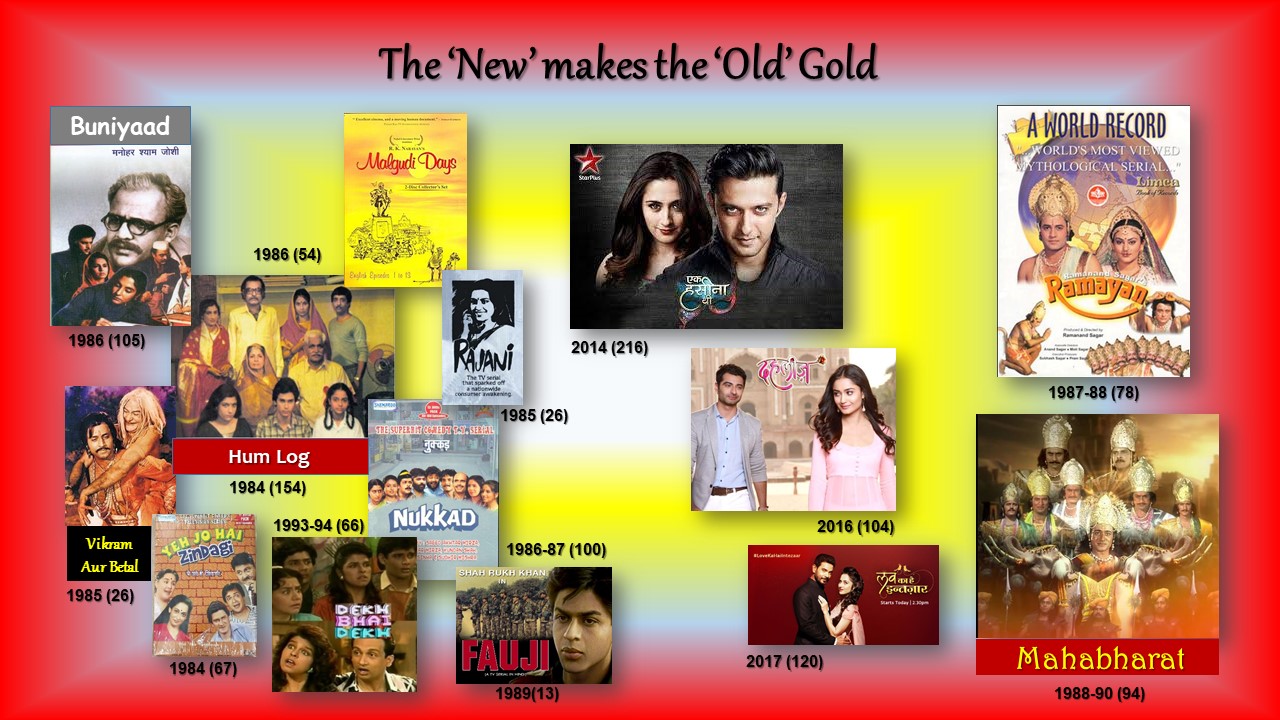 'Old is Gold' is the popular adage; I just want to bring a slight difference in this statement based on my personal experience; 'The 'New' makes the 'Old' Gold'.

Yes. If one is a regular television watcher, he or she, those in their later years of life might have realized this bitter truth. If not, fine; they are capable of moving with the ever changing life stream.

During the days of Doordarshan alone, we started having soap operas with 'Hum Log', 'Buniyaad', and moved on to mega ones like 'Ramayan' and 'Mahabharat'.

The last two popular serials were on Sundays alone while there were some daily soaps also.

When the supply is less, the value automatically goes up; when something is served in abundance, as expected, it turns either cloying or frustrating.

From 1980 to 1990 saw a number of serials in Doordarshan which were widely watched and enjoyed. The story lines were strong, the acting was good and above all they all stopped before the viewers felt bored or tired.

I just list the serials which I have watched, enjoyed and still remember to a great extent. The number of episodes and the years are mentioned in the bracket. Please note even Ramayan and Mahabharat also didn't exceed 100 episodes. Only serials which crossed the 100 mark were Nukkad (100), 'Buniyaad' (105) and 'Hum Log' (154).

Even today some serials which were finite like 'Ek Hasina Thi' (216) and 'Dehleez' (104) both from StarPlus, 'Love ka Hai Intezar' (120) in Colors were watchable.

But, we Indians are fond of everything in excess; be it population or recreation.

But, I am exasperated by the present day soaps. Every serial starts with a bang, some end with a whimper within a short period while others are stretched beyond their elasticity to the point of sheer nonsense and boredom.

Nevertheless, it looks even takers are there for these never ending sagas notwithstanding their absurdities and illogical developments!

Even 'Nectar' turns 'Poison' if it is in excess; wish the producers and audience realize this bitter truth.