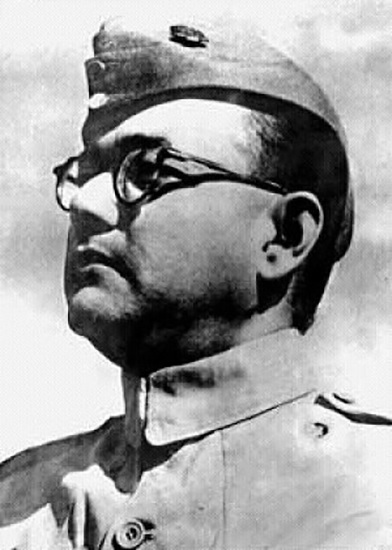 The nineteenth century will be forever remembered as the golden age in Indian history by giving birth to many great men who lifted India, particularly Bengal to a great height in culture, religion, and, above all, in patriotism. Among them were two warriors, one in religious reformation and other in battle for freedom of India, both of them nonpareil. One of them, an in-born warrior in religious reformation, is Swami Vivekananda and the other, an in-born warrior for freedom of India is Netaji Subhash Chandra Bose. In this paper, I have set out to write on Netaji Subhash Chandra Bose.

Subhash Chandra was not born ready to fling himself into leading a group of patriots dedicated to liberating India, ro the undaunted splurges of sacrificing their lives on the altar of freedom. On his ears, since his birth, had been impinging the chanting of patriotic songs composed by Bankim Chandra Chattopadhyay, Rabindranath Tagore, Kazi Nazrul Islam and so on and he was imbued by them with an unflinching patriotism and an unwavering pledge to liberate India from the foreign clutches.

History says that it was Maharaja Nandakumar who sparked off the revolt against the foreign rule and the struggle against foreign domination germinated in the Sepoy Mutiny and on the scaffold on which Mangal Pandey was hanged, On the scene appeared Sri Aurobindo Ghosh. Inspired by Sister Nivediata who brought with her the germs of the Irish revolutions and her first-hand knowledge of the Russian revolution, Sri Aurobindo formed 'Biplaber Dal' (group of rebels) and was assisted by Barin Ghosh. Jatindra Bandyopadjhyay and others. Flag of victory was flying aloft with the sacrifice and martyrdom of many patriots under his leadership. The surging waves of revolt spread rhythmically from Maharashtra to Bengal, from Bengal back to Maharashtra and from thence to Punjab, Bihar and Uttar Pradesh and even outside India.

Subhash Chandra Bose found himself exposed to the atmosphere of revolt and was inspired in thought by Swami Vivekananda, in action by Deshabandhu Chittaranjan Das and in revolt by Sri Aurobindo.

Shubhash Chandra Bose was born on 23 January 1897 in Cuttack, Odisha. His parental house was at the Kodaliya village in the district of 24 Parganas. His father Janakinath Basu endured much suffering in his childhood and youth and in later years found himself comfortably settled. He worked as a government pleader and, because he had worked efficiently, was awarded the 'Roy Bahadur'. He rose to the chairmanship in Cuttack Municipality.

Janakinath bestowed due attention on the education of his children consisting of eight sons and six daughters. All of them, during their stay in Cuttack, received education in European schools and ended their education in Europe. Sharat Chandra Bose earned a reputation as a barrister and a leader. Subhash Chandra's next bother Shailesh Chandra, too, joined in the non-cooperation movement and courted imprisonment.

Netaji's life is a story read as a story of fearless struggle. It is, so to say, a saga of a young man dreaming of wresting freedom from the hands of the British. He hated to beg freedom, he hated to accept freedom as a gift. Freedom is the birthright of every Indian and the British had snatched it away from them by force, taking the advantage of the age-old slumber of the Indians and their complacency about whatever they had had traditionally.

Whenever we talk about Netaji Subhash Chandra Bose or read his biography the picture conjured in our mind is that of a springing tiger which does not correspond to the statue of him mounted on a horse. It should rather resemble a tiger ready to spring upon its prey; his profile zeroes in on this posture. He did not say, but he did howl. He had both Hindu and Muslim followers. He did not say to them, 'There's a fire raging yonder. First get yourselves, Hindus and Muslims, united, then go extinguish the fire!' He rather howled to them, 'There's a fire raging yonder. I've taken a pitcher of water. Each of you take a pitcher of water and follow me in extinguishing the fire!' He holed them into shaking off fear and hesitation to plunge themselves on to the altar of freedom

It is often said of Netaji Subhash Chandra Bose, and it is rightly said, that he hastened the achievement of freedom by twenty–five years. The numerous activities he indulged himself with aptly justify the epithet 'springing' to his name. He always sprang. The following details about him, too, will corroborate the epithet. Netaji truly championed the freedom of India.

Born in Cuttack in Odisha in 1897, Netaji graduated in Calcutta now renamed Kolkata and joined the Indian Civil Service as an officer. Though he stuck on to his moral fiber as hard as steel under the British rule and displayed his mettle as an administrator, he could not stay long in the job amidst luxury and comfort. He dreamed of himself as a warrior to fight the British out of India, leaving India to be ruled by Indians themselves. Bidding adieu to the luxury and comfort that his position offered him, he flung himself headlong into actuating his dream of making India free from the foreign rule. In mid-January 1941 Subhash Chandra slipped away mysteriously, befooling the police watch and headed westwards to Afghanistan. We all know what followed after Afghanistan. We should not linger on the events after Afghanistan.

History feeds us on the theory that Subhash Chandra Bose failed in the Imphal battle and his dream remained unfulfilled. A springing tiger never fails to catch its prey, because it fixes its aim on it and never falters in it. Subhash Chandra Bose as the springing tiger did not fail, rather he hastened the achievement of freedom by twenty-five years. I explained below how he hastened it.

The Red Ford trials held between November 1945 and March 1946 eye-opened Indian soldiers in the British army to who the INA soldiers were. The British had so long characterized them as terrorists. A majority of the Indian soldiers in the British Army rose in revolt, shattering the morale of the already war-torn British. They felt that with so many Indian soldiers rising in revolt it would not be possible for them to hold on to the rule of India for long. So, they decided to quit India.

Commenting on the factors that governed their decision to quit India Clement Attlee, the then British Prime Minister, alluded to several reasons, the most important of them being the INA activities spearheaded by Netaji Subhash Chandra Bose, which had greatly weakened the Indian Army, the foundation of the British empire in India.
Courtesy: North-East Colors, Agartala, West Tripura, Tripura, India